Gov. Gavin Newsom's Facebook ads in swing states stir 2020 speculation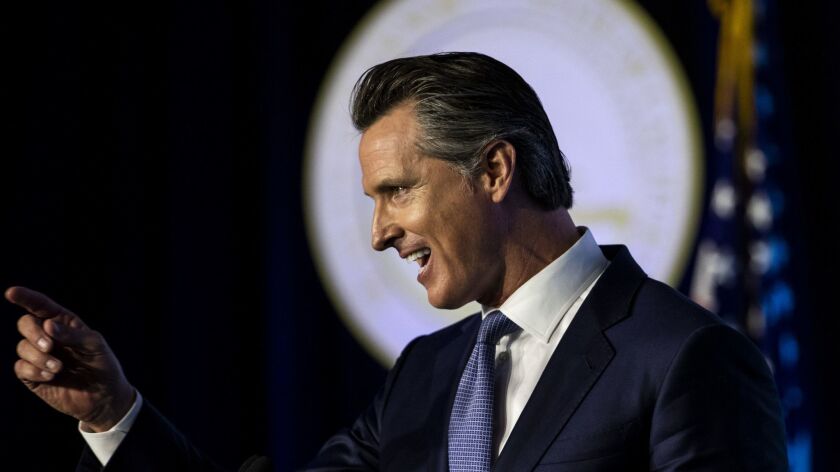 Reporting from Sacramento —
Political ads featuring California Gov. Gavin Newsom are popping up on Facebook in Ohio, Florida and other swing states in the 2020 presidential election, stirring speculation about whether the Democrat is testing the waters for a potential White House run.
Newsom, who was sworn into office less than two weeks ago, has repeatedly said he will not run for president in 2020.
Democratic political consultant Dan Newman, Newsom's strategist in his successful 2018 campaign for governor, shot down the idea on Saturday.
Newman said the governor has maintained an online presence for years and that the Facebook ads have appeared nationwide, not just in states pivotal to the presidential race.
2020 Democratic presidential candidates: Who's in and who's on the fence? »
In one of the ads, Newsom promotes universal healthcare and says he will spend "every single second of my governorship working like hell to give every family access to quality, affordable healthcare." A second ad criticizes President Trump's proposed wall along the U.S.-Mexico border.
"He's always embraced innovation, and was an early adopter building a robust, active, online presence, including digital ads that allow people who support his work — in this case opposing the wall and supporting universal healthcare — to take action and join the fight," Newman said.
Both social media ads ask people to sign up to join his efforts on these issues, adding to Newsom's list of potential campaign donors and supporters.
Coverage of California politics »
Twitter: @philwillon
Updates on California politics
---
Get our Essential Politics newsletter
The latest news, analysis and insights from our politics team in D.C.
You may occasionally receive promotional content from the Los Angeles Times.