Gavin Newsom sworn in as California's 40th governor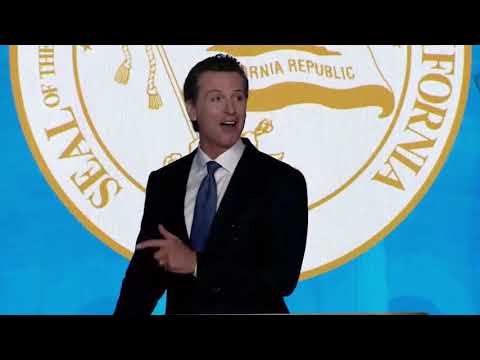 Gov. Gavin Newsom inauguration highlights
Reporting from Sacramento —
Gavin Christopher Newsom took his place as California's 40th governor Monday, christening a new political era of progressive activism in a Golden State both brimming with wealth and hollowed by poverty.
Beneath a tent outside the Capitol protecting him and thousands of well-wishers from the threat of rain, Newsom rested his hand on a Bible held by California Supreme Court Chief Justice Tani Gorre Cantil-Sakauye and recited the oath of office. His wife, documentary filmmaker Jennifer Siebel Newsom, stood at his side, along with their four children.
The former lieutenant governor and San Francisco mayor, 51, arrived at this moment by winning the largest electoral victory of any California governor in more than a half-century, largely on promises to restore California's luster and offer an alternative to what he has called the "corruption and incompetence" in President Trump's White House.
At the heart of Newsom's first address to California as its new governor was a forceful rejection of the policies and values of that administration, including the president's push for a wall along the U.S.-Mexico border and a move to separate children from immigrant parents seeking asylum. Though Trump's name was not mentioned in the roughly 30-minute speech, the ire directed his way was clear.
"What we do today is even more consequential, because of what is happening in our country," Newsom said. "People's lives, freedom, security, the water we drink, the air we breathe — they all hang in the balance. The country is watching us. The world is waiting on us. The future depends on us. And we will seize the moment."
Just hours after taking the oath of office, Newsom took another swipe at Trump by announcing plans for a major expansion of Medi-Cal to cover young immigrants in the U.S. illegally and require consumers in the state to carry health insurance, a mandate in the Affordable Care Act that was nixed by the federal government.
Gavin Newsom takes the oath of office, administered by California State Chief Justice Tani Gorre Cantil-Sakauye, and is sworn in as the 40th governor of California in front of the Capitol in Sacramento.
(Kent Nishimura / Los Angeles Times)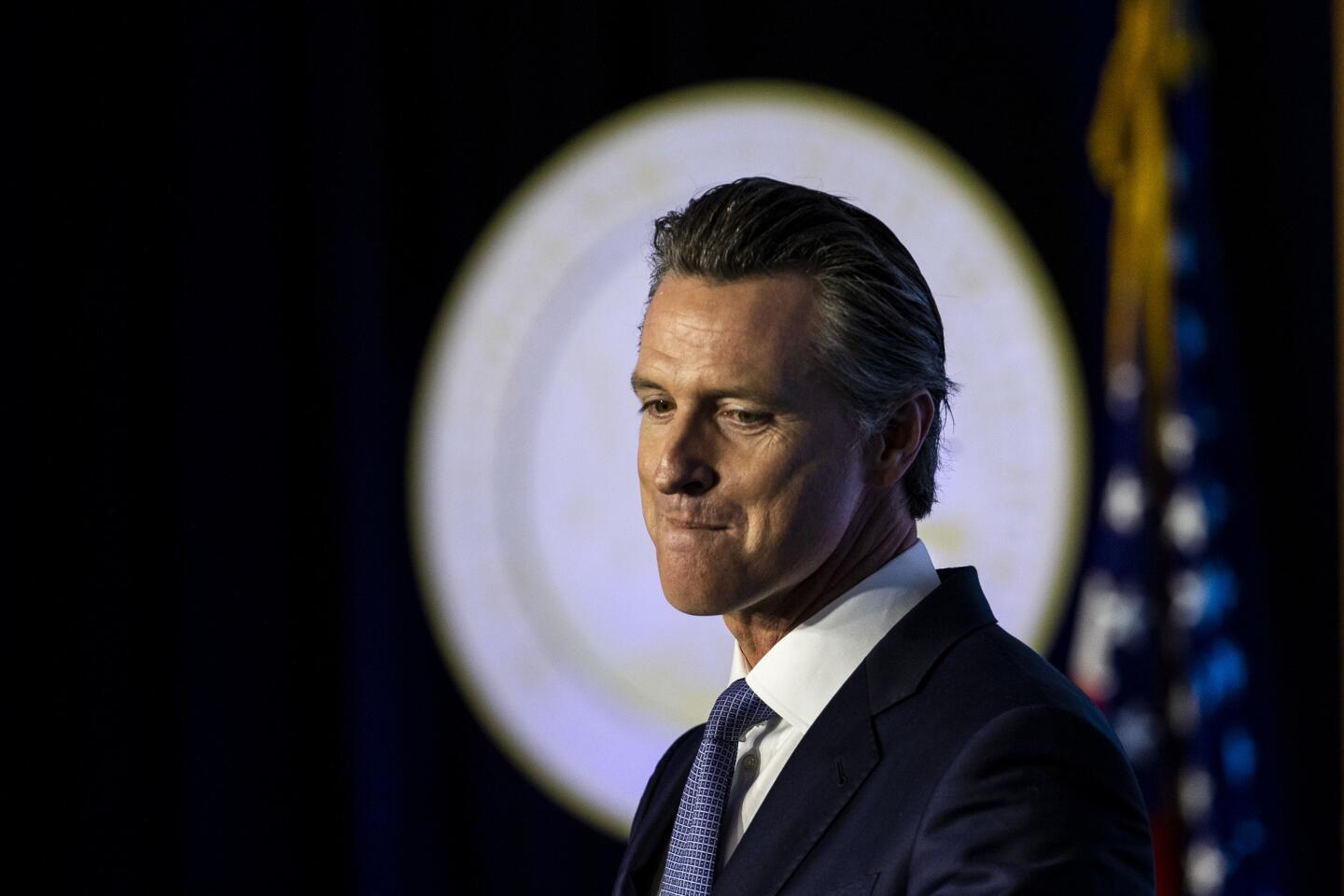 Gov. Gavin Newsom speaks after being sworn in as the 40th governor of California in front of the Capitol in Sacramento.
(Kent Nishimura / Los Angeles Times)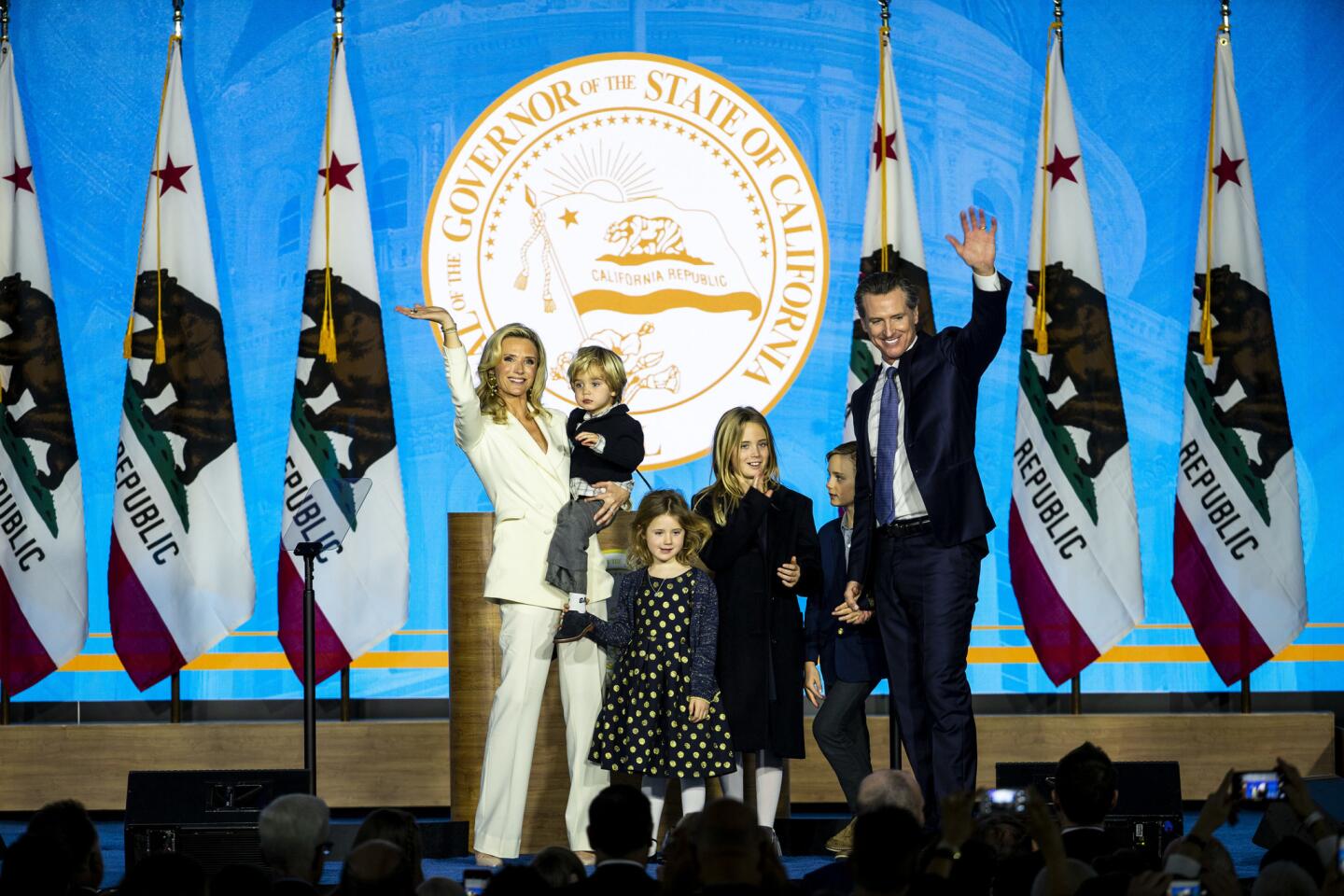 California Gov. Gavin Newsom and his family wave to the crowd after he was sworn in as the 40th governor of California in front of the Capitol in Sacramento.
(Kent Nishimura / Los Angeles Times)
California Gov. Gavin Newsom takes the oath of office from state Supreme Court Chief Justice Tani Gorre Cantil-Sakauye as his wife, Jennifer Siebel Newsom, looks on during his inauguration.
(Eric Risberg / Associated Press)
Gov. Gavin Newsom kisses his son after Newsom was sworn in as the 40th governor of California.
(Kent Nishimura / Los Angeles Times)
People make their way into tents outside the state Capitol to attend the inauguration of Gavin Newsom in Sacramento.
(Eric Risberg / Associated Press)
Governor-Elect Gavin Newsom takes to the stage at "California Rises: A Concert to Help the Victims of California Wildfires" at the Golden 1 Arena in Sacramento a day before his inauguration.
(Kent Nishimura / Los Angeles Times)
Governor-Elect Gavin Newsom and his family attend an Inauguration Family Event at the California Railroad Museum in Sacramento a day before he becomes the state's 40th governor.
(Kent Nishimura / Los Angeles Times)
Governor-Elect Gavin Newsom and wife Jennifer Siebel Newsom take to the stage at "California Rises: A Concert to Help the Victims of California Wildfires" at the Golden 1 Arena in Sacramento a day before his inauguration.
(Kent Nishimura / Los Angeles Times)
The Day 1 announcement was as much a rebuke to the Trump administration as it was an attempt by Newsom to make good on his campaign promise to fix a fragmented healthcare system that leaves many priced out or underinsured.
Newsom's upbringing included family struggles and privilege, experience that shaped his rise in California politics. The child of divorced parents, he grew up with his mother, Tessa, who eked out a living working multiple jobs. But through his father, William, a state appellate court judge, Newsom had an entree into the highest echelons of San Francisco society.
That helped launch his successful wine and hospitality business and propelled his political career, which began when San Francisco Mayor Willie Brown appointed him to the local Parking and Traffic Commission in 1996. He would later serve on the San Francisco Board of Supervisors and as that city's mayor before becoming lieutenant governor in 2011.
Gov.-elect Gavin Newsom to place California wineries, hotels in blind trust »
From there he launched his bid for governor, and campaigned on an ambitious and expensive agenda, including proposals for a state-sponsored healthcare system, universal preschool and increased funding for higher education. Newsom said he'd rather be bold and risk failure than wallow in the safety of political incrementalism.
He defined the problems California now faces in sobering terms, saying state officials who pride themselves on leading the fifth-largest economy in the world cannot overlook that there are more homeless and children living in poverty here than any other state in the union. Newsom extolled the virtues of the rescue crews who fought the recent wildfires in Paradise, Malibu, Santa Rosa and Ventura and in his inaugural speech urged Californians to share that same "compassion and empathy" for those in need.
"We face a gulf between the rich and everyone else — and it's not just inequality of wealth, it's inequality of opportunity," he said. "A homeless epidemic that should keep each and every one of us up at night. An achievement gap in our schools and a readiness gap that holds back millions of our kids. And too many of our children know the ache of chronic hunger."
The inauguration ceremony began with a rendition of the gospel song "Titanium" by the Voices of Destiny, the choir from Compton's Greater Zion Church, and traditional Mexican melodies from the music group Los Cenzontles of Richmond.
Providing levity to the occasion, Newsom's 2-year-old son, Dutch, jumped on stage with his father and, for a brief time, wandered around as the new governor spoke. Siebel Newsom was able to briefly divert her son only for him to return to the stage minutes later. She grabbed him again and this time, the crying toddler did not reemerge.
"When fires strike, when kids cry and the earth shakes, we'll be there for each other," Newsom said.
Los Angeles Mayor Eric Garcetti said the speech, and the boy's unplanned cameo, humanized the governor. Garcetti appreciated that Newsom talked about the state's importance on the national level.
"California's fight is first and foremost for California," Garcetti said. "But it also models behavior for the rest of the country — that we don't have to be at each other's throats and that we can govern in a bipartisan way in which geography and party doesn't define us. I think that was very encouraging, but he didn't back off a progressive agenda."
Newsom's speech on Monday was designed to outline the broad goals of his upcoming administration. The underpinnings of those policies, including his initial legislative agenda and specifics about spending, will be revealed in more detail when Newsom releases his first budget proposal this week and delivers a State of the State address later this month.
"He set out a bold agenda when he ran for governor," former Democratic Gov. Gray Davis said. "We should know a lot more after those three events have occurred."
George Skelton: As California's new governor, Gavin Newsom needs to address what no one wants to talk about »
Newsom takes the helm from Gov. Jerry Brown, who over eight years guided California out of recession-driven deficits and leaves his successor with an estimated $14.5-billion surplus and an ample rainy day fund. The former governor received a standing ovation after Newsom praised his leadership in California.
Brown, 80, the longest-serving governor in California history, watched the inauguration from a nearby perch filled with California dignitaries. Joining him for the day of celebration at the Capitol were House Speaker Nancy Pelosi (D-San Francisco) and former Govs. Davis and Arnold Schwarzenegger.
The changeover in administrations brings an infusion of energy and unpredictability into a capital city that has for the last eight years grown accustomed to Brown's intellectualism and iron political hand. The silver-tongued, at times loquacious Newsom has vowed to "seize this moment" as he did in 2004, when, as mayor of San Francisco, he leapt into the national consciousness by issuing marriage licenses to same-sex couples, defying the law and ultimately altering the course of LGBTQ rights in the United States.
His ascent to the governor's office underscores the ongoing generational shift underway in California's top political leadership, which began when U.S. Sen. Kamala Harris succeeded Sen. Barbara Boxer, who retired in 2017.
Read Gov. Gavin Newsom's inaugural address »
The change was felt during pre-inauguration festivities on Sunday, when the Newsoms and their four young children joined thousands of supporters at a free family-focused celebration at the California State Railroad Museum, and afterward hosted a benefit concert headlined by rapper Pitbull at the Golden 1 Center to raise money for wildfire victims. And for the first time in decades, California's Victorian-style governor's mansion will be home to a young family.
California's new governor has signaled a significant new focus on programs to help families and children from infancy to college, with glimpses of those priorities surfacing as a few details of his upcoming budget have been revealed by the Los Angeles Times and other news outlets over the last week.
The Newsom administration's attention to the needs of young children includes $1.8 billion in new spending on early childhood education programs, with a particular emphasis on funding increases to help train child-care workers and a push for more California schools to offer full-day kindergarten. The governor is expected to propose a dramatic expansion of paid parental leave from six weeks to six months, and to spend $40 million to expand tuition-free community college to California students from one year to two years.
"Everyone in California should have a good job with fair pay. Every child should have a great school and a teacher who is supported and respected. Every person should be able to go to college without crushing debt or to get the training they need to compete and succeed. And every senior should be able to retire with security and live at home with dignity," Newsom said. "That is the California dream."
It can't get much better for Gavin Newsom as California's next governor. But it's almost certain to get worse »
While Newsom is taking office amid nearly a decade of nationwide economic expansion and a state budget surplus that the Legislative Analyst's Office in November declared "extraordinary," California's new governor has vowed to prevent a Sacramento spending spree. He has said the state's financial well-being exists at the mercy of a capricious economy, and his calls for fiscal discipline and restraint had grown louder as his inauguration approached. Newsom has reached out to Republicans and other voters who did not support him in November, seeking to cool any expectations that he might blindly support a lengthy wish list of Democratic issues pent up by Brown's tightfistedness.
"We will prepare for uncertain times ahead. We will be prudent stewards of taxpayer dollars, paying down debt, meet our future obligations. And we will build and safeguard the largest fiscal reserve of any state in American history," Newsom said in his address.
The governor begins his tenure in a Capitol under the firm control of Democrats. After the 2018 election, the party holds 89 of 120 seats in the California Legislature.
Maybe not a bond, but there's a connection between Jerry Brown and Gavin Newsom as governors of California »
The legislative makeup allows Democrats to pass any bill, including tax hikes, without relying on a single vote from their GOP counterparts. But the ability of the legislative and executive branches to work together — and varying factions of elected Democrats to see eye-to-eye — remains unknown as California embarks on a new political chapter.
Many Democratic lawmakers share Newsom's desire to overhaul the healthcare system and boost funding to increase access to preschool for children from low-income families, among other progressive policies unsuccessfully attempted under Brown that Newsom endorsed on the campaign trail. In an effort to lower expectations, Newsom has made it clear that he doesn't plan to sign every bill that lands on his desk, or frivolously deplete the state's budgetary cushion.
Newsom, when speaking to reporters the day before his swearing-in, took a few minutes to reflect on the winding path that brought him to the governor's office. A decade and a half ago, many thought such an achievement would be out of reach for the brash, young mayor of San Francisco.
"It's been a long process," Newsom said. "There was a moment when folks thought in 2004, 2005, that I would be lucky to get reelected as mayor, let alone ever elected outside of San Francisco."
Times staff writer John Myers contributed to this report.
Coverage of California politics »
Twitter: @philwillon
Updates on California politics
Get our Essential Politics newsletter
The latest news, analysis and insights from our politics team.
You may occasionally receive promotional content from the Los Angeles Times.