Gavin Newsom glided into election day seeking a dynasty — John Cox mere survival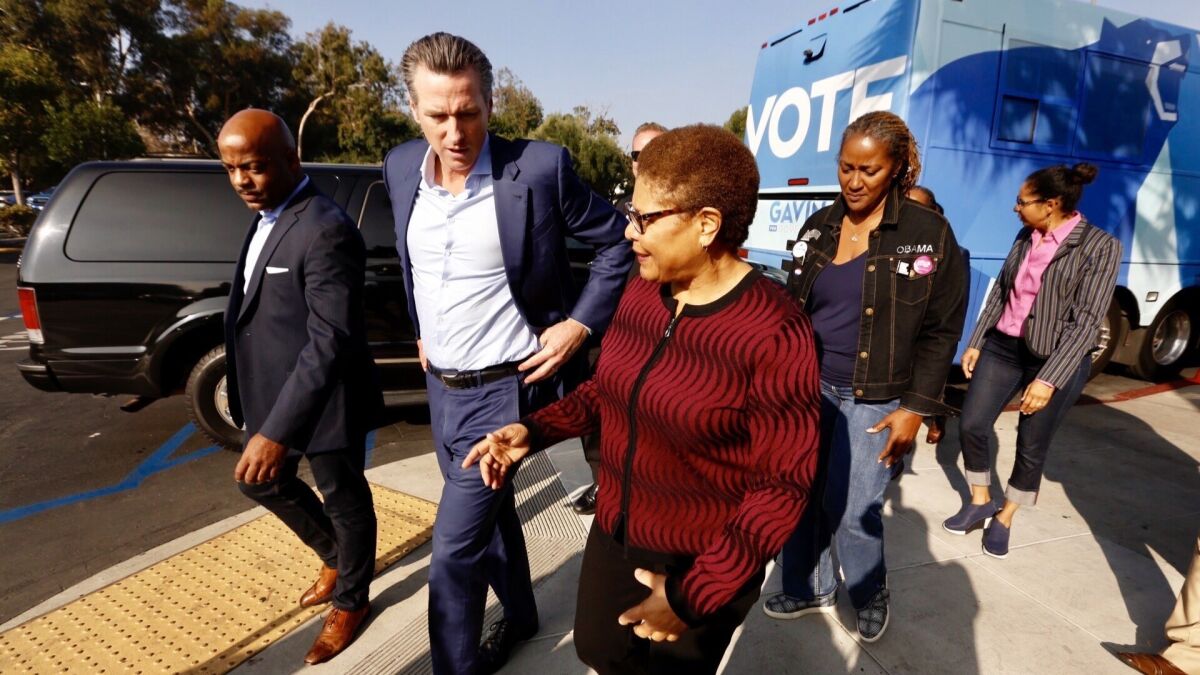 The final days of California's 2018 race for governor unfolded more as an extension of the contentious battle between California and President Trump than a contest pitting Democrat Gavin Newsom against Republican John Cox.
Newsom, the clear front-runner, glided into election day rallying for a Democratic incursion into Orange County and other long-held Republican turf. As he aids fellow California Democrats locked in tight congressional races, Newsom's efforts to help his party's quest to take control of the House of Representatives could add to his political cachet as a top leader of the Trump resistance.
Cox, meanwhile, continued to offer a bleak portrait of Democratic control in California, accusing Newsom and other party leaders of turning the state into a den of homelessness and economic despair. His rallies with GOP congressional candidates ginned up some media coverage, providing Cox with with a small dose of much-needed public exposure before election day.
"Newsom really doesn't have a path to lose, and Cox doesn't have a path to win," said Raphael Sonenshein, executive director of the Pat Brown Institute at Cal State Los Angeles. "The incentive for Newsom is that, if he's seen as helping Democrats win House races in Southern California, which is where the real action is this year, his political influence will grow."
The most recent public opinion polls show Newsom with a seemingly insurmountable lead. Democratic backlash against Trump is expected to spike voter turnout in California, giving Newsom even more of an edge.
Newsom was careful to avoid appearing overconfident as he campaigned around Southern California last weekend. But his caution was belied by the significant time he's spent helping other campaigns in the past month. The two-term lieutenant governor rarely uttered Cox's name, instead focusing on the president.
"Trump and Trumpism is on the ballot," Newsom told reporters during a campaign stop in Baldwin Hills on Monday morning. "As long was we have some stability, California will thrive. But if we don't take back the House and Trump succeeds, and then doubles down on everything he's done the last two years, California will be in the crosshairs."
Where John Cox and Gavin Newsom stand on the top issues in the state »
At a rally in Newhall on Saturday for Democrat Katie Hill, who is trying to unseat Rep. Steve Knight (R-Palmdale), Newsom roused a packed auditorium of campaign volunteers and supporters, calling on them to be the "antidote" to the fear and anxiety he said has been stirred by Trump and his allies in Congress.
Newsom ridiculed Trump for trying to rally his political base by fearmongering over the caravan of Central American migrants making their way to the United States. He noted that California, in contrast, welcomed more than 100,000 refugees over the last 15 years, saying the state embraces diversity and human rights.
"We are here at this critical moment, not just to step up and step in because I don't think it's a gross exaggeration, the world is looking to California at this moment to make the right decision," Newsom said to the crowd Saturday.
Annie Guidice, a film editor from Woodland Hills, drove up to Newhall to hear Newsom speak. She also volunteered to help the Hill campaign with its get-out-the-vote efforts, in her first experience assisting a political campaign.
"It's just such a critical, immensely terrifying time," said Guidice, 49. "I personally feel like I have to be engaged in the process whether or not someone is involved in my local area."
Newsom was joined by U.S. Sen. Kamala Harris (D-Calif.) as he campaigned in Orange County, a onetime Republican stronghold. They joined rallies for Democratic congressional candidates Katie Porter in Irvine, Harley Rouda in Costa Mesa and Gil Cisneros in Buena Park.
On Monday, he began his final stretch of campaigning in Los Angeles before heading up to Modesto for a rally with Democrat Josh Harder, who is trying to unseat Rep. Jeff Denham (R-Turlock). He ended the day with an election eve party in San Francisco with Harris and Gov. Jerry Brown.
Brown told the crowd — some of whom waited in line for two hours beforehand — that Newsom is the "energetic, visionary young governor" California needs.
"People get a little tired of you in politics, they do," Brown said at the rally in the city's Mission District. "We've had two terms of a Democrat, me. Then we get two more terms of another Democrat. And luckily we're going from the oldest governor to one that's pretty young."
Aboard his "Help is on the Way" campaign bus, Cox hit many of the same contested congressional districts. He threw a rally in Carlsbad on Friday with Republican congressional candidate Diane Harkey, who is vying to succeed retiring Rep. Darrell Issa (R-Vista). Over the weekend, Cox stumped for GOP congressional candidate Young Kim in Rowland Heights and incumbent Republicans Knight in Santa Clarita and Denham in Modesto.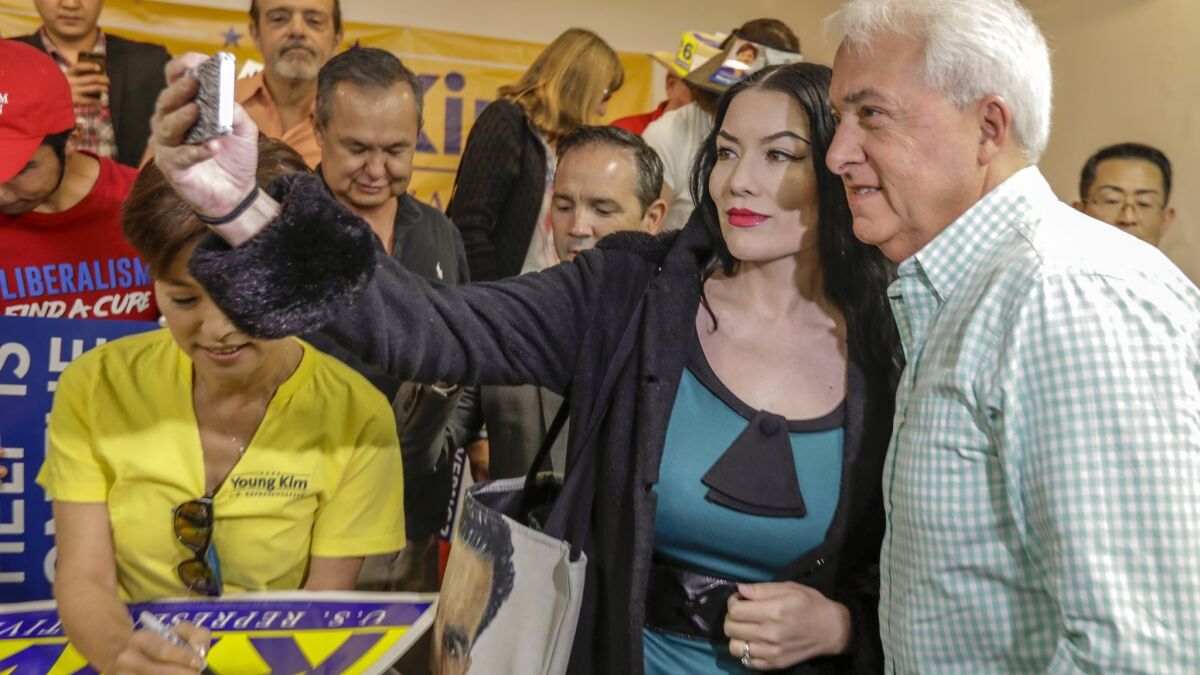 As Newsom cast Trump as California's bogeyman, Cox branded himself a political savior to end the gloom and doom in the state created by decades of Democratic rule.
"The people of this state have been taxed enough. They have been paying so much for housing, for food, for electricity that have been driven up by the special-interest groups that control Gavin Newsom, that control the Legislature," told the crowd gathered at Kim's campaign headquarters on Sunday.
When Cox's bus rolled into Santa Clarita on Saturday, he was met with supporters festooned in red, white and blue. One wore a shirt that read, "If you live here, Trump is your president."
Cox whipped up the crowd with a chant of "Yes on 6," a reference to the ballot proposition that would repeal the state's increased gas tax and vehicle fees. Another roar of approval came when he promised to cancel plans for the state's $77-billion high-speed rail system.
He again took aim at Newsom's tenure as mayor of San Francisco, repeating his claim that the Democrat's policies hurt the city.
"Who are we fighting? The San Francisco values," Cox said at a Sunday rally for Denham, as dozens booed at the city's mention. "Take a look at that city. It used to be a wonderful city. It was run by my opponent — I would say run into the ground."
FULL COVERAGE: Election Day 2018 »
Cox, a wealthy businessman from Rancho Santa Fe, seemed to relish his final days on the campaign trial. He said he remains confident that he'll do well on Tuesday.
And Newsom let down his guard on Monday, laying out plans for his transition to the governor's office.
"We've got a lot of work to do on housing, homeless, issues of affordability. Those remain stubborn," Newsom told reporters. "The governor, I hope it's me, we got to hit the ground running this week in a transition to start to address those issues issues in a much more meaningful and deliberative way."
In a USC Dornsife/Los Angeles Times poll released in mid-October, Newsom dominated California's two biggest population centers, the Bay Area and Los Angeles County, home to just under half the voters in California.
Thanks to his San Francisco roots, the Bay Area has long been one of Newsom's strongest bases of support, but he's also proved resilient in Southern California. In the June primary, Newsom won Los Angeles County handily, despite facing L.A.'s former mayor, Antonio Villaraigosa. He also finished a sliver behind Cox in San Diego County, the Republican's home base.
As a candidate and as lieutenant governor, Newsom says he's visited Southern California on almost a weekly basis for nearly a decade. He has joked that he's been eyeing a run for governor ever since being elected lieutenant governor in 2010.
"He's been working toward this moment for eight-plus years," said Rusty Hicks, president of the Los Angeles County Federation of Labor. "It's undeniable that the message that he has had throughout his campaign has resonated with voters, which put him in a great position to carry that message all across the state … as a standard bearer for California values."
Times staff writers Christine Mai-Duc and Jazmine Ulloa contributed to this report.
Coverage of California politics »
phil.willon@latimes.com | Twitter: @philwillon
dakota.smith@latimes.com | Twitter: @dakotacdsmith
---
Life is stressful. Our weekly mental wellness newsletter can help.
You may occasionally receive promotional content from the Los Angeles Times.