Can California's fractured GOP get it together to nominate a candidate for governor?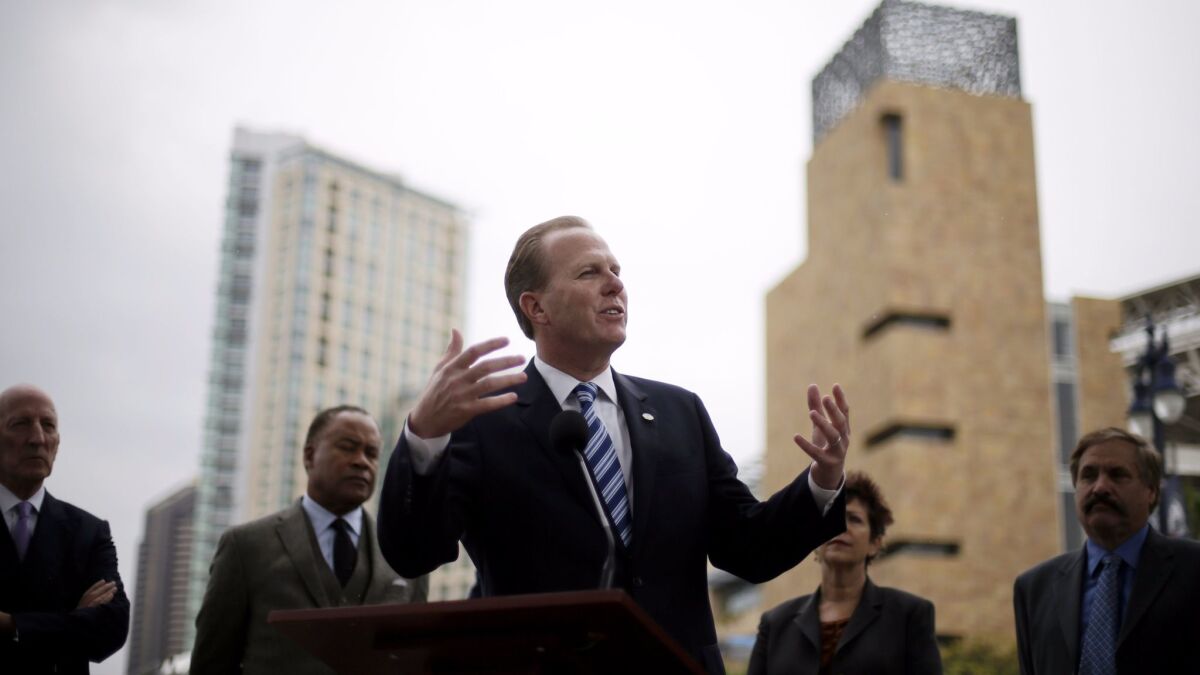 The GOP may be in dire straits in California, but a flurry of recent moves suggests the party of Ronald Reagan and Richard Nixon is not willing to abandon the 2018 gubernatorial race, as it did four years ago.
The big question is if the party will be able to marshal enough support behind a Republican candidate for governor and avoid a repeat of last fall's Senate campaign, which, thanks to the top-two primary, was fought between two Democratic candidates.
Several Republicans are in the mix. They include conservative Orange County Assemblyman Travis Allen and Rancho Santa Fe venture capitalist John Cox. Speculation is mounting that former state Assemblyman David Hadley plans to announce a run. There also are furious efforts to recruit San Diego Mayor Kevin Faulconer into the race, because he is viewed as the strongest possible contender.
"It is exciting," said Shawn Steel, a Republican National Committee member from Orange County. He said the GOP could exploit what he calls Democratic overreach in Sacramento, including the passage of an unpopular new gas tax. That plus growing alarm over quality of life issues in California could give Republicans an opening among voters who have typically not supported his party's candidates, he said. "I'm not counting on anything as being certain in politics, but I never expected [President] Trump to win, for goodness sakes, and was delighted when he upset all the pundits."
A viable Republican top-of-the-ticket candidate could be crucial to driving GOP voters to the polls in seven California House races that are expected to be battlegrounds in the 2018 midterms.
House Majority Leader Kevin McCarthy (R-Bakersfield) is concerned about next year's turnout, and has been working hard trying to convince Faulconer to enter the race and show him he has a path to victory, according to multiple people familiar with McCarthy's efforts who were not authorized to discuss them.
Party Chairman Jim Brulte has made at least one personal appeal to the mayor during a face-to-face visit to San Diego.
On paper, the efforts make sense — Faulconer is the type of Republican that political observers believe has the best shot of winning statewide office in California. He's a fiscal conservative and social moderate who is not viewed as an ideologue. He has distanced himself from Trump. He's also the only GOP mayor leading one of the nation's 10 largest cities, and was elected twice despite Democrats' nearly 18-point voter registration edge in San Diego, evidence of his crossover appeal.
------------
For the record, 10:02 a.m., June 29:
An earlier version this article stated that Democrats had a six-point edge in voter registration in San Diego. They had a nearly 18-point registration edge.
------------
GOP strategists familiar with his thinking say he is now weighing entering the race, even though he previously said he had no intention of running. Faulconer's spokespeople did not respond to a request for comment.
After the candidate conundrum, there is the question of a GOP path to victory in a state where Democrats dominate.
Democrats unsuccessfully tried to use an anti-Trump message in four recent special congressional elections across the country. But Republicans had stronger advantages in those districts. In California, Trump was trounced by Democratic presidential nominee Hillary Clinton by more than 4.2 million votes, a reflection of the party's domination of state politics.
Republicans last elected a statewide candidate more than a decade ago, have seen voter registration plummet to a 19-point disadvantage to Democrats, and have repeatedly allowed the opposition party to win super majorities in both chambers of the state Legislature.
In 2014, the party's leadership put no resources behind its standard-bearer who ran against Gov. Jerry Brown. And in 2016, the GOP's dwindling number of voters in the state splintered in the primary for the first open U.S. Senate seat in more than two decades. The result was that two Democrats and no Republican advanced to the general election.
Both elections left palpable anger that GOP activists expressed at their annual convention earlier this year. The state party has pledged to compete in the 2018 gubernatorial contest, although it was unclear if the pledge includes a plan or if leaders were offering wishful thinking to soothe party loyalists.
"It's important for morale and turnout to have a Republican candidate on the November ballot," said Jack Pitney, a political science professor at Claremont McKenna College and a former state GOP leader. "It was bad enough to be shut out of the Senate race in 2016, but the governor's race is a flagship race and the party needs to have a [credible] candidate, but whether that happens is an open question."
Follow California politics by signing up for our email newsletter »
The field so far
Allen, an assemblyman from Huntington Beach, is a traditional GOP conservative and a staunch Trump supporter. A favorite of the party's grass roots, Allen opposes the adoption of a government-run healthcare system and has voted consistently against increasing protections for immigrants who entered the country illegally, stances that do not align with the majority of California voters. But he says even Democrats are "turned off" by the party's recent moves. Earlier this year, Allen filed a ballot measure to rescind the gas tax passed by the Legislature. It's an issue Republicans plan to campaign on in 2018, and already has triggered a recall campaign against a Democratic state senator from Orange County.
Hadley, who represented the South Bay in the state Assembly for two years, shares an ideological profile similar to Faulconer's, though he is not as well known. He has filed paperwork with the state to open a campaign fundraising account, but has not formally launched a bid. He did not respond to requests for comment.
Former Los Angeles Rams football player Rosey Grier has said he plans to run but has taken no formal steps to establish a campaign.
The money might be a problem
Successful gubernatorial races in California cost tens of millions of dollars, and the three top Democratic candidates already have raised more than $20 million collectively.
Pitney was skeptical the state's deep-pocketed GOP donors would invest in a race they know they are likely to lose, especially given that the battle for control of Congress would siphon money and attention to other competitive contests.
"Money would have to come from heaven," Pitney said. "Donors want to put the money where it can have some effect.... Why throw it to a race where the outcome is very likely a big Republican defeat?"
Cox has the wealth to fund his own campaign, and already has put in a personal stake of $3 million. A source close to the candidate who was not authorized to speak publicly about the campaign said Cox is willing to invest a couple million more, but will not entirely self-fund his bid.
In 2014, such a dollar figure was enough for businessman Neel Kashkari to win the second spot in the primary and advance to the general, where Brown crushed him by 19 points. But Kashkari had only one serious Republican rival in the race, Tim Donnelly, a controversial then-assemblyman and former leader of the Minutemen border-patrol group.
This time around, it's more complicated. The more people jump in, the more they split up the shrinking number of Republican voters, increasing the likelihood of a Democrat-on-Democrat brawl next November.
Jon Fleischman, a conservative blogger based in Orange County and former state party official, summed up the problems with a crowded GOP field. "[I]t's entirely possible Republicans avoid the embarrassment of losing in November by simply losing in June."
Times staff writers Melanie Mason and Liam Dillon in Sacramento contributed to this report.
For the latest on national and California politics, follow @LATSeema on Twitter.
California's 2018 governor's race is going to be big. Find out who's in and what's next
Billionaire Tom Steyer is spending millions for Democrats. What will he get out of it?
Get our Essential Politics newsletter
The latest news, analysis and insights from our politics team.
You may occasionally receive promotional content from the Los Angeles Times.