All but four California House Democrats are with Clinton. Here's why
Four California House Democrats are keeping a tight lid on who they think should be their party's presidential nominee.
The California primary is June 7, and the other 35 members of the Golden State's Democratic House delegation, and both its U.S. senators, have backed Hillary Clinton for months.
But House Minority Leader Nancy Pelosi and Reps. Barbara Lee, Alan Lowenthal and Norma Torres said they aren't ready to publicly support either Clinton or Vermont Sen. Bernie Sanders, who is popular but lagging in delegates.
Lowenthal, from Long Beach, said he's still watching the candidates and doesn't expect to announce a choice before California votes next month. As a state senator, Lowenthal endorsed Barack Obama in January 2008.
He said he and the other undecided House members talk privately about what to do and when to endorse. He said announcing support strategically could help bring the Democratic Party together.
"A lot of us think that we're going to play a major role in making sure that we unify behind our candidate. We're going to have to really be very actively involved, all of us … to make sure that we come together and make sure that we don't split apart, like we are watching on the Republican side," Lowenthal said.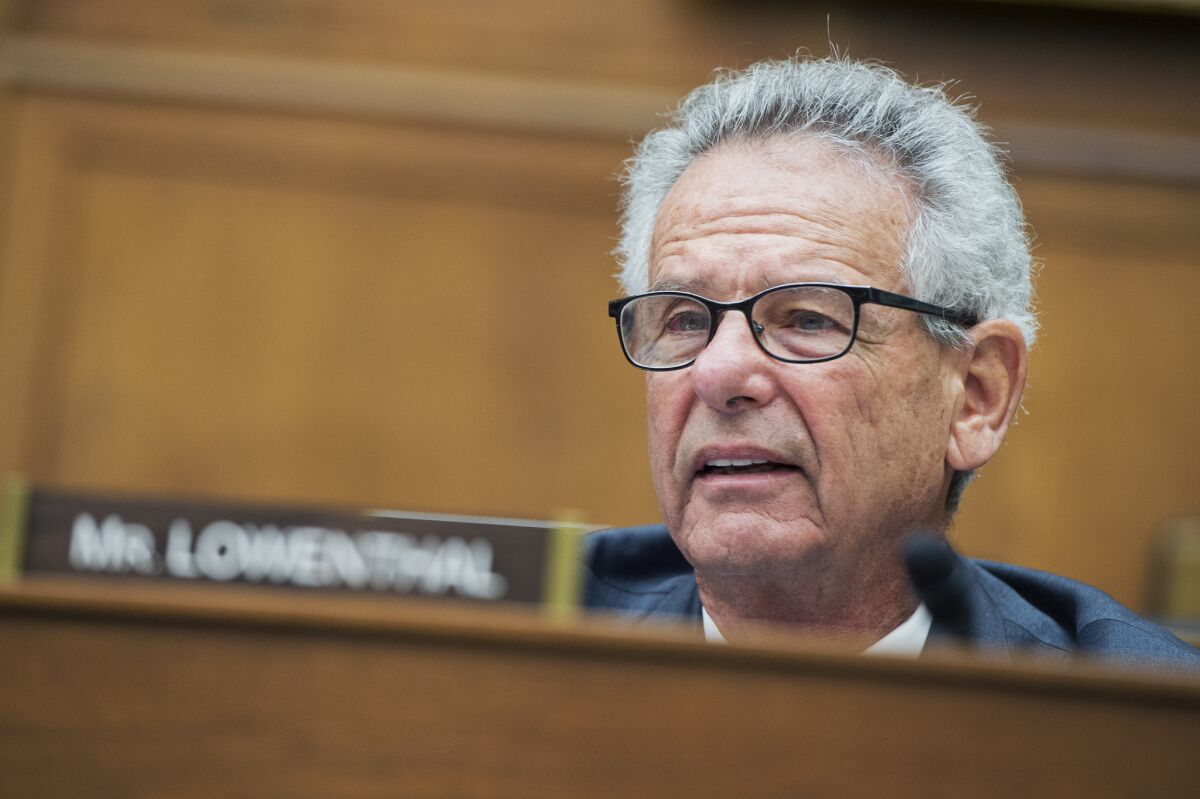 I have a responsibility to elect a Democratic House because when we get a new President, as I said, whoever she may be.

— Pelosi
To me, it's the choice between two very good candidates who complement each other.

— Lowenthal
When constituents have contacted him, "I told them I was just going to wait, and they were fine," he said. "Sometimes, very passionate supporters say some very foolish things on both sides."
Lowenthal said both campaigns have reached out when visiting California, and he has turned them down.
"They've kind of left the four of us alone," Lowenthal said. "To me, it's the choice between two very good candidates who complement each other: one with great experience, the other one with a vision for dealing with some of the issues that have not been dealt with for a long time."
Lee said she plans to wait to endorse until it can do the most good for the party and get a Democrat elected to the White House.
The Oakland progressive's district, which includes Berkeley, is expected to go for Sanders, though Lee said she's hearing from constituents who support both Democrats.
She is one of a few members of the Congressional Black Caucus who did not endorse Clinton when the caucus' political action committee did so in February. She endorsed Obama early in the 2008 race.
Lee said she doesn't want to temper voters' enthusiasm or alienate anyone.
"I don't want to undermine the momentum for our party," she said by phone, adding that it's important people feel like their voices are heard.
The latest USC Dornsife/Los Angeles Times statewide poll, released in late March, found that close to 8 in 10 Sanders supporters said they would vote for Clinton in a race against Trump, although many said they would do so reluctantly.
Torres endorsed Obama early in the 2008 race and campaigned for him when she was mayor of Pomona, but she says she hasn't focused on this year's primary.
Clinton has experience as a first lady, senator and secretary of State, Torres noted, but she wants to learn more from her about immigration and Native American issues.
I'm happy to see that [Sanders] is inspiring people, but I think at this point, he needs to focus on getting a Democrat elected.

— Torres
"I still want to hear more about her plan for immigration reform. That is something that I feel that I worked really, really hard in 2008 to help then-candidate Barack Obama, and we were sort of shorted on that issue," the Pomona congresswoman said.
She's hearing from voters on social media and at public events.
"A lot of my constituents are for Bernie Sanders at this point," Torres said. "The popular vote is not going to win; we learned that through the candidacy of Al Gore. [It's] unfortunate, so we have to make sure that we're able to get behind the right candidate."
But she doesn't like what she perceives as Sanders' negativity.
"The polls throughout California have been strongly supportive of Secretary Clinton. It's a little bit late," Torres said. "I'm happy to see that [Sanders] is inspiring people, but I think at this point, he needs to focus on getting a Democrat elected. I'm upset that he's talking the same negative talk that Trump is using against Hillary."
At a news conference in San Francisco this week, Pelosi said she's avoided endorsing a candidate because she doesn't want to discourage voter turnout, which Democrats need in other races as they try to reclaim the House and Senate.
"I have a responsibility to elect a Democratic House because when we get a new president, as I said, whoever she may be, that we want that president to have the strongest possible Democratic Congress — that could be a Democratic Senate [and], hopefully, a Democratic House," Pelosi said.
The San Franciscan stayed on the sidelines during the 2008 nominating contest and has said nice things about both Sanders and Clinton.
"While we may have our differences among the Democratic Party ... the differences are slight and slim compared to the chasm that exists between our candidates for president and the completely shameful, disrespectful of the office of president, the rhetoric that we're hearing on the Republican side," she said.
Like all House Democrats, the four undecided California members are superdelegates to the Democratic National Convention this July in Philadelphia. That means they can choose whom they want, and their selection at the convention doesn't need to be tied to how Californians vote.
Clinton secured the support of hundreds of superdelegates early in the race, scaring off potential rivals and giving her a leg up as the primary process went on. Sanders and many of his supporters have urged superdelegates to switch to his side or reevaluate their choice based on which candidate voters favored in their state's primary.
The social media accounts of California's Democratic members are peppered with Sanders supporters imploring them to reconsider and threatening intraparty challenges if Clinton secures the nomination through superdelegates.
On the Republican side, the majority of the state's 14 House members say they will support the party's nominee, though only a few specifically name Donald Trump.
See how the delegation's presidential endorsements line up >>
Of the Democratic House members backing Clinton, many have developed relationships with her and former President Bill Clinton over their decades in politics.
Some, like Rep. Doris Matsui of Sacramento, worked in the Clinton White House. Others, like House Democratic Caucus Chairman Xavier Becerra of Los Angeles, have been vocal surrogates for Hillary Clinton as she campaigns across the country.
Sen. Barbara Boxer was once family through marriage when Boxer's daughter married Clinton's brother, and her grandson is Clinton's nephew.
---
This list was compiled through conversations with the 55 members of California's Congressional delegation and their staffs, news reports and social media statements. It will be updated as members make or change their endorsements. Members marked as none either have not endorsed a candidate, or it was unclear whether they have. Send updates to sarah.wire@latimes.com.
Follow @sarahdwire on Twitter
Read more about the 55 members of California's delegation at latimes.com/politics
Get our Essential Politics newsletter
The latest news, analysis and insights from our politics team.
You may occasionally receive promotional content from the Los Angeles Times.