Trump's immigration agenda forces California GOP candidates to navigate a tricky course
Rep. Mimi Walters started last week on message. On Monday, the Irvine Republican tweeted a news story about the tax cuts she helped pass, a central theme of her reelection campaign and her party's effort to keep control of the House after the November midterms.
Less than a day later, Walters felt the need to pivot to President Trump's crisis du jour: Audio of wailing children and photos of kids in detention shelters had sparked bipartisan outrage over Trump's policy of separating migrant children from parents arrested for crossing the border illegally.
"As a mother, I strongly oppose the separation of children from their parents at the border," Walters posted on Twitter.
Trump changed his mind Wednesday with an executive order. But reuniting thousands of children with their parents could be a months-long saga, and Trump's new policy — detaining families together — is problematic legally and politically.
As Trump signals he's unlikely to back off an immigration agenda designed to whip up support with his base, he's creating more obstacles for vulnerable GOP members like Walters who must win over wavering coastal suburbanites and Latino-heavy farm towns while avoiding attacks from their Democratic opponents.
Coverage of California politics »
Until recently, it seemed most candidates from both parties were content to concentrate on "kitchen table" economic issues this year — Republicans on the effects of Trump's tax cut package and Democrats on GOP votes to repeal the Affordable Care Act.
But even before the latest crisis bloomed, voters were paying attention to immigration. In a May poll by the Public Policy Institute of California, more of the state's likely voters — 19% — identified immigration as a top concern over jobs and the economy, which 15% mentioned. That's a switch from May 2017, when the economy got top billing.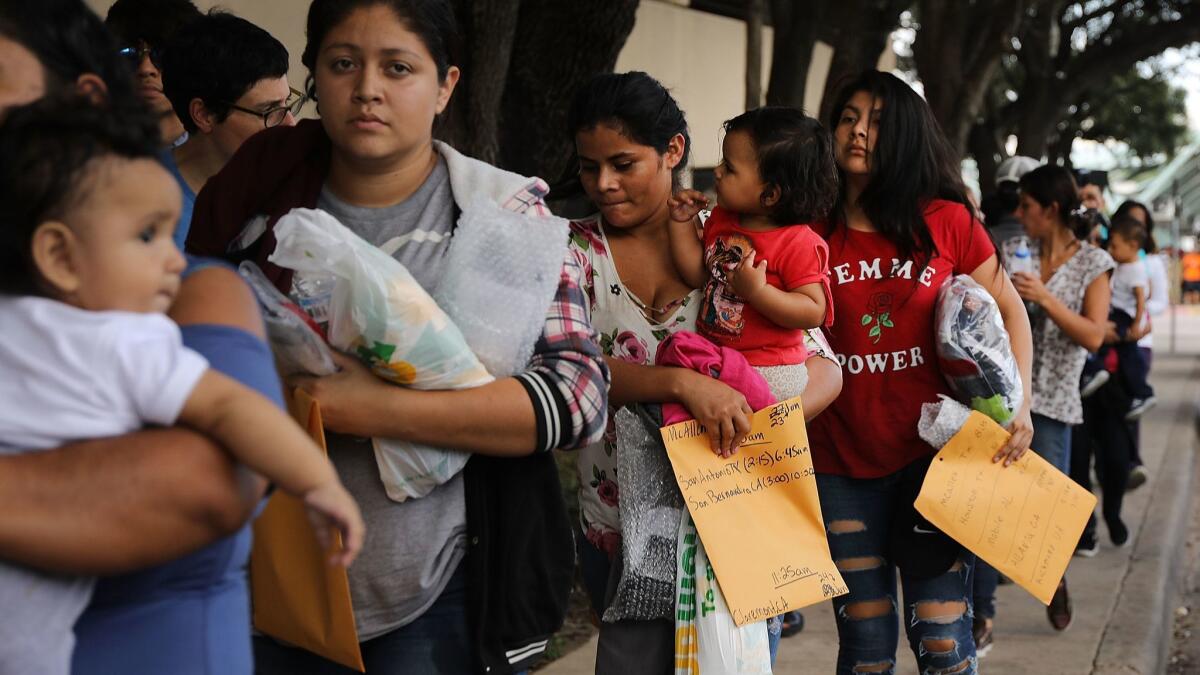 The issue has vexed both parties for decades, but it hasn't often become a central issue in national congressional elections. But Trump's hard-line rhetoric in 2016 drew new voters to the Republican Party and helped him win.
"He keeps coming back to it and keeps coming back to it very forcefully," said Roberto Suro, a professor of public policy at USC.
That's created headaches for House members such as Rep. Jeff Denham (R-Turlock), who's tried for years to make progress on immigration reform. It's a matter of survival for Denham, who represents a district where Hillary Clinton won in 2016, Democrats hold a slight advantage in voter registration and Latinos make up nearly 30% of the electorate.
A couple of weeks ago, Denham dropped a risky effort to force a series of votes on immigration bills, one of which would have provided a path to citizenship for "Dreamers" brought to the U.S. as children, and instead signed onto a bill crafted exclusively by Republicans. He was selling that package hard when the controversy over family separation exploded.
"Not only is this current policy unacceptable, but the optics of pulling kids away from their parents is horrible for any party," he told CNN, stopping short of criticizing the president.
His opponent, Democrat Josh Harder, seized on the issue. "Every person in our district who sees a kid being separated from their parents, who sees some of the horrific things that are happening, that's pretty motivating," Harder said in an interview. His campaign plans to continue hammering Denham on what he calls "hot air and press releases."
In an interview, Denham criticized Harder for his thin record as a voter in the district and said Democrats could have stopped the family separations permanently by supporting his bill, which would direct the government to detain parents and their children together and contains provisions that Democrats have called non-starters.
Denham's chances on that bill are looking even grimmer after House leaders delayed a vote on it and Trump tweeted Friday that lawmakers should "stop wasting their time" until after the November election.
There's a chance that could be too late for some Republican House members. A couple of years ago, Trump's immigration rhetoric drew newcomers to the GOP, but it also helped send record shares of Latino voters, who have been known for low turnout, to the polls in California.
And although final turnout figures in the June primary aren't in, early mail ballots tracked by the firm Political Data Inc. suggest that Latino voters in key districts went to the polls in numbers that were on par with presidential election years, including in districts such as Denham's, Los Angeles-area Rep. Steve Knight's and the open Orange County district being vacated by Rep. Ed Royce.
In a district like those, said pollster Matt Barreto of Latino Decisions, a firm that studies the Latino vote, images of children in detention facilities could be enough to motivate Democrats and independents — Latino or not — to go to the polls.
Gil Cisneros, the Democrat running to replace Royce, called the separations "heartless" and "inhumane." Young Kim, a former assemblywoman and Cisneros' Republican opponent, said that seeing families separated "breaks my heart" and that she wants immigration laws to be "enforced in a humane way."
Kim and some other Republicans had already hoped to draw GOP support by backing local efforts to oppose California's "sanctuary state" law. But continuing to align themselves with Trump's other immigration stances is a big risk in a state where most voters polled said they think immigrants in the U.S. illegally should be allowed to stay in the country if they meet certain requirements.
Walters doesn't appear to be that worried. After demanding more information about the family separations, last week she voted for a failed bill proposed by House conservatives that did not include a permanent path to citizenship for Dreamers.
A campaign consultant who represents Kim and Walters did not respond to requests for comment.
"These are the suburban, white conservatives who have college degrees," Barreto said of voters in their districts. "They don't like being affiliated with mean-spiritedness.
"No one wants to be running on this," he added.
So what are Republicans like Denham, Walters and Kim to do?
Raphael Sonenshein, executive director of the Pat Brown Institute for Public Affairs at Cal State L.A., was succinct with his advice on Los Angeles public radio station KPCC last week: "Keep your head down. Less is more. Pray."
For more on California politics, follow @cmaiduc.
Get our Essential Politics newsletter
The latest news, analysis and insights from our politics team.
You may occasionally receive promotional content from the Los Angeles Times.