This is what the race for the House looks like right now in California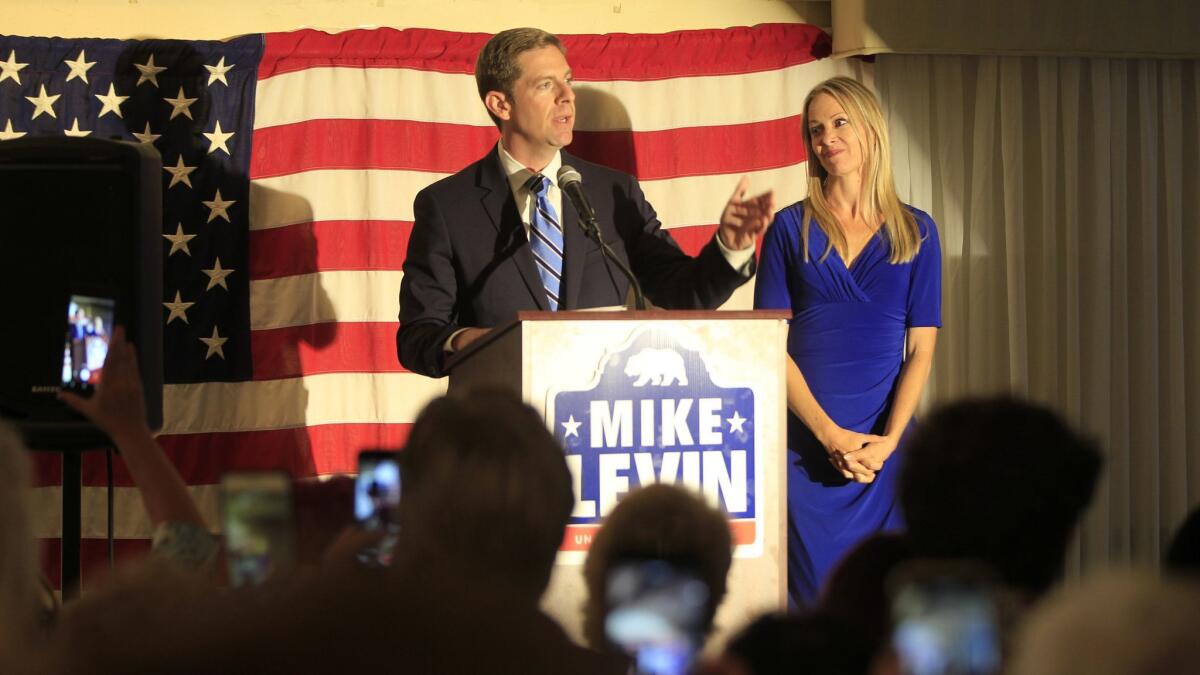 With the threat of primary shutouts seemingly behind them, California congressional candidates from both parties must pivot as Democrats seek to unseat established GOP incumbents and capture two open seats in the fall.
Many of the matchups look to be quite competitive — a good situation for Democrats who are counting on winning some GOP-held districts in California in order to retake control of the House. Here's what you can expect in each race as the general election campaigns begin.
Results from the California primary »
4th District
The matchup: Rep. Tom McClintock (R-Elk Grove), a former state legislator first elected to Congress in 2008, and Democrat Jessica Morse, a former U.S. State Department analyst.
The money: Both candidates have raked in more than $1 million. McClintock was out-raised by Morse and other Democrats much of last year and as of May 16 had about the same amount of money in the bank as she did, a sign of danger for an established incumbent.
The bottom line: Morse has momentum on her side but will probably face a tight race in November. Despite increased enthusiasm among activists, McClintock had 52% of votes in the latest count, and President Trump won his district with 54% of the vote. Election prognosticators have rated his seat "likely Republican."
10th District
The matchup: It's still not entirely clear whom Rep. Jeff Denham (R-Turlock) will be facing. At the latest count, the farmer and businessman seemed poised to face Democrat Josh Harder, a venture capitalist with deep ties in the district. That could potentially change, as Republican veterinarian Ted Howze was only 850 votes behind.
The money: Harder has proved a prolific fundraiser, raking in nearly $1.5 million as of mid-May. But Denham, a four-term incumbent, has raised $3 million.
The bottom line: Denham has long overcome challengers by focusing on local issues important to constituents. Even if Harder can consolidate support that went to other Democratic candidates Tuesday, his success may hinge on his ability to woo some moderate Republicans to his side.
21st District
The matchup: Rep. David Valadao (R-Hanford), a rancher first elected in 2012, will face Democratic engineer and businessman TJ Cox.
The money: Cox, who jumped into the race late, had $442,000 in the bank as of mid-May, as opposed to Valadao's nearly $1.3 million.
The bottom line: On paper, this district looks like one that could be a pickup opportunity for Democrats, but it has consistently eluded them. Valadao has so far collected a whopping 64% of the primary vote, leading election handicapper Cook Political Report to upgrade his district to "likely Republican."
22nd District
The matchup: Rep. Devin Nunes (R-Tulare), an eight-term incumbent who gained national attention over the House investigation into Russian election meddling, will face Democrat and Fresno County prosecutor Andrew Janz.
The money: Both candidates have parlayed Nunes' fame into campaign dollars. Janz had collected nearly $1.9 million as of mid-May, much of it from across the country. But as chair of the powerful House Intelligence Committee, Nunes has dwarfed Janz in fundraising, bringing in nearly $3.5 million in the same time period. The congressman reported having more than $5 million in the bank, more than eight times what Janz had socked away.
The bottom line: Nunes has formidable resources, but his opponent has also demonstrated a keen ability to raise money. In 2016, Nunes won with roughly 68% of the vote and outran Trump by 16 percentage points. National prognosticators have moved the district from "safe" to "likely Republican."
25th District
The matchup: Democrat Katie Hill, who most recently ran a homelessness nonprofit, will take on Rep. Steve Knight (R-Palmdale), a former Los Angeles police officer who served in the state Legislature before being elected to Congress in 2014.
The money: Hill has been neck and neck with Knight on fundraising, even out-raising him in several reporting periods. But she had to burn a lot of cash to make it through a tough primary, leaving her with just over $300,000 in the bank by mid-May compared with Knight, who had more than $1 million stashed away.
The bottom line: Hill has deep roots in the area and was one of two Emily's List-endorsed candidates to make it through competitive primaries in a year in which female candidates seem to be getting a boost from voters. But Knight had a strong showing Tuesday, receiving 53% of the vote so far, and Hill will need to move forward from a bitter contest with fellow Democrat Bryan Caforio to have a chance in this swing district.
39th District
The matchup: Republican Young Kim, a businesswoman and former state legislator, and Gil Cisneros, a Democrat and Navy-veteran-turned-millionaire, will duke it out over this seat. It's been left open by retiring Rep. Ed Royce (R-Fullerton).
The money: Cisneros had raised and spent a whopping $4 million, the vast majority of it his own money, as of mid-May. Kim, who joined the race much later, had raised more than $900,000 by that point.
The bottom line: Cisneros had received support from establishment Democrats even before the Democratic Congressional Campaign Committee backed him, and he has demonstrated a willingness to drop massive amounts of his own money to win. But Kim, a longtime Royce district staffer who has his endorsement, will have the weight of the GOP establishment in her favor. Minority voters in this diverse, rapidly changing district could be key: Cisneros has long had connections to the Congressional Hispanic Caucus, and Kim, if victorious, would become the first Korean American woman elected to Congress.
45th District
The matchup: Democrat Katie Porter, a UC Irvine law professor, will challenge Rep. Mimi Walters (R-Irvine), a former state legislator first elected to the House in 2014.
The money: Unlike some of her GOP colleagues, Walters has taken fundraising seriously, raising nearly $2.6 million to Porter's impressive $1.1 million. But Porter had to spend most of it in a primary battle against fellow Democrat Dave Min and has just a sixth of what Walters has in the bank.
The bottom line: Porter, endorsed by U.S. Sen. Elizabeth Warren (D-Mass.) and Emily's List, cast herself as a progressive, which could make it tough for her to flip this district without a massive Democratic turnout this fall.
48th District
The matchup: It appears that a Democrat will compete to unseat 15-term Rep. Dana Rohrabacher (R-Costa Mesa) this fall, but it's still not clear which one. With the latest round of ballots Wednesday, a mere 45 votes separated real estate investor Harley Rouda and stem cell scientist Hans Keirstead for the second spot.
The money: Rohrabacher has lagged behind his challengers but had still raised $1.6 million by mid-May — more than he ever has. But Keirstead and Rouda, both successful businessmen, have boosted their coffers with personal money and raised $1.7 million and $2.2 million, respectively.
The bottom line: Rohrabacher has seen his support among local Republican activists eroding in recent months and received just 30% of votes so far. If Keirstead or Rouda can find a way to unite their supporters, Democrats have a good shot at unseating him.
49th District
The matchup: Diane Harkey, the Republican chairwoman of the state tax board, will face Democratic attorney Mike Levin in the race to replace Rep. Darrell Issa (R-Vista).
The money: Harkey, who joined the race after Issa announced his retirement, had raised just $474,000 as of mid-May, while Levin had raised $1.7 million.
The bottom line: Levin doesn't have the name recognition or political experience Harkey boasts, and the primary was bruising for Democrats. But many Democratic activists here, who have been hyper-engaged since Trump's election, have emphasized the need to come together after the primary.
50th District
The matchup: Ammar Campa-Najjar, a Democratic public affairs consultant, will take on embattled Rep. Duncan Hunter (R-Alpine).
The money: Hunter's fundraising has been anemic as he has faced a federal criminal investigation of his campaign spending. But his opponent hasn't done much better: Hunter has $315,000 in the bank compared with Campa-Najjar's $180,000.
The bottom line: Hunter is in a safe Republican district, and is potentially even safer now that Democrats have nominated a fairly progressive candidate who supports single-payer healthcare and tighter gun laws. Unless Hunter is indicted while running for reelection, he seems a likely bet to hold this seat come November.
Times staff writer Sarah D. Wire contributed to this report.
Twitter: @cmaiduc
---
UPDATES:
June 7, 8:45 p.m.: This article was updated to add that Levin will advance to the general election.
June 6, 7:15 p.m.: This article was updated with additional election information and analysis
This article was originally posted on June 6 at 4:30 a.m.
Get our Essential Politics newsletter
The latest news, analysis and insights from our politics team.
You may occasionally receive promotional content from the Los Angeles Times.