Southern California cities cite 'chaos' in rejecting state push for more housing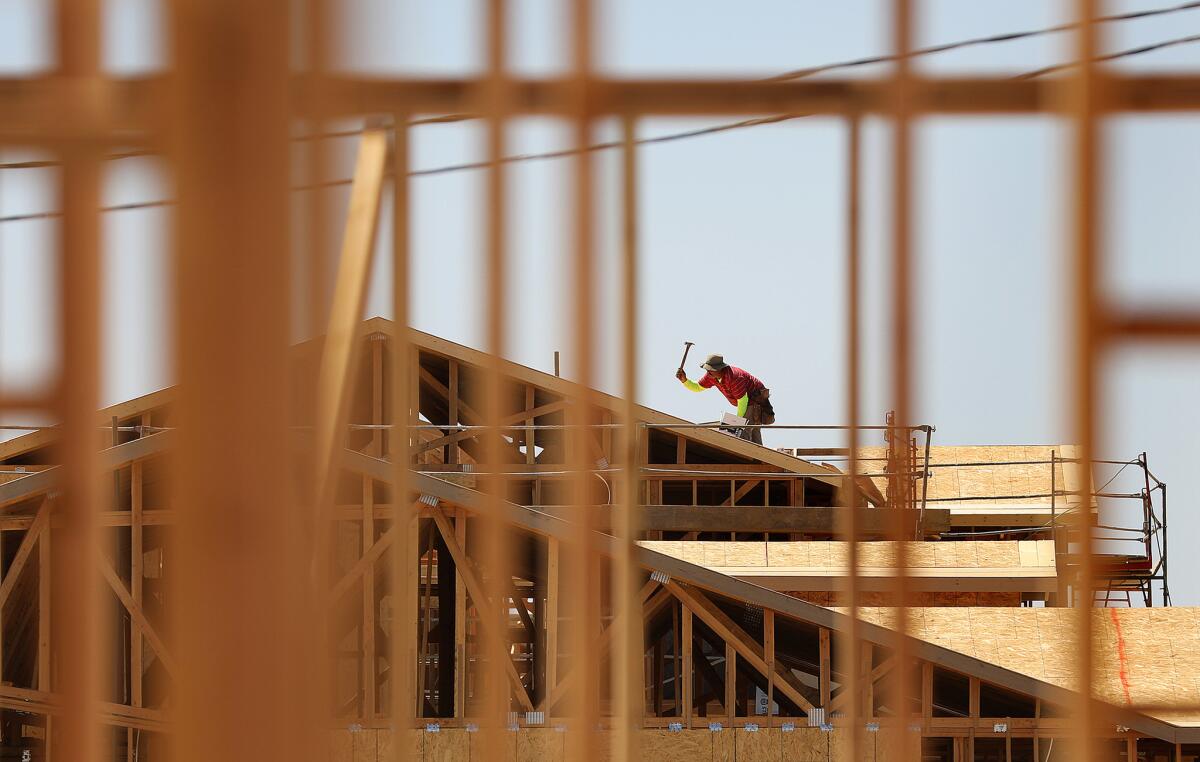 Reporting from Sacramento —
As the state continues to face an affordable housing crisis, Gov. Gavin Newsom and local governments in Southern California are heading toward a clash over just how much the region will grow in the next decade.
Although Newsom has called for a building boom to alleviate a shortage of available homes he believes is at the root of the state's problems, city and county leaders in Southern California are working to rein in potential development.
This month, a public agency representing 19 million residents in Los Angeles County and five neighboring counties voted to sharply restrict the amount of residential building in the region. The Southern California Assn. of Governments, which encompasses half of the state's population, has agreed to zone for the development of 430,000 new homes through 2029, a number that in effect would make Newsom's campaign pledge of building of 3.5 million new homes across California impossible to accomplish.
Though the Newsom administration ultimately has the power to determine how many new homes local governments in Southern California must plan for, advocates worry that the region's resistance is a signal that the home building called for by the state will never happen.
"We're not working to meet the broader state objectives of creating more housing," said Cesar Covarrubias, executive director of the nonprofit Kennedy Commission, which promotes low-income housing in Orange County. "It's probably the wrong message to send the state that Southern California is not doing its part to address the housing crisis."
City and county leaders in Southern California have responded forcefully to state efforts to take away some of their control over development. Before the association's vote, local officials on the board blasted state lawmakers who they contended had "bombarded" cities and counties with "mind-boggling" proposals to diminish their power. In particular, they objected to Senate Bill 50, now-tabled legislation that would have required cities and counties to allow mid-rise apartments near mass transit and fourplexes in neighborhoods reserved only for single-family homes.
"To come into a community, into residential neighborhoods, to want to put up eight-story apartment buildings with no parking and no yards, all that is doing is creating chaos," Santa Clarita Mayor Marsha McLean said. "It's not helping anyone."
California lawmakers have tried for 50 years to fix the state's housing crisis. Here's why they've failed »
State law requires cities and counties to plan and zone every eight years for enough new homes to accommodate projected population growth for people of all income levels. The process begins with 19 regional agencies submitting proposals outlining an amount of home building they believe will meet that requirement. The Southern California Assn. of Governments is at that point for the eight-year period that begins in 2021.
Once the regional agency receives a final projection for its development needs from the state, it must divvy up the required number of homes among local governments in Imperial, Los Angeles, Orange, Riverside, San Bernardino and Ventura counties, which in turn must zone enough land to accommodate.
In the five decades the state housing supply law outlining the process has been in effect, city and county officials have objected to what they view as an incursion into their zoning authority. Some local governments have tried to find ways around the law: asking, for instance, to count prison beds and student dormitories as low-income housing, zoning for apartments and later failing to approve them, and otherwise flouting the law's intent to spur more home building.
Meanwhile, the state has provided few financial incentives to encourage more housing development, particularly for low-income families, and there is little penalty for those who skirt the law.
Two years ago, state lawmakers began advancing bills aimed at putting teeth into the housing supply law.
Cities face tighter rules on properties they can zone for new housing, an effort to prevent local governments from planning for growth in areas without water and sewer access, where building would never occur. Local governments behind on their housing goals were also required to relax their requirements for developers to build some projects, such as limiting the number of mandatory public meetings before their approval. And, given California's slow population increases, the state must now also take into account home overcrowding and the number of residents who are burdened by high housing costs when determining how much new building is needed.
Last fall, the Southern California Assn. of Governments appointed a committee with one voting representative from each of its six counties to discuss home building proposals. Some of the debate centered on the value of low-income housing.
At a March committee meeting, the Los Angeles County representative, Duarte City Councilwoman Margaret Finlay, said people opposed affordable housing because they feared that those with federal Section 8 housing assistance vouchers would come into their communities and commit crimes. But she also said more cities should accept low-income developments, noting that her son's family could have qualified for such housing while he was in graduate school.
"My point is," she said, that building affordable housing "doesn't necessarily mean you're talking about 'skid row people' that are going to be moving into your city."
When asked by a fellow committee member what she meant by "skid row people," Finlay replied, "I'm talking about Section 8 housing, people that qualify for that. That was the problem in our city; they have a greater need for sheriff's services in that particular housing area."
A 2013 survey of academic research by a UCLA professor found no clear link between Section 8 voucher holders and increased neighborhood crime.
Finlay's committee ultimately advanced a proposal for the region to plan for about 660,000 new homes through 2029 — a number that, although still far from Newsom's goal, was called too large by some government officials.
If the board had accepted a higher figure, the state would have more ammunition to push proposals like Senate Bill 50 or others to drive development that would be out of character in some neighborhoods, Santa Clarita Mayor McLean said.
"If the numbers are artificially inflated and not real," she said, "that could give the state justification for doing what they're trying to do in eroding local control."
Before the vote, Southern California Assn. of Governments staff members objected to the lower figure, saying it would ignore the new state mandates to take into account existing need for housing. But board members rejected that advice and decided to cut the amount by a third, advancing a plan for 430,000 new homes across the six-county region.
Los Angeles Mayor Eric Garcetti, who is on the association's board, has complained that cities neighboring Los Angeles aren't building enough new housing, a problem that a higher regional residential zoning target could help remedy.
"We're only 40% of the population," Garcetti lamented to reporters just two days before the decision. "We need other cities to step up."
But Garcetti didn't show up for the association's vote on the housing figure. And of the city's 15 council members, only David Ryu, who represents neighborhoods from Sherman Oaks to Silver Lake, was there to oppose the decision.
Garcetti declined an interview request. Although the vote "was an unfortunate step in the wrong direction, Mayor Garcetti regularly convenes meetings with the region's mayors and will keep encouraging them to support building more housing, especially affordable units, in their cities," spokesman Alex Comisar said in a statement.
Those supportive of higher housing supply goals criticized Garcetti and other city officials for not attending the meeting.
"What happened was emblematic of what's been happening with housing planning for decades in California," said Paavo Monkkonen, associate professor of urban planning and public policy at UCLA. "A group of elected officials firmly committed to opposing change — in this case building more housing of any type in their city — used a seemingly technical process to block progress. Like all democracies, representation depends on showing up, and they showed up to defend the process that has been working well for them all these years."
Newsom has signaled that he wants to change the balance between local and state officials in making decisions about housing. In his first weeks in office, he proposed withholding state transportation dollars from cities that didn't approve enough growth — an idea that hasn't gotten traction in the Legislature — and pumping up home building goals for local governments. He also authorized a lawsuit against the city of Huntington Beach over alleged violations of the housing supply law.
The governor has yet to review the Southern California Assn. of Governments' decision, but his administration isn't required to take into account the agency's vote when providing the number of new homes the region has to plan for, a move that's expected in August.
"The governor believes local governments must accurately assess housing need in their region and work toward meeting that need, as is required by California housing law," Newsom spokesman Nathan Click said in a statement.
Times staff writer Dakota Smith contributed to this report.
Get our Essential Politics newsletter
The latest news, analysis and insights from our politics team.
You may occasionally receive promotional content from the Los Angeles Times.