Get ready for a lot more housing near the Expo Line and other California transit stations if new legislation passes
Reporting from Sacramento —
A dramatic increase in new housing near transit stations could be on its way across California under new legislation proposed by a Bay Area legislator.
Subject to some limitations, the measure would eliminate restrictions on the number of houses allowed to be built within a half-mile of train, light-rail, major bus routes and other transit stations, and block cities from imposing parking requirements. Sen. Scott Wiener (D-San Francisco), the bill's author, said the state needs the housing to address affordability problems, maximize recent multi-billion-dollar transit investments and help the state meet its climate change goals.
"We have a severe housing shortage and part of the problem is that core areas with transit access don't allow much housing," Wiener said. "That creates sprawl, huge commutes and it's not sustainable."
Developers in the state need to build roughly 100,000 more homes each year than they do now to keep pace with population growth, as home prices and rents continue to rise. State environmental officials say California won't meet its ambitious goals to reduce greenhouse gas emissions by 40% below 1990 levels without a homebuilding boom in existing job centers and near transit.
A 2016 study by the McKinsey Global Institute, a private think tank, estimated that the state had the capacity to build as many as 3 million new homes within a half-mile of transit stops over the next two decades if local governments rezoned neighborhoods surrounding them, accelerated development approvals and increased public investment in such projects.
Wiener's bill, SB 827, would affect neighborhoods surrounding Metro stations in Los Angeles, Bay Area Rapid Transit, Caltrain and San Francisco Muni lines in Northern California and other transit stops across the state. It would override local zoning rules in those areas, including plans under debate now.
In Los Angeles, city leaders have been working to increase the amount of housing allowed in a half-mile around five Expo Line stops between Culver City and Santa Monica. The city's current plan could add 6,000 new homes but leaves almost 90% of the area, including many single-family neighborhoods, untouched.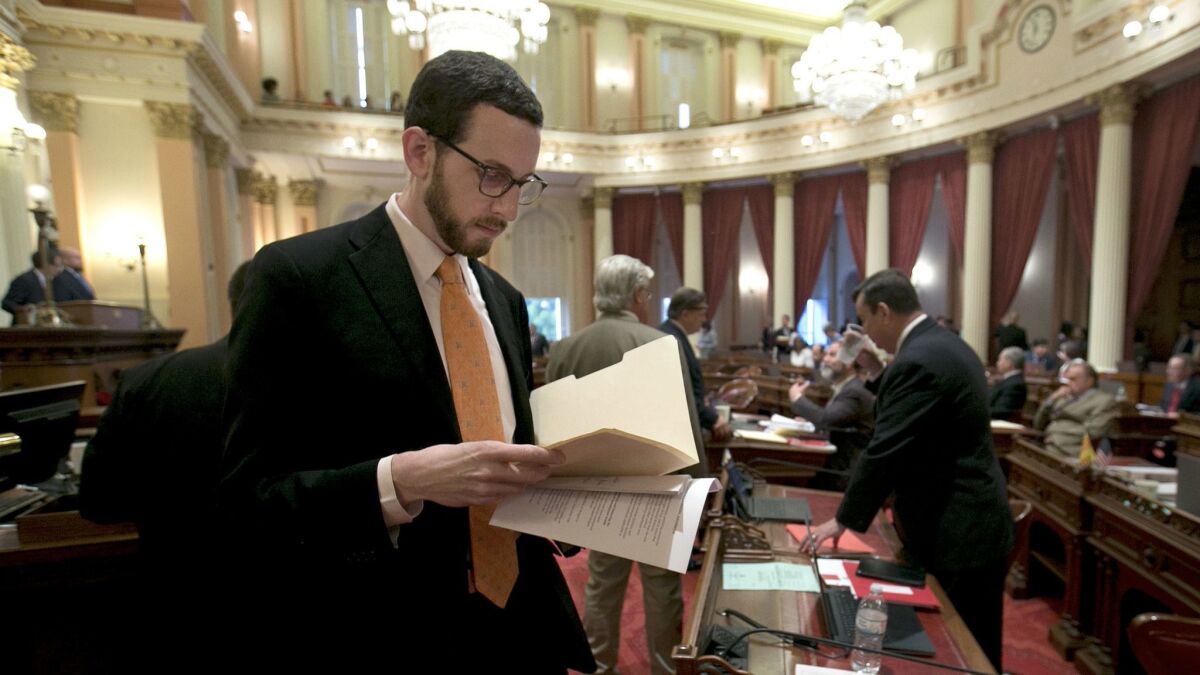 The city should do more to encourage people to live near Expo Line and other Metro stations, especially as the region prepares to spend $120 billion over the next four decades to expand its transit network, said Mark Vallianatos, director of LAplus, a think tank that advocates for more housing.
Allowing single-family zoning near stations "is just sabotaging the potential of these lines both for ridership and for good transit-oriented development," Vallianatos said.
Opponents of Wiener's legislation already are lining up. Los Angeles City Councilman Paul Koretz, who has argued for the preservation of single-family zoning in the Westside neighborhoods he represents in the Expo Line rezoning plan, called the bill "devastating," "insanity" and "the worst idea I've ever heard."
"I would have a neighborhood with little 1920s, '30s and '40s single-family homes look like Dubai 10 years later," Koretz said.
Koretz said the bill would lead to an increase in new home building that would snarl traffic and go against what his constituents want in their neighborhoods.
Better ways to reduce greenhouse gas emissions would be eliminating gasoline-powered cars and even gas stations in the city over time, he said.
"I don't think people want to see significant rezoning around single-family neighborhoods whether they're near transit or not," Koretz said.
While there would be no restrictions on the number of homes that could be built in the areas affected by Wiener's bill, minimum height limits would range from 45 to 85 feet depending on how close the project was to a station and whether it was located on a main road or side street. The principal supporter of SB 827 is California YIMBY, a statewide pro-housing organization.
ALSO
L.A. weighs a plan to allow denser developments near Expo Line stations
California won't meet its climate change goals without a lot more housing density in its cities
Three California housing issues to watch in 2018
Updates on California politics
---
Life is stressful. Our weekly mental wellness newsletter can help.
You may occasionally receive promotional content from the Los Angeles Times.