Tequila, golf, and vacations: What Duncan Hunter and his wife allegedly bought with $250,000 of campaign funds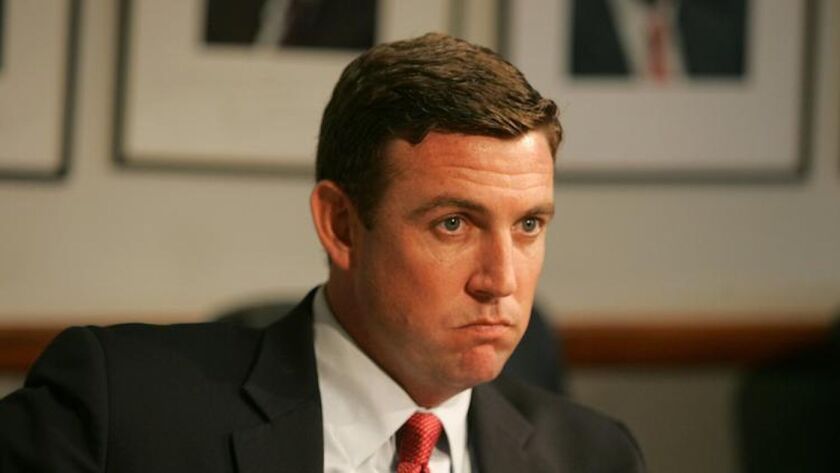 Campaign funds aren't typically spent on 30 shots of tequila, Punky Brewster memorabilia, Minnie Mouse ears and a trip through the aisles of a Michaels craft store. Nor are they used to fly pet rabbits cross-country or to finance family vacations.
But that's how Rep. Duncan Hunter (R-Alpine) and his wife, Margaret, allegedly appropriated hundreds of thousands of dollars. The California congressman and his wife were indicted Tuesday on campaign corruption charges, accused of spending $250,000 on personal expenses, then filing false campaign finance reports with the Federal Election Commission. Below is an itemized list of some of those expenditures detailed in the indictment.
In-n-Out, Carl's Jr., Jack in the Box, Wendy's, McDonald's, Burger King, Taco Bell, Kentucky Fried Chicken and other fast-food chains
Cost: More than $3,300
–
Vons, Albertsons, Haggen and Marine Corps Air Station Miramar commissary
Cost: More than $9,000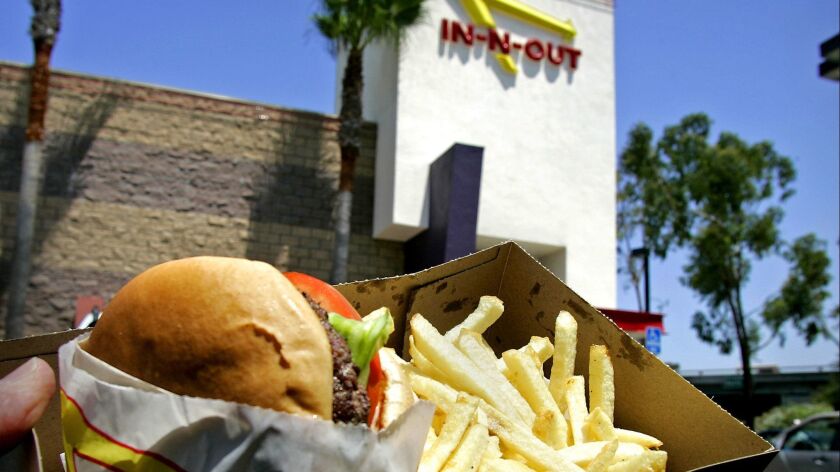 Family vacations to Italy, Hawaii, Las Vegas and Boise
Cost: More than $26,600
–
Trips to Costco, Walmart, Barnes & Noble, Target and Michaels
Cost: More than $2,400
–
A personal ski trip to the Hyatt Regency Lake Tahoe Resort, Spa and Casino
Cost: $1,008.72
–
One tablecloth, three square pillows, a three-piece brush set, a metal tray, four temporary shades, four window panels, a white duck, two Punky Brewster items, a ring pop and two five-packs of "animals."
Cost: $307.72. Margaret Hunter told the campaign treasurer the expenses were used for "teacher/parent supporter events."
–
Tickets to "How the Grinch Stole Christmas"
Cost: $704
–
A round of golf and beer
Cost: $164.92. When asked if the expense was campaign related, Duncan Hunter said "Yessir – All good."
A trip to Men's Wearhouse to "re-cut" two pairs of pants
Cost: $142.36. When the charge was uncovered, Duncan Hunter said "Lol. Men's Warehouse was a possible semi-embarrassment that I had to let ride. I used the wrong card, then didn't want to explain the forced refund..."
–
A vacation centered on a family member's participation in a dance competition
Cost: $640.05. This wasn't the only amount spent on dance competition-related trips.
–
An airplane ride for the family rabbit
Cost: $250
–
Two greens fees, food and drinks at the Rancho Bernardo Golf Resort
Cost: $204.34. Duncan Hunter called it a "Christian thing" with a supporter.
–
SeaWorld's Aquatica water park
Cost: $253.62. Margaret Hunter suggested the charges be classified as an "educational tour."
–
Minnie Mouse ear headbands, a Star Wars droid knit beanie, and a raglan-sleeve black-and-gray Star Wars girls T-shirt at Disneyland's Star Trader shop
Cost: $229.44. The charge was labeled as "food/bev."
–
Thirty shots of tequila and one steak at a bachelor party
Cost: $462.46
Twitter: @cshalby
---
Get our Essential Politics newsletter
The latest news, analysis and insights from our politics teams from Sacramento to D.C.
You may occasionally receive promotional content from the Los Angeles Times.