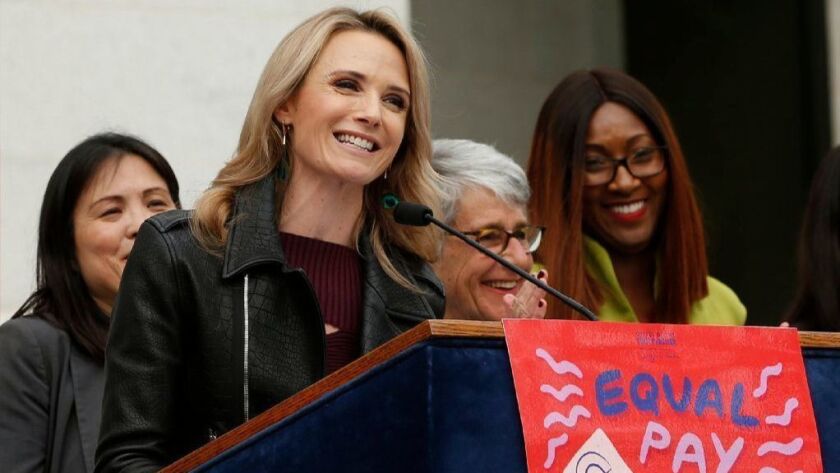 Reporting from Sacramento —
A closely watched effort in the California Legislature to expand job protections for unpaid family leave received a public endorsement on Monday from First Partner Jennifer Siebel Newsom in an early embrace of a bill that could signal broader support from the administration of Gov. Gavin Newsom.
Siebel Newsom said she supports Senate Bill 135, which would allow employees of small businesses to take up to 12 unpaid weeks off for family or medical care, at a press conference she convened to promote the state's equal pay laws and launch a public awareness campaign to help close the wage gap in California.
The governor has not taken an official position on the legislation and has said that, as a matter of policy, he will not weigh in on bills until they reach his desk.
Siebel Newsom's endorsement of the bill marks the first time the documentary filmmaker and longstanding advocate of gender equity has interjected herself into the legislative process since her husband's January inauguration, and is a departure from the more behind-the-scenes approach of Anne Gust Brown, the state's previous first lady — a title Siebel Newsom has chosen not to use.
"He has always been ahead on these issues, so we just think alike," Siebel-Newsom said of her husband when asked how she balances her personal advocacy on family and gender equity issues with her role as first partner.
A spokeswoman for Siebel Newsom later attempted to recast her remarks.
"She endorses the values of the bill," said Hannah Milgrom, adding that Siebel Newsom still needs to read the final language of the proposal later this year.
Current law allows employees of companies that employ 50 or more workers to take up to 12 weeks of unpaid leave under certain conditions to care for a new child, a sick family member or due to their own serious illness, without losing their jobs.
SB 135, introduced by Sen. Hannah-Beth Jackson, would extend those protections to any employee who has worked for at least six months at a company that employs five or more workers. Jackson has said the bill will allow employees who pay into the state's Paid Family Leave Program, which provides up to six weeks of partial pay through disability insurance, to take advantage of the benefits.
The California Chamber of Commerce has fiercely opposed efforts to expand unpaid family leave through its annual "job killer" list, which draws attention to laws corporate interests say will hurt jobs and the economy. The list has been an effective lobbying tool: Then-Gov. Jerry Brown vetoed a "job killer" bill in 2016 to provide 12 weeks of protected leave for new parents who work for businesses with 20 or more employees, before approving a similar law that the Chamber opposed the following year.
The Chamber has yet to take a position on SB 135 and may have a tougher time lobbying the new governor, who announced a goal to provide parents of newborns or newly adopted babies up to six months of paid leave during his State of the State address in February.
Jackson said she hasn't spoken privately about her bill with Siebel Newsom.
"I think what it means for the bill, obviously, is that we have the support from the first partner, whose values and polices are very similar to those of the governor," Jackson said. "It's certainly a good indication, but we have a long way to go before we get this to the governor's desk."
Siebel Newsom commented on the proposal as she unveiled her first major effort, a public awareness campaign around existing laws to change pay differences between men and women. She is working with the California Commission on the Status of Women and Girls and Time's Up, a nonprofit established in response to the sexual harassment scandals in the entertainment industry, to encourage businesses to comply with the state's equal pay laws and help workers find resources to file complaints.
Siebel Newsom has also received promises from more than a half-dozen companies, including Apple, AT&T and Salesforce, to conduct the annual workforce pay analyses.
Siebel-Newsom's work in her new role is different from that of her predecessor. Gust Brown kept a low profile as a close confidant to her husband during his eight years in office.
"He has so much responsibility right now that this is just an easy thing for me to do," Siebel-Newsom said of the governor. "We have an incredible Legislature, incredible leadership and the values are aligned with his values. So [advocacy is] a no-brainer."
More stories from Taryn Luna »
Follow @tarynluna on Twitter.
---