Column: Big business' political muscle in Sacramento is tested by new Democratic mega-majority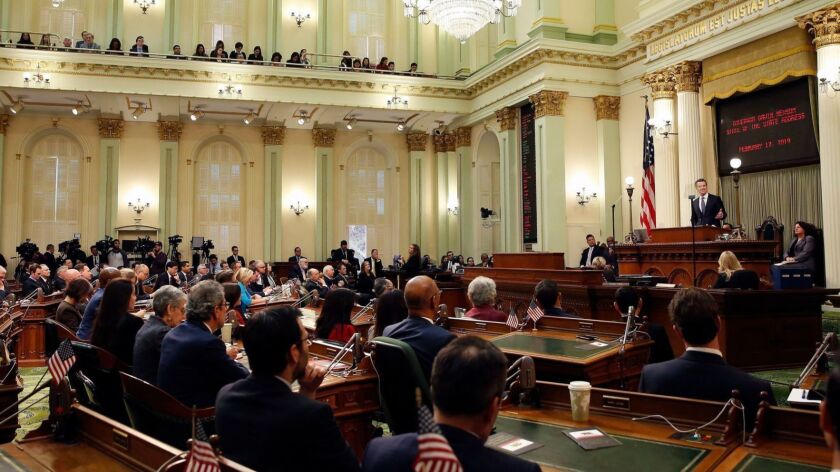 Sacramento Bureau Chief
If the state Capitol had a hall of fame for legislative influence, a no-brainer inductee for playing defense would be the California Chamber of Commerce — a feared linebacker with a two-decade record of tackling and stopping new laws.
But last week, the powerful group lost an early round against the first two 2019 bills on its annual "job killers" list. And it highlighted one of the year's most intriguing questions in Sacramento: Will the largest Democratic majority in the Legislature's modern era and one of the state's most liberal chief executives, Gov. Gavin Newsom, be able to further push policies that expand government oversight in the business world?
The "job killers" list, compiled every year but one since 1997, draws attention to legislation the Chamber of Commerce insists will most threaten job creation and economic growth. "The CalChamber policy staff is very judicious about the difference between legislation that merits opposition and a job killer," stated an overview document published earlier this year.
California lawmakers and lobbyists hustle to write hundreds of bills, many not fully cooked »
Many of the bills on recent lists were efforts to raise business taxes and fees or impose new workplace rules and employer regulations. Not all of the legislation was fully cooked — in other words, they were bills in which significant questions lingered throughout the legislative session and thus might have died on their own without a major lobbying effort.
Still, the Chamber's record is impressive — on average, 92% of the bills on each year's list have failed to become law. The vast majority never even made it to the governor's desk. And some of those that were enacted had been amended in ways that prompted the business group to remove its political scarlet letter.
That the state Chamber of Commerce maintained its powerful position during the last eight years is one of the more interesting side stories to the long legacy of former Gov. Jerry Brown. The group ran TV ads criticizing Brown during the 2010 campaign but later relied on him to veto bills or help squash them behind the scenes. Democratic legislators gave Brown tremendous deference, a key to the unusual relationship between the iconic governor and the business group.
November's election results, though, suggested a surge in the power of progressive politics. Newsom's agenda — which includes universal healthcare and a major expansion of paid family leave — may end up promoting some of the more muted ideas supported by Democrats. They hold three-quarters of the seats in the state Assembly and will likely surpass two-thirds of the Senate seats after an upcoming special election.
The business group lost some key allies last year. A review of CalChamber's legislative scorecard finds eight seats, held by Republicans who voted with the group consistently in recent years, are now occupied by Democrats. And even a handful of lawmakers can keep bills from moving forward or result in compromises with opponents.
In that light, it's easy to see why so many Capitol lobbyists and activists noticed when lawmakers renewed previous efforts that Brown and business-aligned forces had blocked, including efforts to expand the rights of those workers in the sharing economy and a proposal to allow only the sale of zero-emission vehicles by 2040. Tax proposals are also plentiful among the more than 2,500 bills introduced by last month's deadline.
The first two bills on this year's business hit list are also 2018 do-overs: a ban on mandatory arbitration and settlement agreements for workplace disputes and a bill that would allow speedy state implementation of federal environmental regulations abolished by President Trump. CalChamber helped stymie both efforts last year; this year's bills will be an early indicator of whether a major political shift is underway.
Follow @johnmyers on Twitter and sign up for our daily Essential Politics newsletter
---
Get our Essential Politics newsletter
The latest news, analysis and insights from our politics teams from Sacramento to D.C.
You may occasionally receive promotional content from the Los Angeles Times.