Jerry Brown's unexpected fans: 1 in 5 Trump supporters like him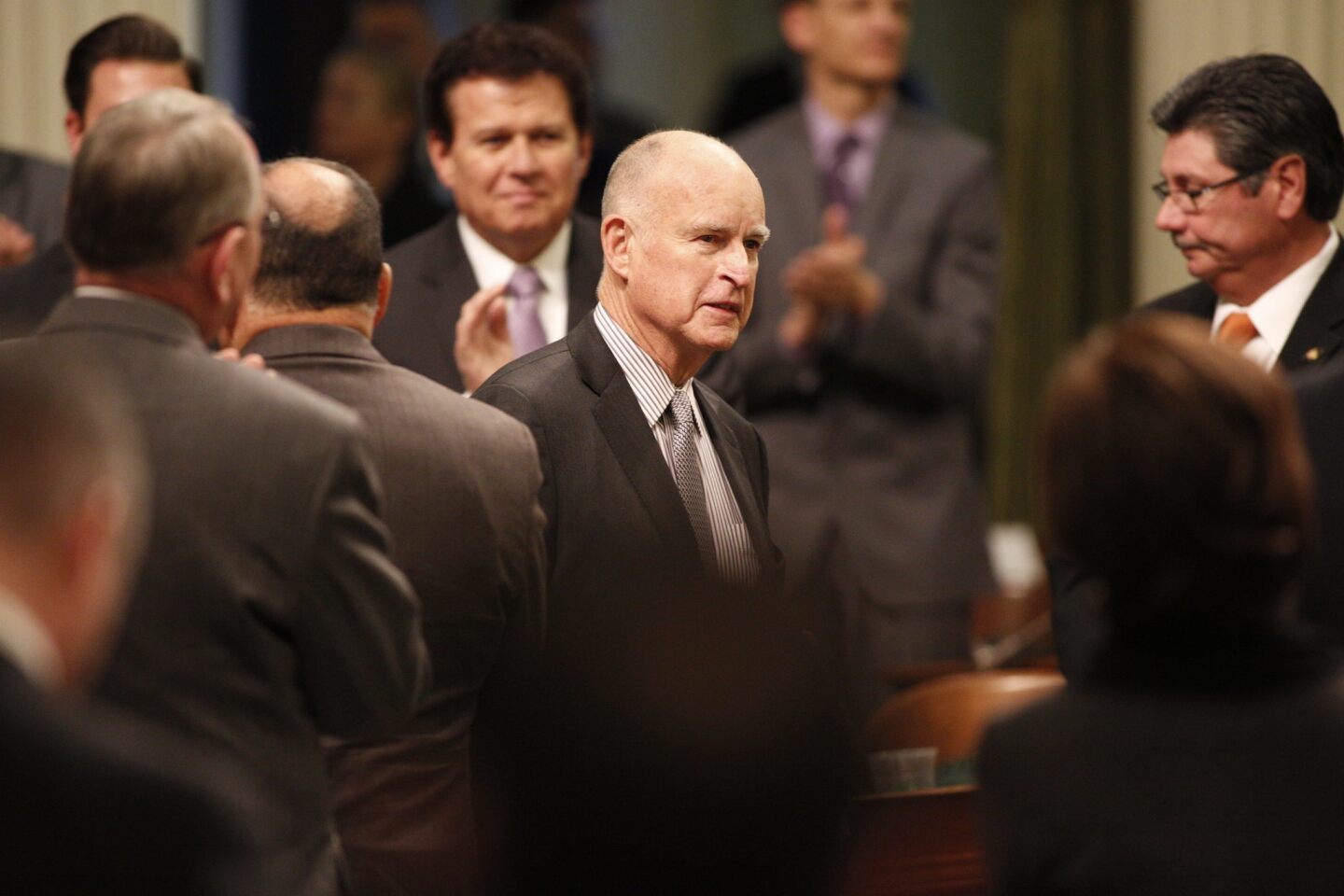 Gov. Jerry Brown receives applause at his State of the State address before a joint session of the California Legislature on Jan. 21, 2016, in Sacramento.
(Brian van der Brug / Los Angeles Times)
Gov. Jerry Brown, left, with U.S. First Lady Michelle Obama, and followed by former First Lady Laura Bush and former President George W. Bush, wait to pay their respects at Nancy Reagan's gravesite following funeral services at the Ronald Reagan Presidential Library in Simi Valley on March 11, 2016.
(Brian van der Brug / Los Angeles Times)
Gov. Jerry Brown speaks before signing into law Senate Bill 350, legislation aimed at renewable energy, during a ceremony at the Griffith Observatory in Los Angeles on Oct. 7, 2015.
(Luis Sinco / Los Angeles Times)
Gov. Jerry Brown and Austin Beutner in a conversation on water in the West at USC on June 9, 2015.
(Lawrence K. Ho / Los Angeles Times)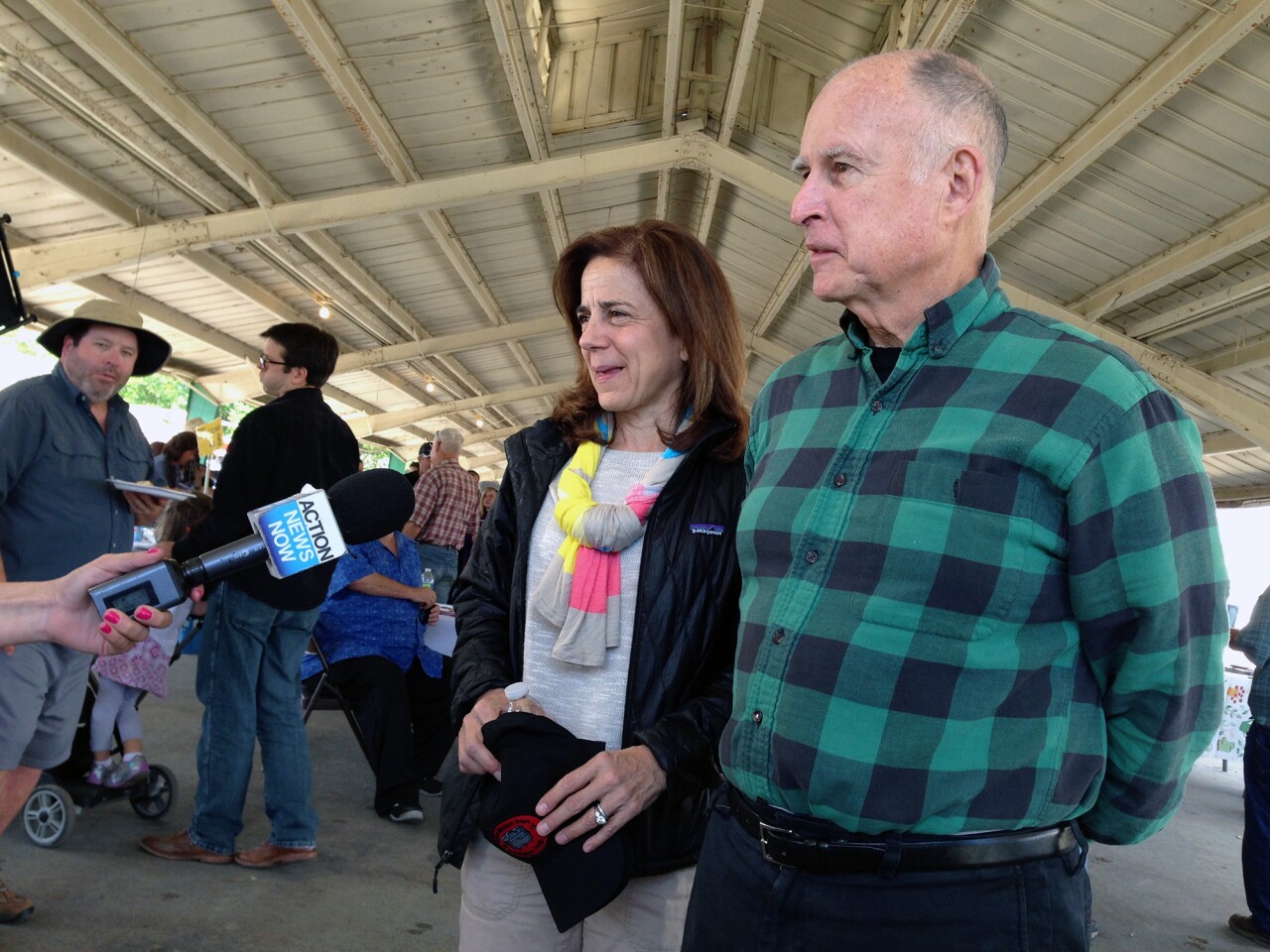 Gov. Jerry Brown and his wife Anne make the rounds at the western festival in Colusa California where he helped judge a cooking contest in April 2015.
(Christopher Megerian / Los Angeles Times)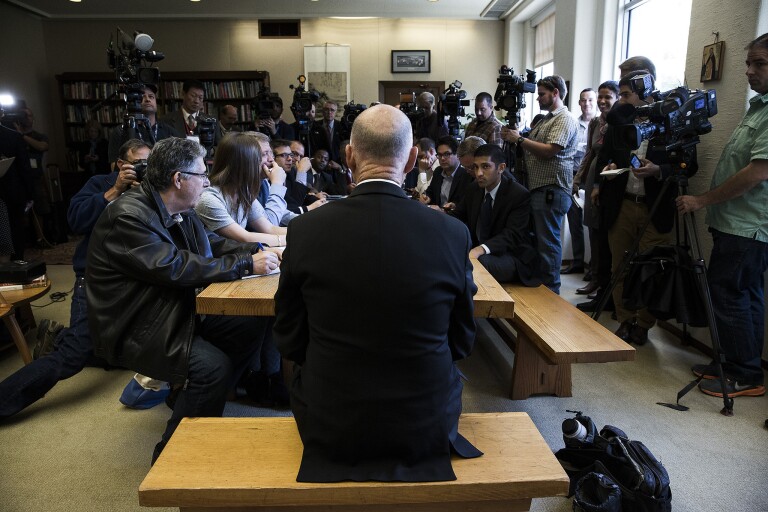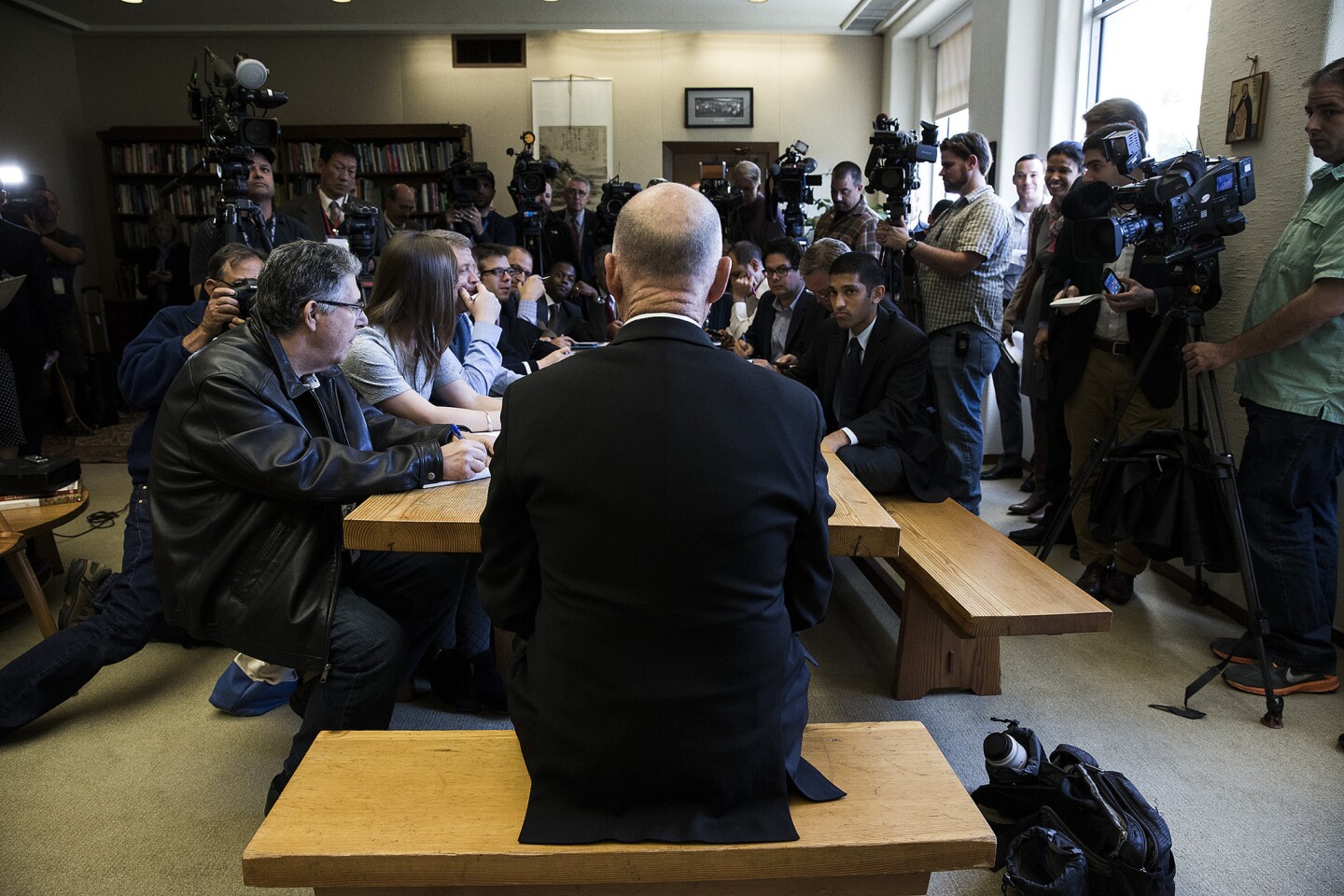 Gov. Jerry Brown conducts a news conference at the Capitol building on Nov. 5, 2014, a day after he was reelected to his fourth term as governor.
(Robert Gauthier / Los Angeles Times)
Gov. Jerry Brown holds the new film tax credit bill he signed in front of TLC Chinese IMAX Theatre in Hollywood on Sept. 18, 2014.
(Al Seib / Los Angeles Times)
Gov. Jerry Brown speaks during the American Federation of Teachers convention at the Los Angeles Convention Center in July 2014.
(Anne Cusack / Los Angeles Times)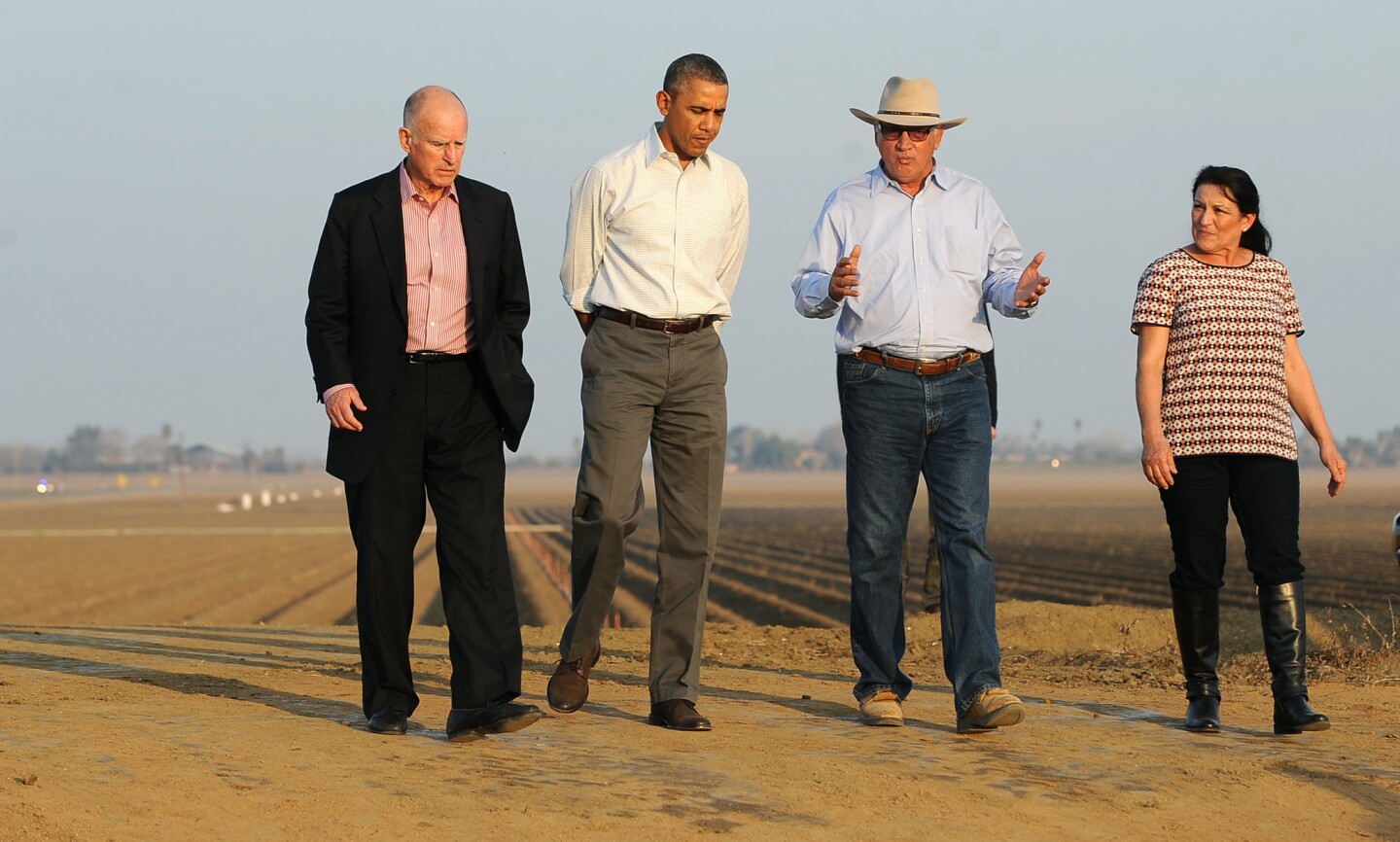 President Obama walks with Gov. Jerry Brown, left, and farm owners Joe and Maria Del Bosque discussing California's drought in Los Banos in February 2014.
(Wally Skalij / Los Angeles Times)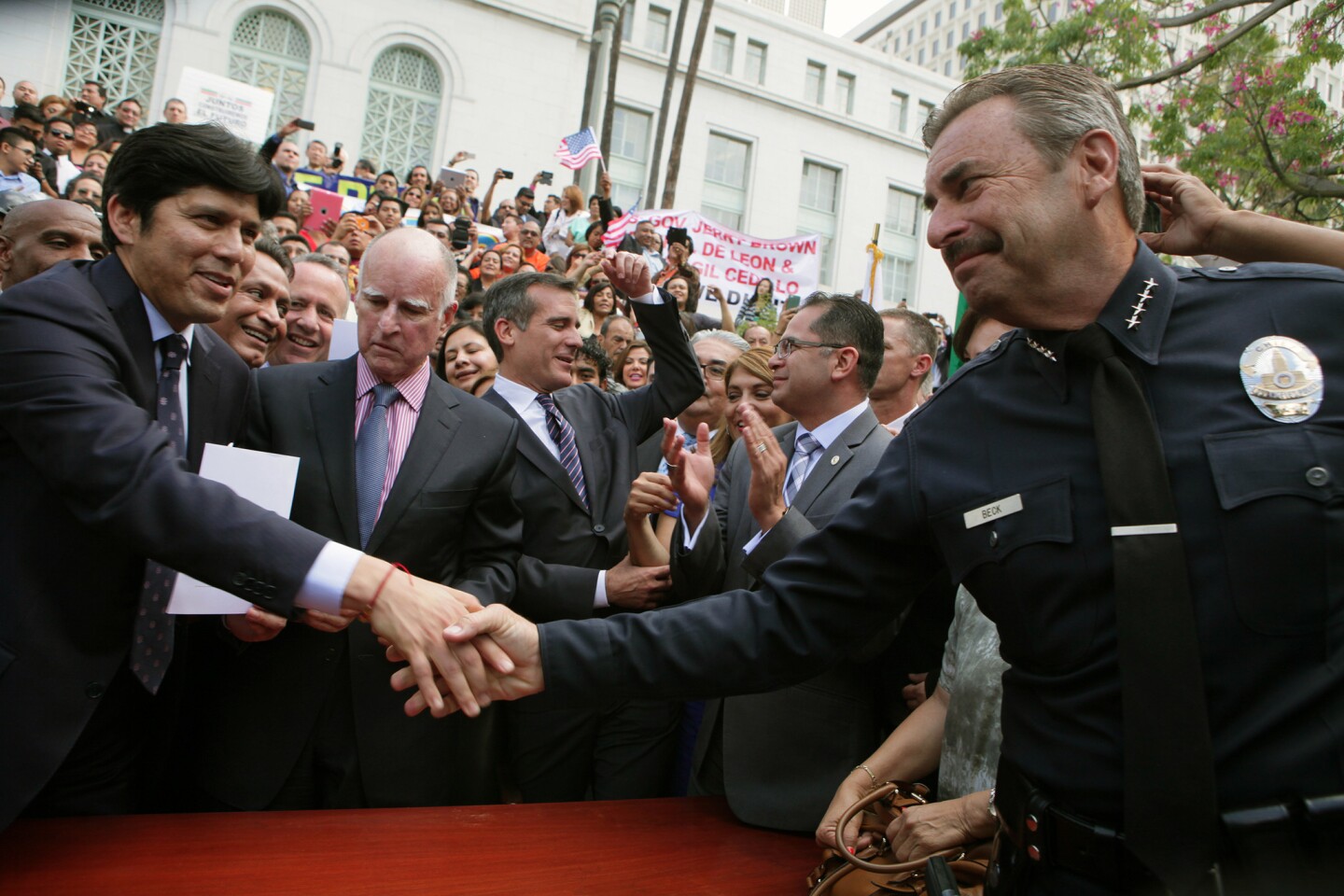 State Sen. Kevin de Leon, left, shakes hand with Los Angeles police Chief Charlie Beck after Gov. Jerry Brown, second from left, signed a bill allowing immigrants who crossed the border illegally to obtain California driver licenses in a ceremony outside Los Angeles City Hall on Oct. 3, 2013.
(Irfan Khan / Los Angeles Times)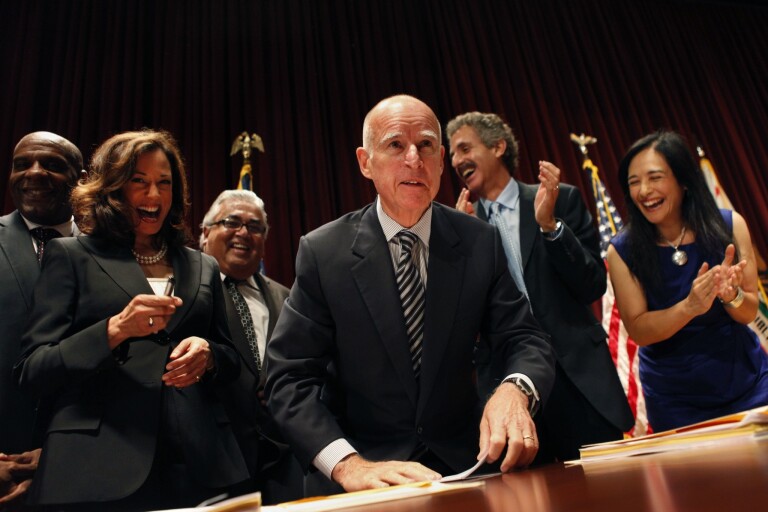 Gov. Jerry Brown, flanked by California Atty. Gen. Kamala Harris, left, and Maria Cabildo of the East Los Angeles Community Corporation, signs a homeowner bill of rights at the Ronald Reagan State Building in Los Angeles on Jly 11, 2012.
(Patrick T. Fallon / For the Times)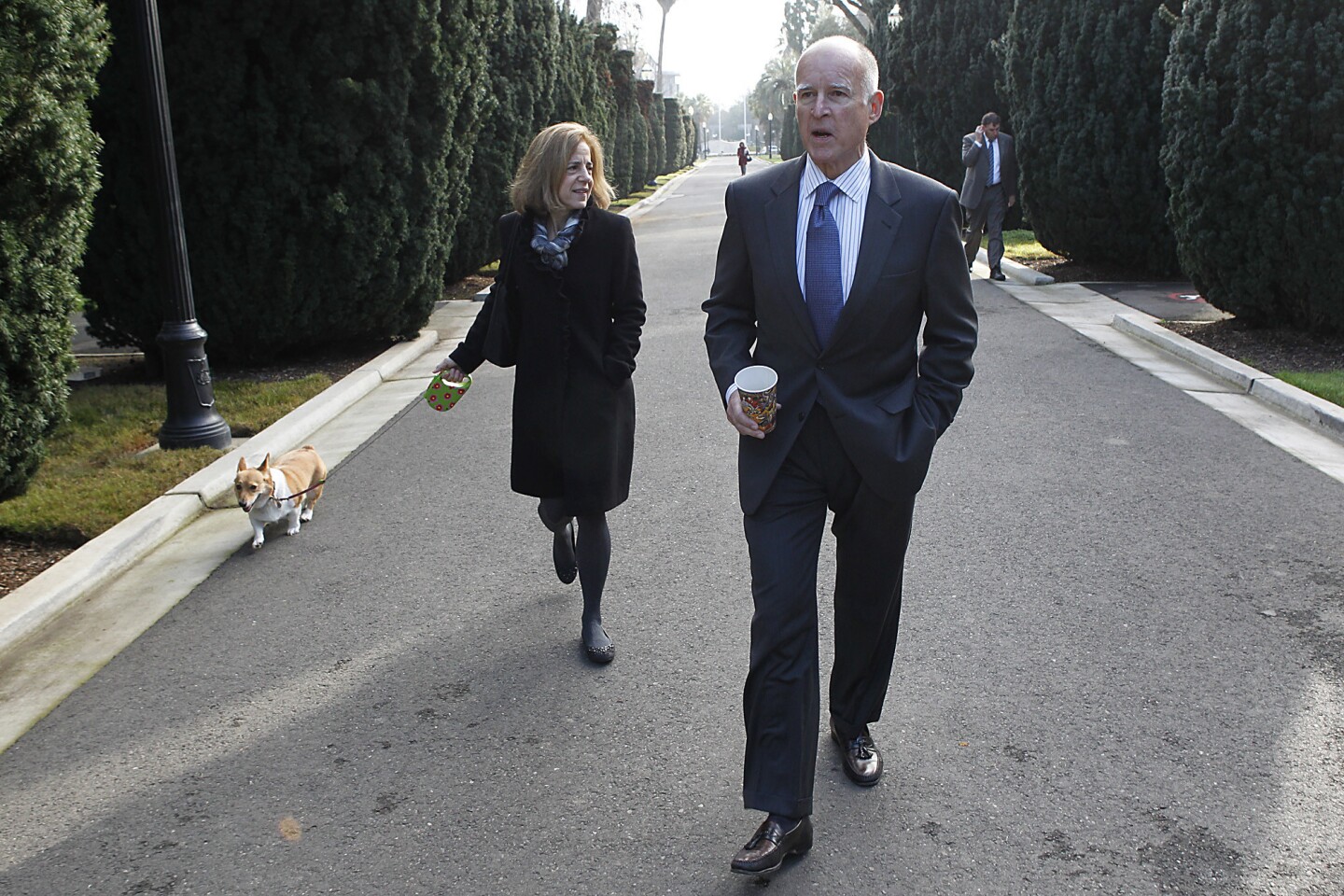 Gov. Jerry Brown and his wife, Anne Gust Brown, walk from their loft to the Capitol building for his first day in office on Jan. 4, 2011.
(Robert Gauthier / Los Angeles Times)
Gov. Jerry Brown brings a chuckle to his wife Anne Gust Brown and California Chief Justice Tani Cantil–Sakauye as he ad-libs a line during his swearing-in ceremony at Sacramento Memorial Auditorium on Jan. 3, 2011.
(Robert Gauthier / Los Angeles Times)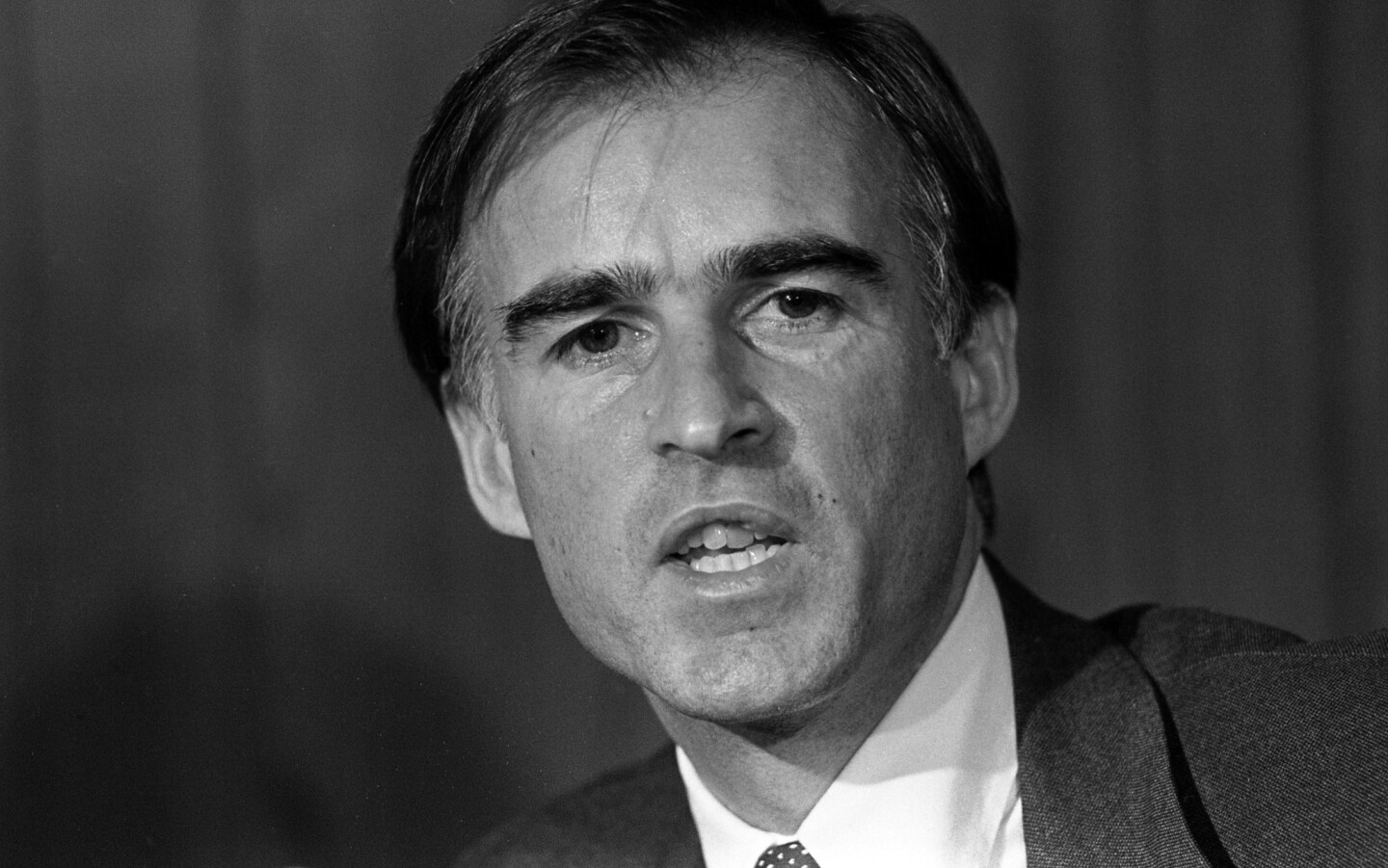 Governor and then-presidential candidate Jerry Brown speaks at a news conference before a fundraising concert featuring his former girlfriend Linda Ronstadt and the Eagles at San Diego Sports Arena on Dec. 21, 1979.
(George Rose / Los Angeles Times)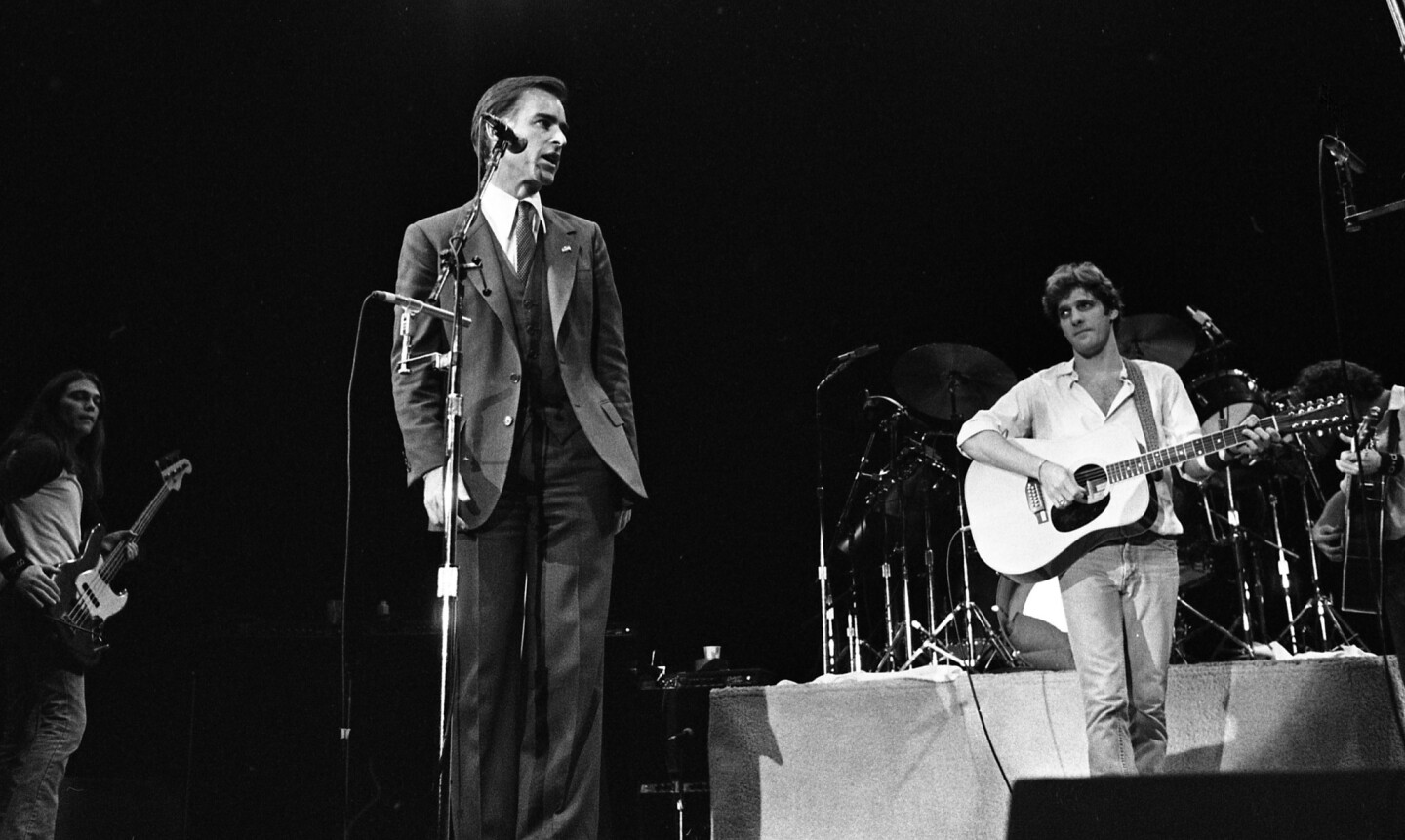 Gov. Jerry Brown onstage with the Eagles, including Timothy B. Schmit, left, and Glenn Frey during a fundraising concert for his presidential campaign at San Diego Sports Arena on Dec. 21, 1979.
(George Rose / Los Angeles Times)
Gov. Jerry Brown, left, and Los Angeles Mayor Tom Bradley discuss California's water problems in the mayor's City Hall conference room on Feb. 18, 1977.
(John Malmin / Los Angeles Times)
President Jimmy Carter, left, Gov. Jerry Brown and Sen. Edward Kennedy at the 1980 Democratic National Convention in New York City. Carter held off primary challenges from Brown and Kennedy to be renominated for president, but lost the general election to Ronald Reagan.
(George Rose / Los Angeles Times)
Reporting from Sacramento —
As he stood behind a lectern to announce a brokered deal to raise California's minimum wage, Gov. Jerry Brown seemed unfazed by the suggestion that the agreement offered a glimpse into his political success. The compromise, Brown said, was simply a product of knowledge gained from years on the job.
"Governing is not about just having some idea, or some slogan, or some sound bite," he said at Monday's news conference. "Governing does have its own skills."
Those are skills, it seems, that voters think Brown is putting to good use.
A new USC Dornsife/Los Angeles Times poll finds Brown — who is entering the sixth year of an unprecedented run as governor — with solid job approval numbers across a wide spectrum of California voters.
Overall, 60% of those polled approve of how Brown is doing his job as governor. Brown's recent showing is 7 percentage points higher than a similar poll taken late last summer and is tied for his second-highest job approval rating since returning to office in 2011.
"He embraces everything the job is supposed to be," said Rob Stutzman, a GOP political strategist who led the campaign of Brown's 2010 gubernatorial rival, Republican Meg Whitman.
Although it's not surprising the governor wins praise from his own party faithful — 80% of Democrats approve of his job performance in the new survey — Brown's real strength may rest on his ability to placate some of his natural political enemies. Twenty-seven percent of Republicans polled say they too approve of the governor's job performance.
Even more notable, 19% of registered Republicans who say they plan to vote in June for businessman Donald Trump nonetheless approve of how Brown is handling things in Sacramento.
Brown's job approval rating seems to transcend party lines.
In the new poll's subset of adults who said that California is headed in the wrong direction, 32% still approve of Brown's efforts. Then there are the 35% of those who say that illegal immigration is a "crisis" but approve of the governor's record on the job, which includes substantial new benefits for some of those without legal immigration status.
And there's this finding from the new poll: 23% of Californians who disapprove of how President Obama is doing his job feel just fine about Brown.
"He does not behave like a typical politician," Stutzman said of the governor. "There's something to it that people find refreshing."
In the state Capitol, Brown has cultivated the perception that he's the saucer that cools the otherwise liberal cup of hot Democratic politics, often clashing with the most progressive factions of his party. Some of his efforts include refusing to restore hundreds of millions of dollars in recession-era cuts to social services, rejecting efforts to ban oil drilling by hydraulic fracturing and vetoing sweeping gun-control proposals.
"He has disappointed me at times because I have my own view of the world," said state Sen. Mark Leno (D-San Francisco), one of the longest-serving legislators. "But in general, I marvel at his thoughtfulness, his comprehensive understanding of very complex issues and his political sense of what is doable and what is not."
It's an admiration also shared by those outside Sacramento.
See the most-read stories this hour >>
"The thing I've appreciated about Gov. Brown's leadership and legacy is that he's as idealistic as they come, but also as pragmatic as they come," Los Angeles Mayor Eric Garcetti said. "He holds his cards close to his chest, but he plays them very well for the people of California."
That kind of political acumen may be better now than it was in his first iteration as governor in the 1970s and early 1980s. Even so, Brown faces sizable political hurdles before 2016 is over. He will no doubt need the current reservoir of voter goodwill on efforts such as his controversial ballot initiative to overhaul prisoner parole.
Some observers say that Brown, who turns 78 on April 7, has succeeded largely because he no longer comes across as an elected leader in need of headlines or TV news cameras.
"The perception in California is if Sacramento doesn't make the news, it must mean they're doing a good job" as lawmakers, Stutzman said.
Brown was especially off the public radar in negotiating the minimum-wage deal, which was quietly worked on for months behind closed doors. In announcing the agreement to reporters, the governor conceded that his overall success is no doubt linked to the improving California economy since inheriting a $26-billion budget shortfall in 2011.
In April 2011, a USC/Los Angeles Times poll put Brown's approval at 44%. In contrast, his job-approval numbers have now been above the 50% mark for more than two years. At the same time, governors of other big states have found less favor.
In January, Brown projected the state was on the way to collecting a tax revenue surplus of more than $6 billion. Overall unemployment stood at 5.5% last month, with more than 450,000 jobs created in the last year.
"It's quite remarkable what California's been able to do," he said Monday. "That won't always be, and when that turns around, I think the job will be far more challenging than it is today."
john.myers@latimes.com
Follow @johnmyers on Twitter, sign up for our daily Essential Politics newsletter and listen to the weekly California Politics Podcast.
Times staff writer Peter Jamison contributed to this report
ALSO:
Clinton leads Sanders in California
Trump leads Republican primary field
California's June primary just became crucial in the race for the White House
Full coverage of the USC Dornsife/Los Angeles Times poll
Updates on California politics
---
Life is stressful. Our weekly mental wellness newsletter can help.
You may occasionally receive promotional content from the Los Angeles Times.