Gov. Jerry Brown agrees to National Guard border efforts, but not 'a mission to round up women and children'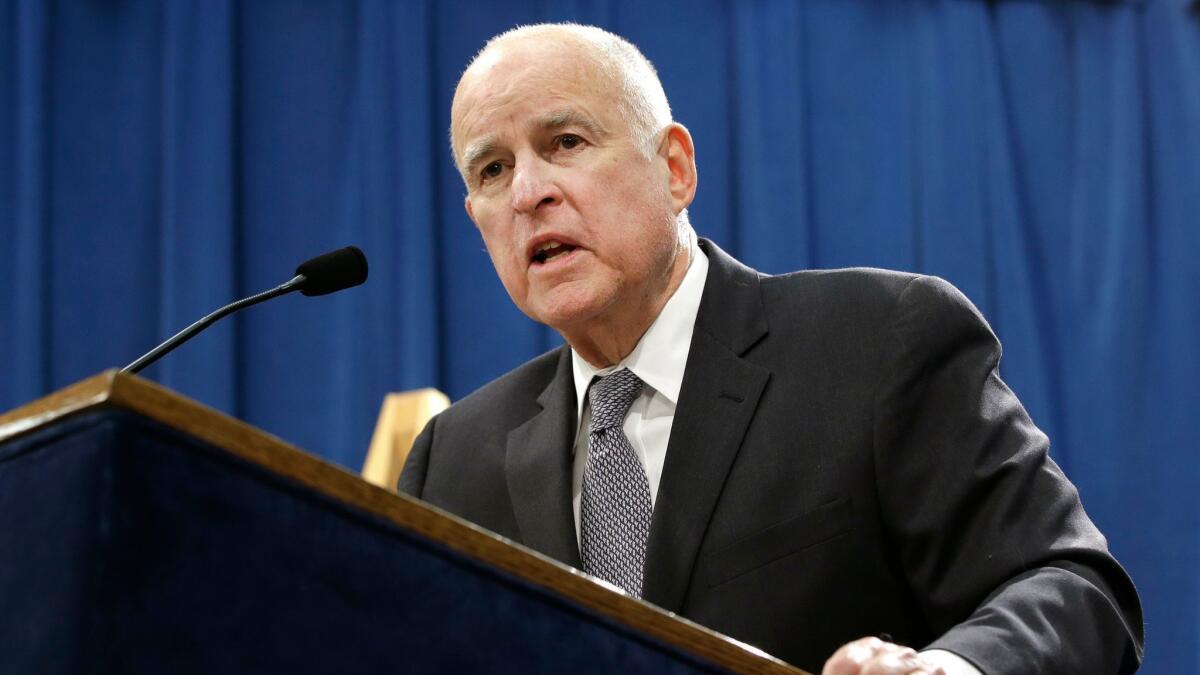 Reporting from Sacramento —
Gov. Jerry Brown agreed Wednesday to take money but not marching orders from President Trump in deploying 400 National Guard troops to various locations around the state, insisting any service members near the border would not enforce federal immigration law.
"Your funding for new staffing will allow the Guard to do what it does best: support operations targeting transnational criminal gangs, human traffickers and illegal firearm and drug smugglers along the border, the coast and throughout the state," Brown wrote in a letter to Homeland Security Secretary Kirstjen Nielsen and Defense Secretary James N. Mattis.
Brown was the last of the nation's border governors to respond to Trump's request for a beefed-up presence. In his letter, he said that he wanted to be "crystal clear" in what he was agreeing to provide.
Sign up for our Essential Politics newsletter »
"This will not be a mission to build a new wall," Brown wrote. "It will not be a mission to round up women and children or detain people escaping violence and seeking a better life. And the California National Guard will not be enforcing federal immigration laws."
Although Brown may have taken longer to act than governors in the other border states — Texas, New Mexico and Arizona all pledged assistance earlier in the week — only eight days passed between the California Democratic governor's decision and the president's off-the-cuff remark about assisting with border duties. Last week, Trump told reporters that his administration would be "guarding our border with the military," a statement his staff later amended to focus instead on help from the National Guard.
By the weekend, Mattis had signed an order to send up to 4,000 National Guard troops from various states to the border, but barred them from interacting with migrants detained by the U.S. Border Patrol in most cases. At the time, a spokesman for Brown said the request was still under consideration.
Less than one-tenth of the United States' 1,933-mile border with Mexico is in California. And the decision Wednesday does not guarantee that California's 400 additional Guard personnel will be in any specific location. The state's current efforts on transnational crimes include 250 troops, with 55 of them stationed at the border. A spokesman for Brown said Wednesday that decisions on staffing will be made based on needs as they are identified.
There was no immediate estimate of the amount in federal funds California would receive to cover the costs of the California deployment. A copy of the agreement signed by Brown says the operation will end Sept. 30 unless federal and state officials agree to extend it. The agreement also says that Brown or the Trump administration can cancel the effort at any time.
Trump is the third consecutive president to ask for National Guard assistance along the U.S.-Mexico border. Former President George W. Bush used assistance from the states to deploy 6,400 troops for a two-year period beginning in 2006, while former President Obama authorized 1,200 troops in 2010. Former California Gov. Arnold Schwarzenegger approved the use of Guard troops in both instances, though he rejected one request from Bush, citing the need to keep the service members available for potential wildfires or earthquakes.
But in the Bush and Obama requests, the circumstances along the southern boundary with Mexico were different — they were in conjunction with efforts to get sweeping immigration reform through Congress. Trump administration officials have pointed to a surge last month in the number of unlawful border crossings, but immigrant rights groups have suggested the action is based more on political fear-mongering than a provable crisis.
Brown, who only occasionally pushes back on the president's rhetoric, made it clear in his letter Wednesday where he stands on the current situation.
"Here are the facts: there is no massive wave of migrants pouring into California," the governor wrote to Nielsen and Mattis. "Overall immigrant apprehensions on the border last year were as low as they've been in nearly 50 years (and 85 percent of the apprehensions occurred outside of California)."
Mattis authorizes up to 4,000 National Guard troops for U.S. border with Mexico »
White House Press Secretary Sarah Huckabee Sanders said Wednesday that the administration is glad to see cooperation from Brown, but did not address the specifics of the governor's letter.
Seen in the context of Trump's insistence on "sealing up our Southern Border," as he wrote on Twitter, Brown's announcement was hardly a vote of confidence. In comparison, the governors of Texas, New Mexico and Arizona were more enthusiastic in their offers of help. Texas Gov. Greg Abbott pledged to ultimately send as many as 1,000 troops to aid in the effort.
California officials, in contrast, have found little to applaud in Trump's approach to illegal immigration. The state has gone to federal court to block construction of a new border wall, and no state officials welcomed the president to Southern California last month as he toured prototypes of the barrier. Last year, Brown signed a state law to limit local law enforcement cooperation with immigration agents — a law the Trump administration is now challenging in court.
Times staff writer Noah Bierman in Washington contributed to this report.
Follow @johnmyers on Twitter, sign up for our daily Essential Politics newsletter and listen to the weekly California Politics Podcast
ALSO:
Get our Essential Politics newsletter
The latest news, analysis and insights from our politics team.
You may occasionally receive promotional content from the Los Angeles Times.