Jimmy Gomez on winning the 34th District: 'Was that a dream?'
Congressman-elect Jimmy Gomez said he woke up Wednesday morning at his Eagle Rock home unsure whether his decisive win over fellow Democrat Robert Lee Ahn was real.
"I actually was like, 'Was that a dream? Did that really happen?'" said the 42-year-old Gomez.
Gomez never even planned to go to college. As a freshman in high school, Gomez's grade-point average was a dismal 0.83. ("Five Ds and an F," he recalls.)
In many ways, "I'm still the community college kid with immigrant parents," the current state assemblyman for the 51st District said in an interview Wednesday outside a café in his neighborhood. "I'm still that kid that worked at Subway and Target."
Gomez, the youngest of six children born to a farmworker-turned-cook and a nursing home employee, finds himself preparing to enter the halls of power in Washington, D.C. He will represent the 34th Congressional District, which includes downtown, Koreatown and much of L.A.'s Eastside, replacing Xavier Becerra, who gave up the seat to become California's attorney general in January.
After graduating high school, where he wrote for the school newspaper, Gomez settled into double work shifts. He worked at the sandwich shop from 5 p.m. to 10:30 p.m., sometimes grabbing a quick nap in his car before heading to Target, stocking shelves from midnight until 9 a.m. the next day.
At a friend's urging, he enrolled in one class at the community college in the fall of 1993: an anthropology course that hadn't filled up. He earned a B. The next semester, he started going to school full time and dropped the Target gig. He still has his worn-down name tag, a reminder of his unlikely path.
He went on to graduate from UCLA and Harvard's John F. Kennedy School of Government before landing jobs as a union organizer, political director and aide to then-Rep. Hilda Solis. Elected to the Assembly in 2012, Gomez already represents more than half of the voters in his new district. He's built a reputation as a reliable progressive vote in the Legislature, recently joining Assembly Democrats' new progressive caucus.
In December, his mother watched as he was sworn in for a third term in Sacramento. When he told her he was running for Congress, Gomez recalled, the normally stoic 73-year-old raised her hands in joy.
"It means we're part of this larger American story," said Gomez, whose parents and siblings lived in the country illegally until shortly after Gomez was born in the U.S. "To see her son not only go to college, graduate, but then to run for public office and get elected … it means a lot. It means that there's still a lot of opportunities for immigrants."
After the 41-year-old Ahn called to concede the race Tuesday night, Gomez was surrounded by family and supporters, including his wife, top Mayor Eric Garcetti aide Mary Hodge, and some of his siblings. He gave his mother, Socorro Gomez Martinez, a long hug. His father, who first came to the U.S. as part of the bracero guest-worker program, died in 2005.
Gomez, who will carry on a decades-long tradition of Latino representation in the district, told the crowd his values are based on his upbringing: the bout of childhood pneumonia that nearly bankrupted his family, seeing his gay brother bullied in school and knowing his sisters relied on Planned Parenthood for medical care.
"I try to put myself in your shoes, and I will continue doing that as your next member of Congress," he said.
Gomez's 60% share of the runoff vote as of Wednesday suggests many voters believed him. Gomez was regarded as the favorite in the race as soon as former Assembly Speaker John A. Perez dropped out in December. He defeated nearly two dozen other candidates in the April primary with 25% of the vote, though Ahn came within striking distance with 22%. But in the top-two runoff, Gomez won wide margins on the district's Eastside, particularly in the low-income and immigrant-heavy areas of Boyle Heights and Lincoln Heights.
His sizable victory does not diminish the fact that he will enter Congress as a junior member of a minority party who campaigned on fighting President Trump.
"Capitulation will lead to failure," he said at a recent debate. "You need to hold firm, you need to work with your colleagues and you need to throw elbows."
While Gomez will have little if any say on his committee assignments, his wish list includes the Health and Human Services subcommittee and the Natural Resources and the Oversight and Government Reform committees, posts that would give him a chance to fight Republican efforts to roll back regulations on healthcare and the environment.
Eventually, Gomez added, he'd like to serve on the Energy and Commerce Committee, a post he thinks could help him bring California's climate change policies to the federal stage.
Gomez has asked House leadership to delay his swearing-in until after June 15 so he can help wrap up one major climate change initiative: a vote to extend California's cap-and-trade program. Gov. Jerry Brown wants a two-thirds majority to pass the measure in order to insulate it from ongoing legal challenges, a feat that could be considerably tougher without someone in Gomez's seat. A special election to choose his replacement can't be called until he resigns.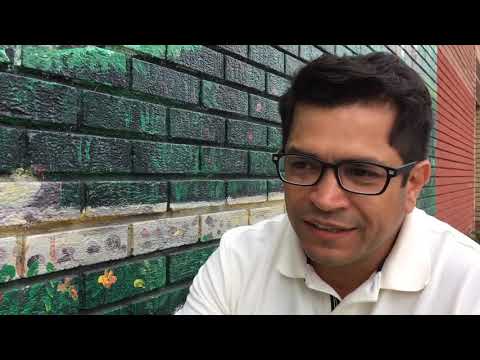 Congressman-elect Jimmy Gomez talks about his plans for the future. (Marcus Yam / Los Angeles Times)
Until he leaves for D.C., Gomez said, his first order of business is to tour the 34th District, particularly the neighborhoods where constituents may not know him well. After a hard-fought campaign, large swaths of Koreatown, Westlake and Chinatown turned out for Ahn, who would have been the first Korean American Democrat in Congress.
There are also plenty of logistical details Gomez has to work through, including where to find an apartment on Capitol Hill and hiring staff. Hodge will remain in Los Angeles with their dog, Austin, and Gomez says he plans to fly home every weekend.
It's an essential part of the job that "you show up," he says, but also, "I just love it here."
Times staff writers Chris Megerian and Seema Mehta contributed to this report.
For more on California politics, follow @cmaiduc.
ALSO
MAP: How Jimmy Gomez became L.A.'s newest member of Congress
Jimmy Gomez wins Los Angeles congressional election to replace Xavier Becerra
Jimmy Gomez will be L.A.'s next congressman. His first order of business will be bringing the 34th District together
Updates on California politics
Get our Essential Politics newsletter
The latest news, analysis and insights from our politics team.
You may occasionally receive promotional content from the Los Angeles Times.