Will this L.A. congressional district known as a Latino political base make history for Koreans?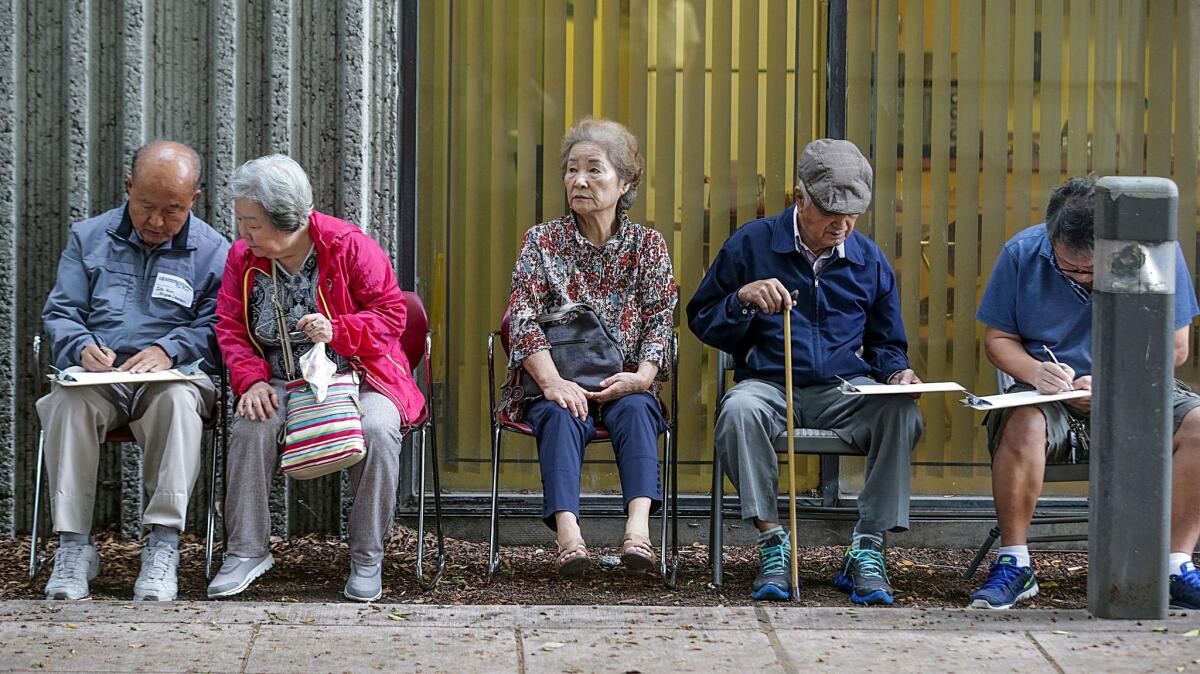 This part of Los Angeles, where the flatlands of Boyle Heights and the freeways that dissect it give way to the gentle slope of the city's northeast, has long been a land of opportunity for politically ambitious underdogs.
It was here that Edward Roybal was elected Los Angeles' first modern-day Latino city councilman in 1949 and 13 years later was seated as California's first Latino congressman since the 1800s.
Xavier Becerra, who inherited most of Roybal's district in 1992, became the highest ranking Latino in Congress before becoming California's first Latino attorney general in January.
In a special election to replace Becerra representing the 34th Congressional District on Tuesday, a different set of voters in this storied Los Angeles district have a shot at making history. In the runoff between two Democrats, an enthusiastic minority of Korean Americans who live in the other end of the district is hoping to propel attorney Robert Lee Ahn, 41, to victory over Assemblyman Jimmy Gomez, 42.
Gomez, who has been endorsed by Becerra, would continue a decades-long tradition of Latino representation in a district where more than half of the voters are Latino. Ahn would be the first Korean American Democrat elected to Congress, and only the second Korean American ever.
Ahn, who has pitched himself as a newcomer who can shake up "machine politics" in Los Angeles, has also appealed to Korean Americans by saying he can be their voice on immigration, healthcare and the impending crisis with North Korea. His social media posts note the election's "historic" nature and some of his mailers speak of the chance for Koreans and other Asian Americans to have a "seat at the table."
Every ethnic community wrestles with that issue: Do you vote for ethnicity or do you vote for qualifications?
— Hyepin Im, president, Korean Churches for Community Development
His campaign has spent a lot on voter registration and turnout in Koreatown. Last week, he attended a luncheon with Korean American pastors who bowed their heads and prayed for his success.
"The [Korean American] community is hungry for a voice," Ahn said as he greeted diners at a Korean tofu restaurant in April. "I think there's a palpable frustration of not being heard, of not being properly represented."
But in a district where nearly 60% of voters are Democrats, the importance of minority representation is competing with the urgency of fighting against the Trump administration.
"For me, it's significantly important to keep this a Latino district," said Gloria Molina, a former L.A. County supervisor who spent years fighting for redistricting that gave Latinos more representation on the Eastside. "But I'm not going to tell you that my daughter knows this battle, or that she has the same passion I do for electing a Latino," Molina said.
Her daughter's calculus, Molina suspects, is the same as many voters': "They want someone who's effective, and they want someone who's going to move forward the issues they care about."
Molina, the first Latina elected to the state Assembly, the L.A. City Council and the county board, was one of dozens of politicians who benefited from Roybal's trailblazing. From his perch in Congress, Roybal built the infrastructure to grow the ranks of Latinos in elected office.
When Roybal announced his intentions to start the Congressional Hispanic Caucus, then-House Speaker Tip O'Neill asked if the few Latinos in Congress would be meeting in a phone booth. Today, Latinos hold a record 38 seats in Congress, including 12 from California.
Those are the kinds of numbers people like 56-year-old Ki Chul Jang dream about.
Jang, who runs a flower shop and cafe with his wife in Koreatown, says it's been too long since there was a Korean American on the federal stage. "We need to have somebody powerful," Jang said in Korean, as his son helped translate.
Jang, who came to the U.S. 28 years ago from South Korea, said he held a gun on a Koreatown rooftop to defend against looters during the 1992 L.A. riots. "That was so painful, and I thought, Koreatown needs to have political power .… So when those people run for office, I want to support them unconditionally."
Jang can't vote but says he has been volunteering for Ahn, delivering lawn signs like the one that's planted outside his storefront.
There's something aspirational about Jang's efforts, too. "I always prayed for my son, David — you might laugh — to become U.S. president, show them the power of Koreans," he said, as the younger Jang shook his head. "Since it doesn't look like my son will do it, I'm supporting Robert Ahn instead."
David Jang, 18, says he doesn't know much about either candidate and doesn't see much point in voting. "I only know [Ahn] from the billboards," he said. "I feel like I'd be voting for him just because he's Korean … and if his values or positions aren't the same as mine, there's no real reason for me to."
With few major policy differences between the two candidates, Gomez has tried to cast his opponent as too centrist for this deep blue district, while Ahn has said his local roots and private sector experience will help him better address the quality-of-life issues residents face.
"Every ethnic community wrestles with that issue: Do you vote for ethnicity or do you vote for qualifications?" said Hyepin Im, president of the Korean Churches for Community Development. "I don't think it's ever an either/or."
Ahn's candidacy comes after an important victory for Korean Americans two years ago: the election of David Ryu, the first Korean American city councilman in Los Angeles.
But, while a surge in Korean American voters in the primary helped Ahn break through a crowded field to make the runoff, they make up just 6% of the electorate. Even if the primary's low turnout holds for the runoff, it will be impossible for Ahn to win with just Korean American votes.
With Gomez touting progressive policies he's supported in the Legislature and dozens of endorsements from the party establishment and progressive groups, Ahn has taken up the mantle of a political outsider who is an alternative to the perceived Latino political dynasty.
"Some might say this is a Latino district," Ahn said. "But it's also a low-income district, that's another way to look at it.… At the end of the day ... they're asking me, 'Do you, No. 1, understand my problems?'"
He has appeared at events commemorating the 25th anniversary of the riots and announcing endorsements from church leaders, including J. Edgar Boyd, pastor of the First AME Church, an iconic venue for the African American faithful. African Americans account for 5% of the district's electorate.
His campaign has reached out to other Asian Americans, too, blanketing apartment buildings with Mandarin-language fliers, and has even sent mailers to the district's tiny Republican minority. And recently, he gained the endorsement of the Republican former L.A. Mayor Richard Riordan.
Coalition building has always been the key to success in this area, said Arturo Vargas, executive director of the National Assn. of Latino Elected Officials. Roybal won his first election by forging an alliance between Latinos and the Jewish, Armenian and Japanese American communities in Boyle Heights, he said.
Gomez, on the other hand, has focused on turning out his most faithful supporters in northeast Los Angeles, which he has represented in the Assembly since 2012. Among his efforts are mailers listing each voter's recent voting history and messages about the need to stop Trump.
"If we don't vote, Donald Trump and the Republicans are going to win," Gomez said in Spanish at a recent debate, appearing to take pains to point out many District 34 neighborhoods beyond his northeast base. "If I'm elected I'm going to represent every single community: Koreatown, MacArthur Park, Pico Union, Downtown L.A.," he said, leaving northeast Los Angeles for last.
Despite the candidates' messages of unity, Edward J.W. Park, a professor of Asian American studies at Loyola Marymount University, says neither candidate has done much to motivate voters outside their bases. "The way that both of these candidates have … run their campaigns. It's just so stridently and narrowly focused on their specific communities," Park said.
Rep. Lucille Roybal-Allard (D-Downey), Roybal's daughter who was elected to Congress just before he retired, said the enthusiasm and excitement Korean Americans have for Ahn is "understandable" and reminds her of how Latinos felt after her father's groundbreaking wins.
While former L.A. County Supervisor Molina said it was "unfortunate" that two ethnic blocs were competing over the same district, Becerra said he saw it differently.
"Only in America, right? You've got a proud Latino and a proud Korean American running to represent a very diverse part of L.A. That's beautiful," Becerra said.
Times staff writer Victoria Kim contributed to this report.
For more on California politics, follow @cmaiduc.
ALSO
Here's what the candidates running for an L.A. congressional seat think about the top issues
D.C., Sacramento and Beverly Hills: Where the big money in L.A.'s congressional election came from
One of these two Democrats will be L.A.'s next member of Congress. Here's what you need to know
Get our Essential Politics newsletter
The latest news, analysis and insights from our politics team.
You may occasionally receive promotional content from the Los Angeles Times.