Trump endorses Republican John Cox for California governor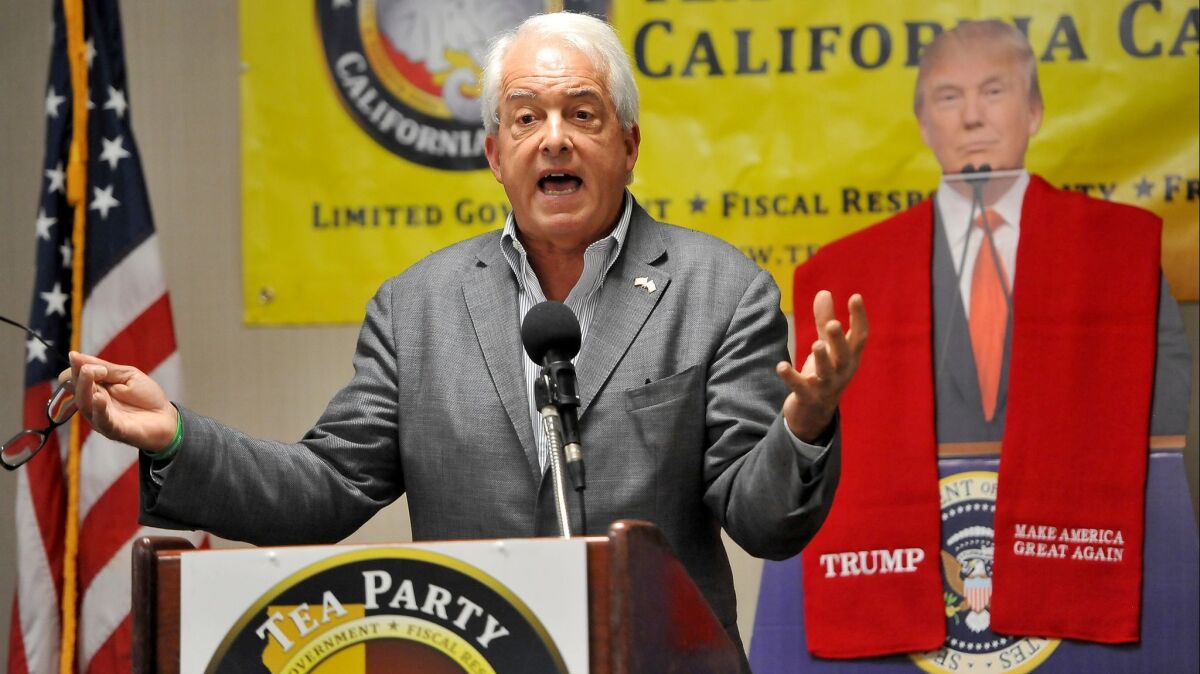 President Trump endorsed Republican John Cox for California governor on Friday, backing that could help Cox consolidate the GOP vote in the June primary and increase his chances to win a spot on the November ballot.
"California finally deserves a great Governor, one who understands borders, crime and lowering taxes. John Cox is the man — he'll be the best Governor you've ever had," the president tweeted Friday afternoon.
Cox, who did not vote for Trump for president in 2016, said he was "honored and deeply grateful" for the endorsement.
"I am looking forward to working with [the president] to make California great again," said Cox, who alluded to potential support from Trump during a recent debate in San Jose, when he noted that he had recently visited the White House. "Like the President, I'm a businessman who knows how to get things done. We're going to secure the border, empower California small businesses, lower taxes, and make our state affordable for everyone."
Trump overwhelmingly lost California to Democrat Hillary Clinton in the 2016 presidential election. Clinton received nearly 8.8 million votes in the state compared to Trump's 4.5 million., But if Cox receives anything close to Trump's support it should be more than enough to give him a second-place finish on June 5.
Trump's endorsement of Cox is a major blow to GOP rival Travis Allen, an assemblyman from Huntington Beach and the favorite of many California conservatives. Both men failed to win the endorsement of the California Republican Party earlier this month, but Trump's backing is arguably more powerful.
Allen supporters fumed over the president's announcement, and said he had been misled.
"I'm angry. I'm angry at President Trump," said Celeste Greig, a longtime conservative leader in the California GOP, who travelled to Washington, D.C., to attend Trump's inauguration in 2017.
When she heard the news Friday, she promptly donated an additional $300 to Allen's campaign.
"I love the president. I have supported him, but he's made some misjudgements and this is one. He shouldn't have done it, he shouldn't. I will never, never support John Cox."
Throughout the campaign, Allen has hammered Cox for supporting Libertarian Gary Johnson in the 2016 presidential race. Cox says he cast his ballot for the former New Mexico governor because, at the time, he didn't trust that Trump was a true conservative. Cox has since said he regretted that vote because he has been pleased by Trump's actions in office, including the tax overhaul, though he wishes the president would tweet less.
Allen voted for Trump and often boasts that he's the only major candidate in the governor's race to have done so. But Allen has struggled to raise funds for his campaign while Cox, a wealthy businessman from Rancho Santa Fe, has poured more than $4 million of his own money into his gubernatorial bid.
"The fact that Allen does not have the funds to compete makes this significant," Republican political consultant Rob Stutzman said. "Allen can't really counter it effectively."
Stutzman, Greig and others suspect House Majority Leader Kevin McCarthy (R-Bakersfield) may have encouraged the president to back Cox. Having a Republican on the top of the ticket in November — as opposed to two Democrats — could drive GOP voter turnout and help House Republicans in tight races that are key to the party holding on to control of Congress.
"The only reason for Donald Trump to tweet out support for a candidate for California is going to be House seats," said Jon Fleischman, an influential conservative blogger from Orange County who plans to vote for Allen but said Trump's endorsement helps Cox. "There is delicious irony in tweeting support for a candidate who was boasting about not voting for him."
Attempts to reach McCarthy were unsuccessful on Friday.
But Allen told more than 400 supporters on a conference call Friday evening that the president's endorsement would not hinder his chances, and said Trump wrongly "decided to listen to political advisors in the swamp, and Kevin McCarthy chief among them."
"This does not stop us. This doesn't even slow us down," Allen said. "All this does is put a smile on our faces, because ladies and gentlemen, as God is my witness, my name is Travis Allen and I'm going to be the next governor of the state of California…. Not even the president of the United States is going to stop" that.
Democratic front-runner Gavin Newsom responded to Trump's tweet by aligning Cox with the president, who is widely unpopular in California.
"No surprise you're endorsing a candidate in your own image: one who attacks immigrants while opposing common sense gun laws and equal rights," Newsom tweeted. "Time & time again, the people of California have rejected your brand of hate. The people of California will reject @TheRealJohnHCox too."
Newsom's campaign to be the state's next governor will be much easier if he faces a Republican in the general election, rather than one of the other top Democrats in the race — a fact driving his strategy. No Republican candidate has won a statewide election in California since 2006, and Democrats have a 19% edge over the GOP in voter registration.
Under California's top-two primary system, the two candidates who receive the most votes in the June 5 primary advance to the November election, regardless of party affiliation. The other top Democrats in the race include former Los Angeles Mayor Antonio Villaraigosa, state Treasurer John Chiang and former state schools chief Delaine Eastin.
Democrats and their allies have been spending millions of dollars to weigh in on Cox's candidacy.
Newsom released an ad contrasting himself with Cox that notes Cox's alignment with Trump on gun issues. The ad is being aired on broadcast television during programming popular with conservatives, including the "Roseanne" reboot, and will probably make Cox more appealing to GOP voters.
Meanwhile, backers of Villaraigosa — who is scrapping with Cox for the second spot in the primary — are airing an ad on Fox News and other stations that paints Cox as a Chicago carpetbagger and onetime Democrat who can't win elections. While living in Illinois, Cox unsuccessfully ran for office multiple times.
During a testy televised debate earlier this month in San Jose, Newsom was asked whom he would prefer to face in the general election. The lieutenant governor quickly said he hoped to battle a Republican.
"A Republican would be ideal in the general election," Newsom said with a grin, then glanced over at Cox and Allen. "Either one of these would do."
"Be careful what you wish for, Gavin," Cox said.
seema.mehta@latimes.com; phil.willon@latimes.com
Twitter: @LATSeema, @philwillon
Updates on California politics
Get our Essential Politics newsletter
The latest news, analysis and insights from our politics team.
You may occasionally receive promotional content from the Los Angeles Times.