With his political clock ticking, state Senate leader Kevin de León keeps mum about what he'll do next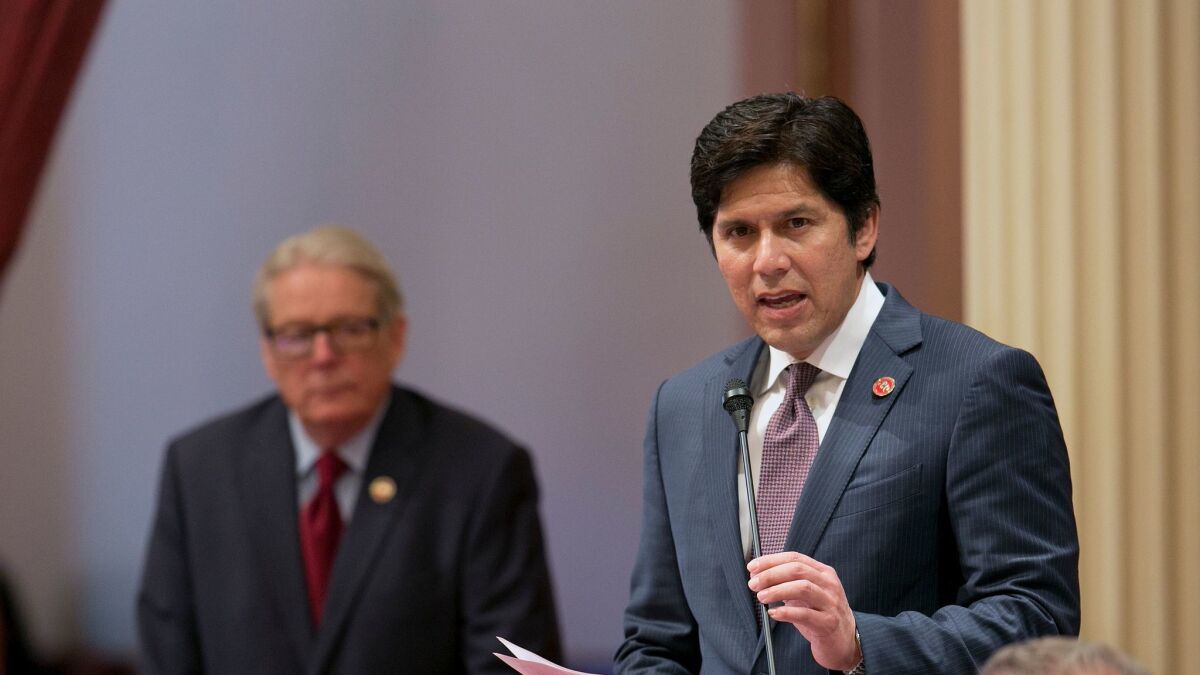 Reporting from Sacramento —
He's one of California's most powerful politicians without an obvious — or easy-to-win — next election.
And Kevin de León, the Democratic leader of the California Senate, still has not said what may be ahead for him.
The mystery over the Los Angeles senator's political future has injected uncertainty into the races for governor and U.S. Senate, and demanded patience from those Democrats aspiring to succeed him as leader of the Legislature's upper house.
Those in his inner circle say De León, 50, is in no hurry to decide what to do now that he is up against a term limits law in place when he was first elected. They say he did not want the decision to be a distraction as he led the state Senate during an ambitious year.
He touted accomplishments that included the extension of the state's cap-and-trade climate change program, addressing the affordable housing shortage and approving a plan to fix California's crumbling streets and bridges.
At 2:30 am Saturday, after bringing the gavel down on what may be his last full year as leader of the state Senate, a clearly exhausted De León was surrounded by reporters who wanted to know what he would do next and when he might announce his plans.
"I don't have an exact, hard timeline. My timeline is when I know, I'll make a decision and let you all know," he said, asking reporters to "just give me a little space."
Those close to him say his 2018 options include running for governor or the seat held by Sen. Dianne Feinstein, running for mayor of Los Angeles should current Mayor Eric Garcetti seek higher office, or going to work in private industry.
With term limits and political roadblocks ahead, what's next for California Senate leader Kevin de León? »
"Everything's on the table. Nothing is off the table, including private sector work," said John Shallman, De León's longtime political strategist. "He's going to go where he feels he can do the most good and push issues like climate change, whether that's in Sacramento or in L.A. or in D.C."
Rumors that De León might run for governor reached a crescendo in May when the senator put out a slick, campaign-style video that touted his leadership and accomplishments during his seven years in the Senate. It did not single out an office he was interested in. The video was emailed to Democrats right before their annual state convention.
De León has an old campaign committee that he set up to run for lieutenant governor next year, but allies have told The Times that he has given them his blessing to support state Sen. Ed Hernandez (D-West Covina) for the job. De León had raised $3.3 million as of June 30. He could use much of that money for another statewide office, including governor or treasurer. But under federal campaign rules, he would have to start from scratch in raising money were he to run for U.S. Senate.
Democratic consultants interviewed by The Times, including Garry South, who has run four gubernatorial campaigns, think De León missed the chance to join the contest for governor with the primary now less than nine months away. It has already drawn a field of strong candidates who have raised millions for their bids.
"I think it's way too late to get into the race for governor for 2018," said South, who is not attached to any of the other campaigns.
De León and front-runner Lt. Gov. Gavin Newsom have a history of political rivalry. In 2015, the Senate leader acted to slash Newsom's staff by one-third just weeks after Newsom introduced a ballot initiative that included one of De León's pet policy proposals.
Another option De León is exploring is Feinstein's Senate seat — either if she doesn't seek reelection or challenging her if she does, sources say. Attempting to oust a sitting senator from his own party, especially one of Feinstein's stature, would be without precedent in the modern era of California politics.
Former Los Angeles Mayor Richard Riordan, a Republican who has endorsed Democrat Antonio Villaraigosa for governor, and California Democratic Party Chairman Eric Bauman are among those who think De León would be a strong candidate for Senate if Feinstein opts to retire.
"There is no question if she chose not to run it would be a logical place for Kevin to go, and I think he would get tremendous support from the progressive community and Latino community and from Los Angeles," Bauman said.
A group of self-described progressives from the San Francisco Bay Area recently launched a campaign to get De León to challenge Feinstein after he criticized her comments that voters should show some "patience" with President Trump.
Feinstein has not said what she will do in 2018, and De León said he has not talked to her about her plans.
South and Bauman also said De León would be a strong candidate for state treasurer, given that the incumbent, John Chiang, is running for governor. Democrat Fiona Ma, a member of the state Board of Equalization, has already announced she's seeking that post in 2018.
Another political consultant, who declined to speak on the record because of concern about alienating De León, suggested that the senator could run for the seat of Los Angeles City Councilman Jose Huizar when it opens in 2020, with the possible goal of becoming mayor in 2022.
That, too, isn't a sure thing. Two former speakers of the Assembly — state Sen. Bob Hertzberg (D-Van Nuys) and Villaraigosa — both ran for mayor and lost, although Villaraigosa ran a second time and won after serving on the City Council.
"In my 26 years in California politics I have seen so many bright young stars come and go because an opportunity doesn't open up in a reasonable period of time, and those bright young stars are relatively quickly eclipsed by another generation of bright young stars," South said.
The silence from De León about his future is also delaying the ambitions of a handful of state senators waiting in the wings at the state Capitol.
Sen. Connie Leyva (D-Chino) recently became the first senator to announce plans to seek the Senate pro tem job when De León steps down. She said she is encouraged after talking to her colleagues, touting her résumé as the first female president of both the UFCW Local 1428 and the California Labor Federation.
"I do feel I have leadership skills and leadership ability," Leyva said. "We've never had a woman pro tem and a working mom pro tem and never a pro tem from the Inland Empire, so I think I bring an interesting skill set to the job."
Others talked about as potential strong candidates include Hertzberg and Sen. Toni Atkins (D-San Diego).
Asked if he plans to continue to serve as Senate president pro tem in his last year, the transitional period when both he and his predecessors cemented their own position to become the next Senate leader, De León dismissed any need to make a decision quickly.
"I will be in this position as long as I want to be in this position," he said.
Staff writers Jazmine Ulloa and Sarah Wire contributed to this story.
Twitter: @mcgreevy99
ALSO:
Senate President Kevin de Léon is busy raising campaign funds — but for what office?
California Senate leader Kevin de León fires back at Sen. Dianne Feinstein's call for 'patience' with Trump
California Senate leader preparing for legal fight over 'sanctuary state' legislation
What you need to know about California's 'sanctuary state' bill and how it would work
Get our Essential Politics newsletter
The latest news, analysis and insights from our politics team.
You may occasionally receive promotional content from the Los Angeles Times.