Federal judge blocks new California gun control law requiring disposal of large-capacity magazines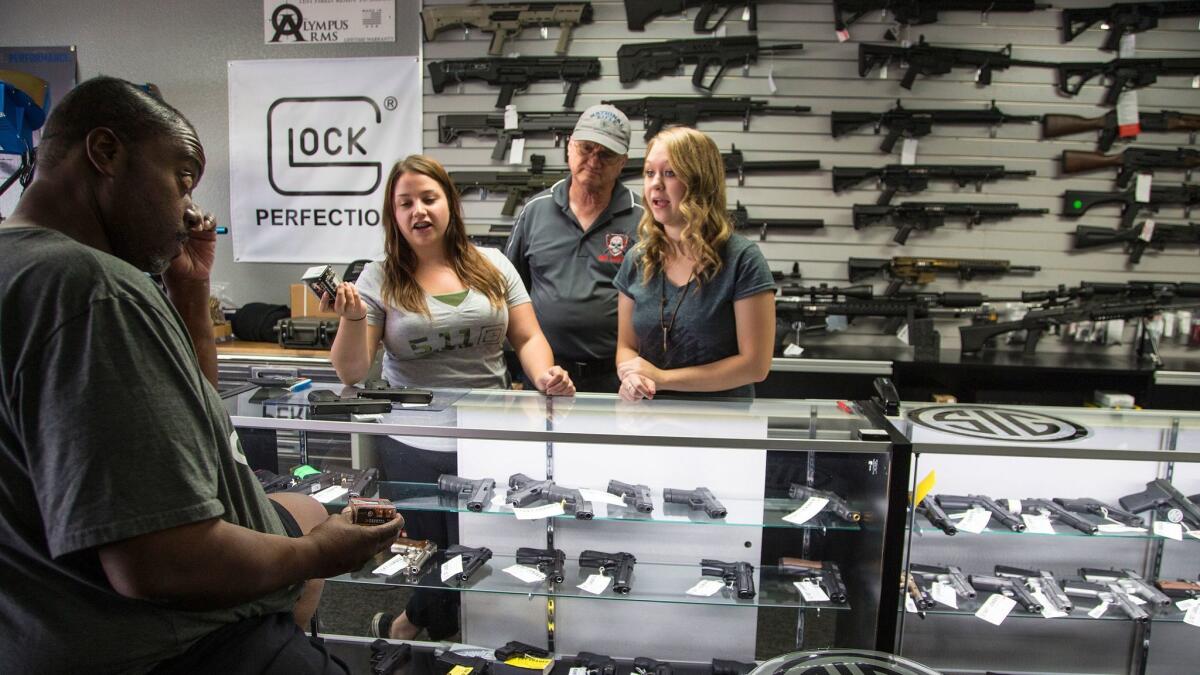 Reporting from Sacramento —
Many California firearm owners were given a reprieve Thursday from making a tough decision after a federal judge temporarily blocked a key provision of the state's gun control laws approved last year in the wake of the San Bernardino terrorist attack.
At the request of attorneys for the National Rifle Assn., U.S. District Judge Roger T. Benitez issued a preliminary injunction blocking a law that requires Californians to dispose of large-capacity ammunition magazines by Saturday or face fines and possible jail time.
"If this injunction does not issue, hundreds of thousands, if not millions, of otherwise law-abiding citizens will have an untenable choice: become an outlaw or dispossess one's self of lawfully acquired property," Benitez wrote. "That is a choice they should not have to make."
The NRA and its state affiliate are still pursuing lawsuits seeking court decisions on the law, and those may take months to resolve.
NRA attorney C.D. Michel welcomed the granting of the preliminary injunction.
"My clients are pleased the Court affirmed that the Second Amendment is not a second class right, and that law abiding gun owners have a right to choose to have these magazines to help them defend themselves and their families," Michel said in a statement.
The plaintiffs include gun owners from the San Diego area and the California Rifle and Pistol Assn., the NRA's state affiliate which is headed by Michel, an attorney for the national group.
Gun rights advocates and some law enforcement officials said few people who own the newly outlawed magazines have turned them in to police and expect many people will hang on to them until courts decide the pending challenges to the law on the merits.
"Until this is litigated, I think some will hold on [to the magazines]," Kern County Sheriff Donny Youngblood said. "Others who are concerned about ramifications might sell them in another state."
No magazines have been turned in to the Kern County Sheriff's Office in the last three months, he said.
Youngblood, who is immediate past president of the California State Sheriffs' Assn., said his deputies would not be going to homes and businesses with the primary purpose of searching for the outlawed magazines, even if the law had not been blocked.
"If they show up in an investigation, they could be a tool for further investigation," he said.
In 2000, California banned the sale of large-capacity magazines, but those who owned the devices were allowed to keep them. That changed when 63% of California voters approved Proposition 63 in November. That initiative, and legislation adopted at the time, bans the possession of magazines capable of holding more than 10 rounds of ammunition.
Sean Brady, an attorney for gun owners, estimates tens of thousands of Californians still have large-capacity magazines. The law says that options for owners of the magazines include transferring them to a federally licensed gun dealer, destroying them or turning them over to law enforcement.
Anyone in possession of a banned magazine starting Saturday would have faced a citation for an infraction punishable by a fine not to exceed $100 per magazine, or could have been found guilty of a misdemeanor punishable by a fine not to exceed $100 and up to a year in jail.
Patrick Lovette, a resident of San Diego County and a plaintiff in one of the lawsuits, says the ban on the magazines is unfair and unwarranted. The retired Navy veteran said in court papers that he owns multiple magazines that he would like to pass on to his heirs.
But Lt. Gov. Gavin Newsom, the primary proponent of Proposition 63, said the law was important to enforce.
"Large-capacity magazines serve only one purpose: efficient and effective mass murder," Newsom said. "Used in almost every mass shooting in the U.S. since the 1990s, large-capacity magazines enable murderers to unleash dozens of rounds without having to stop and reload. They belong in theaters of war, not peaceful communities."
State Atty. Gen. Xavier Becerra argued in court papers that the ban on large-capacity magazines is justified because they have been found at the scenes of mass shootings at an Orlando nightclub, Columbine High School, Sandy Hook Elementary School and in San Bernardino, where two terrorists in 2015 killed 14 people attending a holiday party.
"These large-capacity magazines are disproportionately used in crime, and feature prominently in some of the most serious crime, including homicides, mass shootings, and killings of law enforcement officers," Becerra said in his written answer to the lawsuit.
In a statement released Thursday night, Becerra vowed to defend the state law.
"Restricting large-capacity magazines and preventing them from ending up in the wrong hands is critical for the well-being of our communities," he said in the statement. "I will defend the will of California voters because we cannot continue to lose innocent lives due to gun violence."
The restraining order was sought by the California Rifle and Pistol Assn., which argued that the ban on large-capacity magazines violates both the 2nd Amendment rights of Californians to bear arms as well as protections against taking property without due process or compensation.
"Banning magazines over ten rounds is no more likely to reduce criminal abuse of guns than banning high horsepower engines is likely to reduce criminal abuse of automobiles," the lawsuit says.
Becerra argued in court papers that "plaintiffs have not demonstrated that any of these constitutional guarantees are even implicated by the challenged legislation, let alone violated by it. Possession of [large-capacity magazines] is not protected by the Second Amendment."
Twitter: @mcgreevy99
ALSO
Gun control language tucked into California's budget bill, irking the NRA
NRA files second lawsuit challenging state gun laws, this time targeting ban on high-capacity magazines
Anticipating a shift to the right in the courts, the NRA begins its attack on gun controls in California
---
UPDATES:
8:00 p.m.: This article was updated with a statement from Atty. Gen. Xavier Becerra.
This article was originally published at 6:00 p.m.
Get our Essential Politics newsletter
The latest news, analysis and insights from our politics team.
You may occasionally receive promotional content from the Los Angeles Times.