Legislative contests were first tests of #MeToo at the California ballot box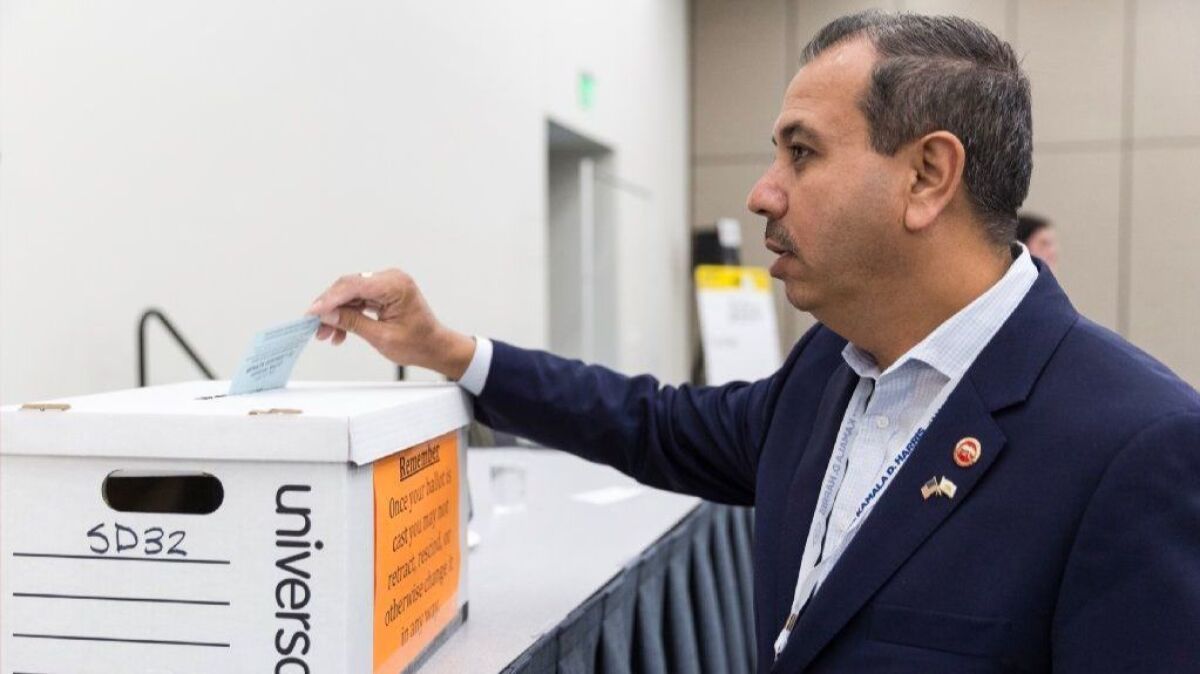 Roughly six months after a tide of sexual misconduct allegations and resignations swept through Sacramento as the #MeToo movement began to rock institutions of power across the nation, Los Angeles County voters cast their judgment on the accused at the ballot box Tuesday.
Democrat Tony Mendoza, who resigned from his state Senate seat amid misconduct charges earlier this year, did not succeed in his quest to win back the seat for the remainder of the current term, placing third in a field of 11 candidates, with 26% of precincts reporting Tuesday night.
In a separate vote, Mendoza was in fifth place in a field of 10 candidates in the primary election to win the next four-year term starting in 2019 representing the same swath of Southeast Los Angeles County with 26% of precincts reporting Tuesday night.
Republican Rita Topalian led the race to fill Mendoza's 2018 term with 26% of the vote while Democrat Vanessa Delgado was in second with 15% of the vote and Mendoza was in third with 13%.
Topalian also claimed 25% in the race to serve in the seat for the next term. Democrat Bob Archuleta came in second with 18% and Delgado had 15% in that concurrent contest.
Assemblywoman Cristina Garcia, whose accuser has appealed a sexual harassment investigation that found his claim to be unfounded, was in first place with 29% of the vote while Republican Mike Simpfenderfer who had 27% of the vote with 27% of precincts reporting.
Both districts are overwhelmingly Democratic and would favor that party in November.
Also Tuesday, voters in the San Fernando Valley replaced two Democrats who resigned amid sexual misconduct allegations with fresh-faced Democratic hopefuls.
Democrat Raul Bocanegra resigned his Assembly seat shortly before the Los Angeles Times published an article featuring six women who said they faced unwanted sexual advances or unwelcome communication from him over several years.
Democrat Luz Rivas was leading the runoff to replace Bocanegra with 63% of the vote, besting Republican Ricardo Benitez who had 36% of the vote with 11% of precincts reporting,
And voters in the western end of the Valley picked a replacement for Democrat Matt Dababneh, who resigned from the Assembly after he was publicly accused of masturbating in front of a lobbyist and other inappropriate behavior.
Democrat Jesse Gabriel claimed 60% of the vote compared with Republican Justin Clark who had 39% of the vote, with less than 1% of precincts reporting results.
Both Gabriel and Rivas were the top vote-getters in the primary races to win a full term.
Live coverage of California's primary »
Mendoza looked to be the biggest loser Tuesday night.
Mendoza resigned in February moments before his colleagues sought to formally expel him after a series of sexual misconduct accusations.
Two outside law firms found it was "more likely than not" that Mendoza behaved in a flirtatious or sexually suggestive manner toward staffers, a Senate investigation found.
That hasn't stopped Mendoza from running for the remainder of the current term and also for another six-year term. He faces eight other Democrats and two Republicans. He faces a tough fight and his fund-raising has dried up.
Garcia was a leader of the #MeToo movement in California's Capitol, who forcefully criticized male colleagues accused of inappropriate behavior, only to face similar accusations of harassment and misconduct herself not long after their resignations.
The completion of a legislative investigation into her conduct enabled her to return from a three-month voluntary leave of absence last month.
The controversy could affect her reelection prospects and her influence in Sacramento, particularly after being removed from all legislative committees by Assembly Speaker Anthony Rendon (D-Paramount).
She is facing a well-funded opposition campaign from typically Democratic allies and damaged relationships with many of her colleagues in Sacramento.
Interest groups have aggressively mounted a campaign to oust Garcia, who has never before faced significant spending against her from outside groups.
The state building trades union — which represents construction workers — has been the primary driver of the opposition. The labor group has spent $589,811 leading up to the primary on anti-Garcia television ads, mailers and phone banking.
A campaign group representing charter school backers spent $389,781 against Garcia and $770,329 in favor of one of the Democratic challengers, Friné Medrano, a staffer for state Sen. Kevin de León (D-Los Angeles).
A spokesman for California Charter Schools Assn. Advocates, a political action committee, pointed to legislation Garcia introduced this year that would ban Teach for America educators from teaching in low-income public schools.
Garcia faced six fellow Democrats and a Republican in the heavily Democratic 58th Assembly District, which stretches across southeast Los Angeles County from Montebello to Downey and Pico Rivera. The crowded field is a far cry from her last two reelection campaigns, when no one even appeared on the primary ballot to challenge her candidacy.
Everything you need to know about the June 5 primary »
Twitter: jpanzar
---
UPDATES:
11:05 p.m.: This article was updated with results after polls closed.
This article was originally published at 2:25 p.m.
Get our Essential Politics newsletter
The latest news, analysis and insights from our politics team.
You may occasionally receive promotional content from the Los Angeles Times.