Assemblywoman Cristina Garcia disciplined for sexual harassment as investigation comes to a close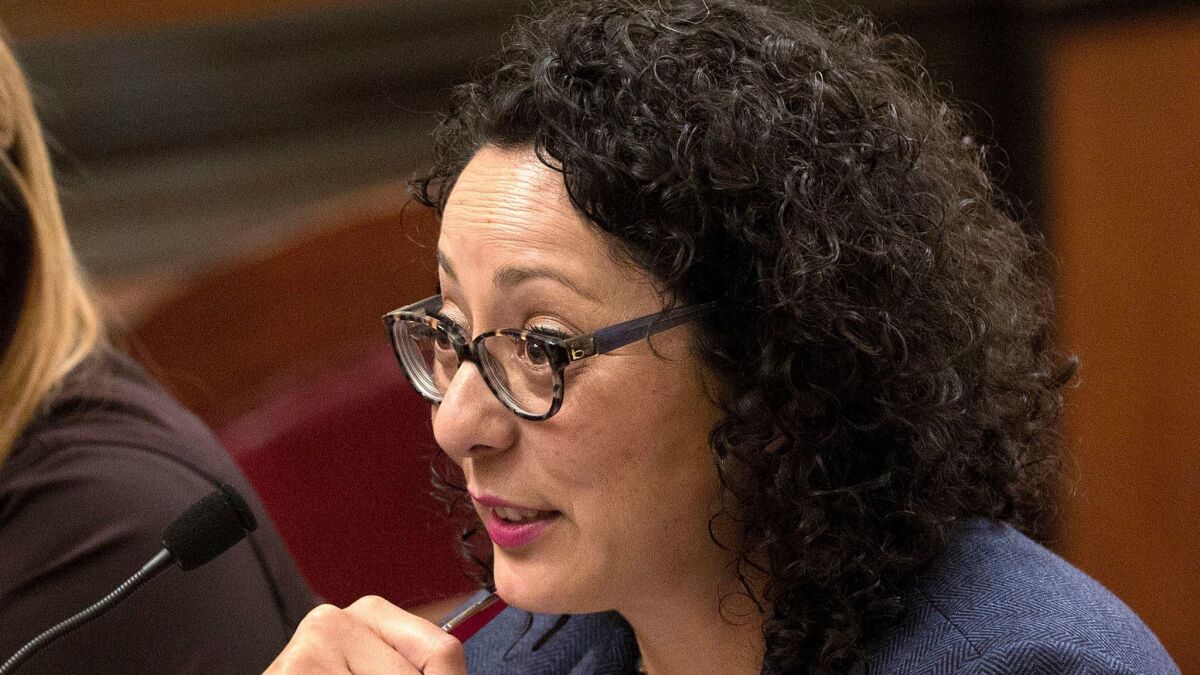 Reporting from Sacramento —
Assemblywoman Cristina Garcia (D-Bell Gardens) has been removed from all of her committee posts after facing accusations of sexual harassment, with the investigation into her conduct coming to a close Thursday.
A former legislative staffer who accused Garcia of inappropriate sexual advances said Assembly officials have ended the investigation into his complaint without finding any wrongdoing. Garcia could return to work in Sacramento as soon as Monday.
Assembly Speaker Anthony Rendon (D-Paramount) issued a strong rebuke of Garcia on Thursday, stripping his fellow Democrat of posts on four committees including the chairmanship of the Assembly Natural Resources Committee.
"Despite the decision that the most egregious allegations could not be substantiated, it is clear that Assemblymember Garcia has engaged in a pattern of behavior that must be addressed," Rendon said in a written statement. The Assembly leader also said Garcia will have to attend sexual harassment and sensitivity training when she returns to work.
Without any committee work, Garcia's duties will largely be relegated to voting on bills when they come to the floor.
The ex-staffer, Daniel Fierro, alleged that Garcia stroked his back and buttocks and reached for his groin at a charity softball game in 2014. His allegations were first reported in February by Politico, which also reported on allegations from an unnamed lobbyist about Garcia's behavior at a Sacramento fundraising event.
Fierro said that he received a letter and phone call from the Assembly informing him that his claim was found to be unsubstantiated but that he got no further details.
"It's concerning because we don't know the methodology," he said. "This is something people have been saying long before I was involved — that this is an incredibly opaque process. I'm not asking it to be slanted toward victims; I just want it to be balanced, and it's not that."
Fierro said he is considering appealing the decision.
"One of the corroborating witnesses I provided the investigator was never contacted.… It makes me wonder about who was contacted and what kind of conversations were had," he said.
Garcia, in her third term, took the unusual step of preempting official word that the investigation was complete by issuing her own news release Thursday on Assembly letterhead with a headline that proclaimed she had been "exonerated."
While legislative officials didn't offer details on the claims that were substantiated, a San Diego attorney representing former members of Garcia's staff provided The Times with a copy of a letter from the Assembly Rules Committee. It says the lawmaker had "commonly and pervasively" used vulgar language. The letter also says that she used staff to run personal errands and that she had "disparaged other elected officials."
Garcia confirmed those findings in her statement Thursday, apologizing for her actions.
"I want to assure everyone that I have learned from this experience and will do everything in my power to make amends for my past," Garcia said in the statement. "I know that I can only effectively serve my constituents if staff and my colleagues feel comfortable and respected on the job. That is the climate I pledge to build and sustain."
The end of the investigation comes more than two months after Garcia, 40, agreed to take a leave of absence from her duties and less than three weeks before voters in her district cast ballots in the primary. In November they will decide whether to give her another two-year term in office. The accusations upended the early conventional wisdom at the state Capitol over the issue of sexual misconduct. Garcia, the leader of the Legislative Women's Caucus, was one of the early advocates for a change in the workplace culture.
Sexual misconduct accusations against California assemblywoman twist gender dynamics of #MeToo movement »
She also was a vocal critic of two male lawmakers who were accused of inappropriate behavior and subsequently resigned from office — former Assemblymen Raul Bocanegra and Matt Dababneh.
A third Democrat, former Artesia state Sen. Tony Mendoza, also resigned. In the cases of Bocanegra and Mendoza, legislative investigations found misconduct claims against the men to be credible.
Mendoza, whose district adjoins Garcia's, is trying to win back his seat in next month's election without the help of his party. Unlike Mendoza, Garcia received the California Democratic Party's endorsement at its February convention. And her leave of absence from the Assembly was voluntary.
The accusations and the ensuing publicity have made the relationship awkward between Garcia and some interest groups that traditionally have aligned with Democrats. This week, after Garcia touted her record on labor issues in a campaign news release, the leader of the powerful California Labor Federation took the unusual step of responding to say that no endorsement had been made.
California lawmakers say they'll keep releasing sexual misconduct records. And yet a bill to guarantee that is about to be killed »
A harsher assessment of Garcia has been made by the union representing construction workers across the state. The State Building and Construction Trades Council has formed a political action committee to defeat Garcia. Campaign finance records show expenses so far of more than $238,000.
"The news today will not change our course," said Erin Lehane, a spokesperson for the campaign committee. "What we already know, by Garcia's own admission, makes her a bad boss and a bad colleague."
The political committee has produced two television ads urging voters to reject the lawmaker on June 5. One relies on news clips of the allegations. The second features a young girl who says Garcia isn't a role model.
"This is not a person I want to grow up to be like," the girl says.
Times staff writer Melanie Mason contributed to this report
Follow @johnmyers on Twitter, sign up for our daily Essential Politics newsletter and listen to the weekly California Politics Podcast
---
UPDATES:
8:00 p.m.: This article was updated to clarify the status of investigations of former legislators.
7:00 p.m.: This article was updated with information about Garcia's committee assignments.
This article was originally published at 5:50 p.m.
Get our Essential Politics newsletter
The latest news, analysis and insights from our politics team.
You may occasionally receive promotional content from the Los Angeles Times.