What a rent control fight in Silicon Valley could mean for the rest of California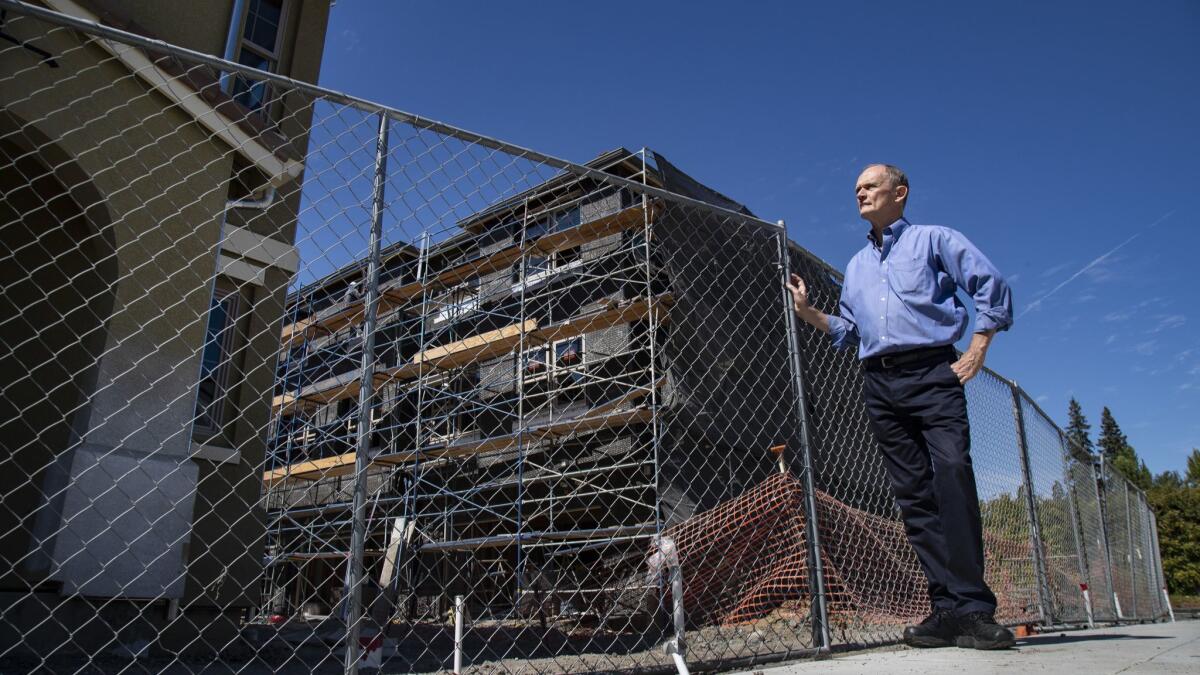 Reporting from Mountain View, Calif. —
A fight over rent control has raged for three years in the Silicon Valley suburb of Mountain View with no end in sight.
It began in October 2015, when Mountain View City Council members rejected pleas from tenant activists to limit rent increases. Tenant groups responded with a November 2016 ballot initiative to restrict rent hikes, and council members countered by putting a less stringent proposal before voters.
The tenants' plan passed, and landlords in Mountain View sued to overturn it — the lawsuit failed. Now signature gatherers are once again congregating outside Mountain View supermarkets, this time for a landlord-sponsored rent control initiative to turn the rules in their favor.
"It's a blur of posterboards," said Mountain View tenant activist Kristina Pereyra, 49, describing the city's flurry of activity on rent control.
Similar battles could be coming to the rest of California. In November, voters across the state will decide on Proposition 10, an initiative to repeal the Costa-Hawkins Rental Housing Act, a 1995 state law that keeps local governments from implementing most forms of rent control.
Under the law, cities and counties can't impose rent control on apartment complexes constructed after 1995. The law also blocks local governments from implementing rent controls on single-family homes and it allows landlords to charge market rate for their apartments after a rent-controlled tenant moves out.
If Proposition 10 passes, those restrictions would disappear. Cities and counties could dramatically expand their efforts to cap rent hikes at a time when millions of California families face high rent burdens and the state grapples with a housing shortage stretching back a generation.
Californians will make a big decision on rent control in November »
The limited version of rent control that Mountain View voters backed in 2016 is allowed under state law. Both tenants and landlords point to what's happened as a harbinger of what could be in California's future.
Tenants reference the thousands of families that have had their rents stabilized while landlords point to owners of older apartment complexes who have sold to developers who in turn force tenants out, tear down the buildings and build new condominiums.
Margaret Abe-Koga, a Mountain View city councilwoman who opposes rent control, said the community is divided.
"It's almost like you can't talk about it anymore," Abe-Koga said. "The anger about this issue — we can't seem to have a productive conversation."
With its array of low-rise office parks, Mountain View is hard to distinguish from other communities in Silicon Valley, except that it's home to Google's headquarters.
On a recent weekday afternoon, the tech giant's self-driving cars whirred around downtown Mountain View. Outside an empty storefront on Castro Street, the city's main drag, startup entrepreneurs were advertising a new app that takes a picture of your feet and sends the photo to online shoe stores so you'll get the right size.
Silicon Valley has seen a tech-driven surge in new jobs since the end of the recession, and new homebuilding hasn't kept pace. Costs have ballooned from a median $2,214 a month for a two-bedroom rental in Mountain View at the end of 2010, according to real estate website Zillow, to $3,408 in 2018.
Even with the rising prices, Mountain View might not seem like a city that would push for rent control. Residents are relatively well off, with a median household income of nearly $110,000, per U.S. census figures. But nearly 6 in 10 Mountain View households — the city has a population of about 79,000 — are renters, providing a strong base of support for a campaign.
In 2015, tenant activists began agitating for rent restrictions, leading to a six-hour October City Council hearing on the issue that stretched past midnight. But the council didn't support limiting rent hikes, leaving tenant groups fuming.
"We were angry and it was the right kind of anger," said Steve Chandler, 68, one of the city's leading tenant activists. "This was a, 'Mad as hell and we're not going to take it anymore.'"
Tenant organizations began collecting signatures to put new rent restrictions before voters. Council members subsequently drafted a measure that would have made large rent hikes subject to arbitration instead of simply limiting them and put it on the same ballot. But despite a $330,000 opposition campaign funded by landlords, voters passed the tenant-driven rent control initiative and turned down the council-sponsored one. Mountain View and the Bay Area city of Richmond became the first local governments in California to fully implement new rent control rules in more than three decades.
To comply with state law, Mountain View's rent control only affects apartments built more than 23 years ago. The city limits annual rent hikes in those apartments to an inflation figure set by the rent board the initiative established, and landlords are able to petition the board for larger increases to finance improvements. The measure also rolled back rents in the city to October 2015 levels, when tenants began working on the initiative.
Martin Cortez, 50, a San Mateo County psychiatric social worker, credits rent control with helping him stay where he has lived for more than a decade: a small, two-bedroom apartment he shares with his girlfriend and 22-year-old daughter who has severe autism. He pays $2,086 a month. Before the measure passed, he had been threatened with eviction and large rent hikes.
"It felt like the floor was being taken out from under you," Cortez said. "You couldn't live where you live. You did all the right things. You go to college, you work in the community, and then you couldn't afford the crummiest of places anymore."
Still, Cortez said he has noticed some changes since rent control has gone into effect. His previous landlord sold the complex, and Cortez said the new owners don't maintain it. A plugged sink took weeks to fix, trash piles up and the complex's washing machine jumps when used, he said. He's also seen lots of new faces around neighboring apartments, which he believes are Airbnb renters, given the advertisements he's seen on the site.
Other landlords have decided to sell their apartment complexes to developers who are demolishing the buildings to build homes to sell.
For more than five decades, Grant Huberty's family owned a 56-unit complex in the city. Huberty, 65, decided to sell to a developer who plans to build 58 new row houses on the property that will be listed for sale for an average of around $1 million. Huberty debated whether to renovate the complex when the initiative went on the ballot, but decided that with rent control he'd never make his money back.
"The threat of it really was the major impetus to unload the property," Huberty said.
Replacing older apartments with new homes can leave tenants in the lurch. Jason Clark, 37, grew up in Mountain View and lives with his girlfriend and her son in a two-bedroom apartment for $2,700 a month. But he will have to move out in six months because the owner, citing the city's restrictions on rent, is selling the property to a developer who plans to build row homes.
That owner? Clark's grandfather. Clark had one day hoped to inherit the property. Now he doesn't know how he'll be able to remain in the Bay Area.
"There's really nowhere left," said Clark, who works as an event manager for his father's catering company.
Sales of apartment complexes have increased in Mountain View since rent control began, according to data from real estate firm CoStar. But it's hard to pinpoint rent control as the cause since the data show the same trend across multiple cities in Silicon Valley.
Another common argument against rent control is that it would depress new housing construction. But that hasn't happened in Mountain View, which recently approved a plan for nearly 10,000 new homes near Google headquarters.
Joshua Howard, a senior vice president with the California Apartment Assn., says building has continued in Mountain View because developers know existing state law prohibits rent control on new construction.
"It does give rental housing builders peace of mind that they can develop quality housing they can find financially sustainable," Howard said.
Still, landlords have not stopped fighting against Mountain View's rules. After a lawsuit to nullify the initiative failed, landlord groups began collecting signatures for their own ballot measure. Their proposed initiative would limit rent control to households making less than the city's median income, and suspend the system if the city had too many vacant rentals. Under the standard, rent control would only be in effect if fewer than 3% of rental units in the city were vacant — a level that hasn't been reached since 2012, per U.S. Census data.
Apartment owners were pressing for their measure to appear on the 2018 ballot. Mountain View Mayor Lenny Siegel, a rent control supporter, said signature gatherers were going door-to-door and he had spoken to those who said supporters were paying $40 per signature, a significant sum.
Howard declined to comment on the price paid per signature but said the campaign needed to hire paid petitioners because opponents were harassing volunteers working for the effort. Ultimately, the campaign didn't get enough support to make the November ballot, and now they're aiming for 2020.
By that point, tenant groups hope they can have a measure of their own. Chandler, the tenant organizer, says the city should be able to force landlords to keep rents stabilized even after a tenant moves out so the next person living there would receive the same rates. That's now prohibited under state law, but it won't be if the state's voters support Proposition 10.
"As soon as we pass Prop. 10," Chandler said, "we're going to need to update rent control here."
Coverage of California politics »
Get our Essential Politics newsletter
The latest news, analysis and insights from our politics team.
You may occasionally receive promotional content from the Los Angeles Times.