The money is starting to roll in on California's 17 ballot propositions. A lot of it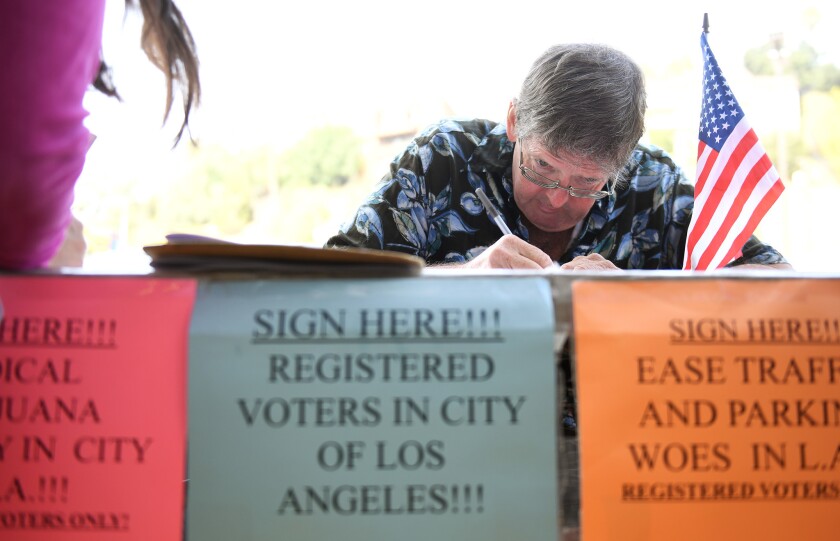 Reporting from Sacramento —
Political professionals who run California ballot measure campaigns always worry about how to get the attention of voters. And it all starts with a lot of money.
Through early August, almost $200 million has been collected for campaigns to support or oppose propositions on the Nov. 8 statewide ballot.
That hews to what campaign consultants have been predicting for months, with voters facing 17 measures — the most on any single ballot in California since March 2000.
Campaign finance reports, full data covering the first six months of 2016 and recent daily reports provide an early glimpse of what's in store.
Sign up for our daily Essential Politics newsletter »
Jan. 1-June 30: $126.7 million raised
As of June 30, the deadline for second-quarter campaign reports, the total take for propositions was more than $126.7 million.
A sizable part of that money went to gathering voter signatures on initiative petitions, a particularly expensive effort this year given how many efforts were underway at the same time. The campaigns also faced a strict legal deadline to win a place on the ballot by the end of June, and several were still scrambling to collect signatures into late May.
July 1-Aug. 9: $72.4 million raised
For the last few weeks, the pace of ballot measure fundraising appears to have risen dramatically.
A review by The Times of daily campaign disclosures of $5,000 or more finds more than $72 million in contributions over the last 10 weeks.
That brings the 2016 total to more than $199.2 million. Add to that money spent as long ago as 2014 on two of the ballot measures, and the total surpasses the $200-million mark.
But it's not evenly distributed: Just five of the ballot measures account for almost three-quarters of all of the money that's been raised.
The big money is coming from Big Tobacco
In the last two months, tobacco companies have contributed nearly $36 million to a campaign to kill a proposed cigarette tax, Proposition 56.
The measure would raise taxes on cigarettes by $2 a pack, as well as raise taxes on e-cigarettes and other tobacco products.
In 2012, tobacco companies spent more that $46 million to defeat a similar measure that would have imposed a $1-a-pack tax on cigarettes. That initiative, Proposition 29, failed by fewer than 43,000 votes.
Just this week, Proposition 56 supporters used part of their campaign cash to launch an early TV ad.
Hospitals and teachers union spend big on two propositions
In July, California hospitals and the state's largest teachers union contributed more than $20 million to extend current income tax rates on California's highest earners through Proposition 55.
The initiative would add 12 years to the life of tax rates that otherwise will expire in 2018, a temporary tax that Gov. Jerry Brown urged voters to approve in 2012 as Proposition 30.
The new measure, Proposition 55, specifies that the money be used for education and healthcare programs. A nonpartisan analysis estimates the tax could add an average of $9 billion a year to state coffers.
The California Assn. of Hospitals and Health Systems donated $12.5 million this summer to support the initiative. The California Teachers Assn. added $10 million.
Drug companies mount major fight against Proposition 61
The largest single block of campaign cash for November propositions is from the pharmaceutical industry in hopes of defeating Proposition 61. Drug companies, according to campaign records, have contributed more than $50 million this year. Of that amount, more than $35 million have been reported since July 1.
Proposition 61 would ban state agencies from paying more for prescription drugs than the lowest price paid by the U.S. Department of Veterans Affairs.
Tech billionaire backs measures to legalize pot and impose new rules on gun ammunition sales
No single individual seems to stand out more in the ballot measure money race than Sean Parker, the founder of Napster and former president of Facebook.
Parker's primary focus has been Proposition 64, the high-profile measure to legalize recreational use of marijuana by California adults. Since June, he has contributed $2.25 million to the campaign in support of the measure. His total support for 2016 is more than $3.7 million.
There also seems to be some political synergy between Parker and the most prominent politician backing Proposition 64, Lt. Gov. Gavin Newsom.
Newsom is the proponent of an initiative designed to combat gun violence through new registration rules when buying ammunition, Proposition 63. In July, Parker donated $400,000 to Newsom's effort on that issue.
Advisory measure on money in politics has no money of its own
Perhaps it's fitting that the ballot measure attracting the least amount of campaign cash is the one that asks voters to take a stand against political money.
Proposition 59, placed on the ballot by the Legislature, is an advisory measure asking voters whether they want California elected officials to work toward overturning the U.S. Supreme Court ruling that loosened the rules on corporate and labor donations, the Citizens United case.
Campaign records show only $10,000 raised to urge support for Proposition 59. No one has spent money opposing the proposition.
Follow @johnmyers and @SophiaBollag on Twitter, sign up for our daily Essential Politics newsletter and listen to the weekly California Politics Podcast.
ALSO:
What you need to know about the 17 propositions on November's statewide ballot
November's blockbuster ballot could see some $500 million in campaign spending
---
Get our Essential Politics newsletter
The latest news, analysis and insights from our politics teams from Sacramento to D.C.
You may occasionally receive promotional content from the Los Angeles Times.