Sen. Kamala Harris backs long-time ally Gavin Newsom in governor's race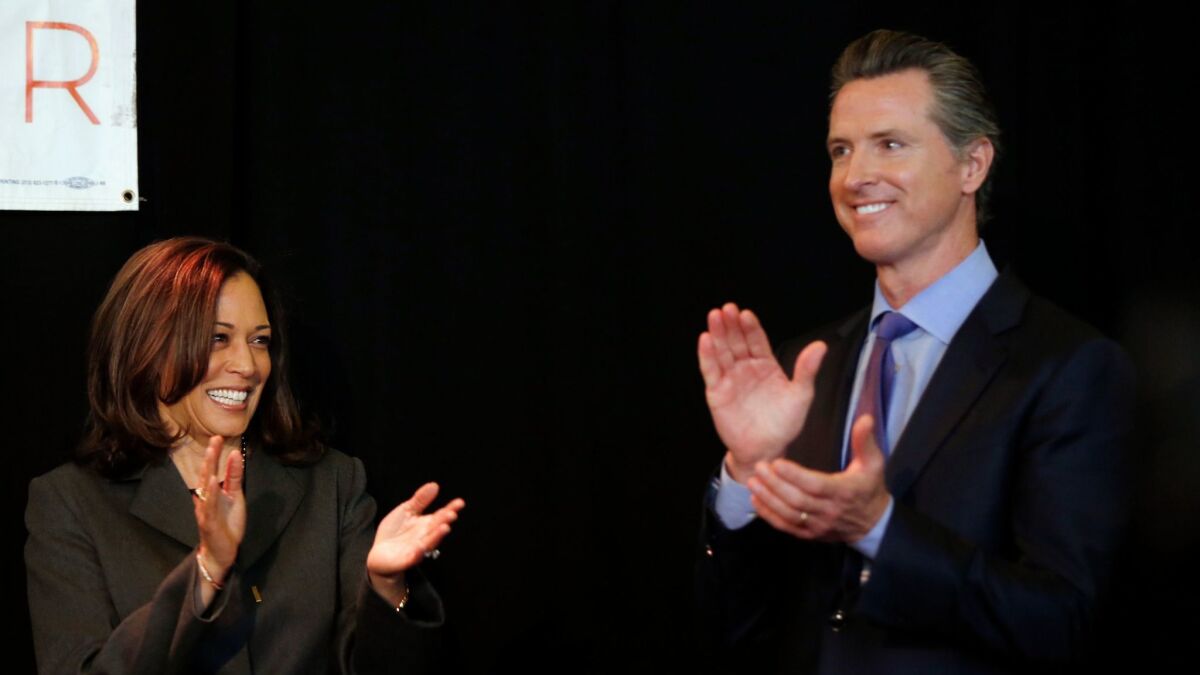 Citing their long friendship and shared experiences in San Francisco and Sacramento, Sen. Kamala Harris on Friday endorsed Gavin Newsom in the governor's race.
"Gavin and I have been friends for a very long time. We were friends before either of us held elected office," Harris told Newsom supporters at the University of Southern California. "All of those experiences together lead me to today endorse him to be the next governor."
Harris cited Newsom's work as an early advocate of same-sex marriage and universal healthcare as reasons for her decision.
"At this moment in time particularly, California leadership is about national leadership," she said. "What we do here is a role model of what can be done around the country to reject false choices, to stand on principle and to have the courage to do the right thing always."
Harris is the most prominent elected official to weigh in on the governor's race, and her announcement comes a week before California Democrats gather at their annual convention and decide whether to make an official endorsement in the contest. Newsom and Democratic rival Antonio Villaraigosa, the former mayor of Los Angeles, were in a virtual tie in a poll released last week, with state Treasurer John Chiang, former state schools chief Delaine Eastin, Assemblyman Travis Allen (R-Huntington Beach), businessman John Cox and former Rep. Doug Ose trailing.
Harris' move is not surprising – the two Democratic politicians share the same political advisers, began their careers in San Francisco city politics and have known each other for more than two decades.
Follow California politics by signing up for our email newsletter »
They got their starts in politics thanks to former Assembly Speaker Willie Brown.
Brown dated Harris for a period in the early 1990s. In 1994, he appointed her to the Unemployment Insurance Appeals Board and then the California Medical Assistance Commission.
Newsom raised money for Brown's 1995 mayoral campaign. The following year, Brown appointed Newsom to the Parking and Traffic Commission, and then in 1997, to the San Francisco Board of Supervisors.
Newsom went on to serve as mayor of San Francisco from 2004 to 2011, while Harris was elected district attorney for the same years. They were elected to statewide office in 2010 – Newsom as lieutenant governor and Harris as attorney general.
"It is an amazing journey Kamala and I have been on as friends, going back now decades, as elected officials, as colleagues on so many fronts," Newsom said, recalling work they did together on gun control and to decrease truancy.
Some questioned whether the two prominent Democrats were heading for a political clash, but that was neatly avoided in early 2015, when Harris announced she would run for retiring Sen. Barbara Boxer's seat and Newsom announced he would run for governor.
Newsom was an early backer of Harris' Senate campaign, pointing to her work in their shared hometown.
"If you can survive San Francisco politics, Washington, D.C., is a cakewalk," Newsom told Harris supporters as he endorsed her at her Sacramento campaign office in January 2016.
Published reports suggested the pair worked out an agreement in 2015 to seek separate posts, negotiated by their shared political consultants. Sources close to both of them deny they cut a deal.
On Friday, Newsom lauded Harris' work in the Senate, calling her "one of our nation's finest political leaders."
Their mutual admiration may face a new test in 2020 – both have appeared on lists of potential contenders for the Democratic presidential nomination.
For the latest on national and California politics, follow @LATSeema on Twitter.
ALSO
Former top Hillary Clinton aide Amanda Renteria enters race for California governor
Former aide to Gavin Newsom speaks out about their affair while he was San Francisco mayor
Live coverage of California politics
---
Life is stressful. Our weekly mental wellness newsletter can help.
You may occasionally receive promotional content from the Los Angeles Times.