NRA not putting up much of a fight against California gun control ballot measure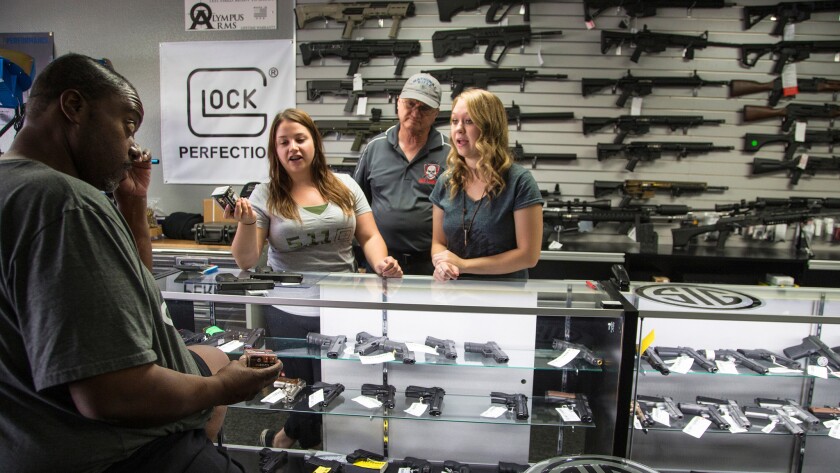 Reporting from Sacramento —
The National Rifle Assn. has poured $4 million into fighting a Nevada initiative that would require background checks for firearms buyers but just $145,000 into battling a gun control measure in California.
The difference has not been lost on gun owners and those pushing Proposition 63 on the Nov. 8 statewide ballot.
One activist frustrated by the lack of help on a drive to overturn other new gun laws wrote on his Facebook page last month: "Hello, NRA? Is Anyone There?" Another wrote: "I'm also rethinking my NRA dues."
Others on the front lines of the campaign against Proposition 63, like Craig DeLuz of the Firearms Policy Coalition, say the NRA has more than California to worry about.
"Obviously we'd like to see more being done in California," DeLuz said, "but the reality is this fight is being fought in numerous states, and in this election, there are a number of battles at the federal level to make sure there is a majority in the Senate that supports the Second Amendment."
The NRA's comparatively small investment in California has left the campaign against Proposition 63 at a major disadvantage financially, forcing it to rely on social media for much of its messaging.
Those campaigning against the measure, including the NRA-affiliated California Rifle and Pistol Assn., have raised a combined $703,000, compared with $4.7 million raised by the pro side.
The campaign against the measure has put out some online video ads, but nothing on television.
The brainchild of Lt. Gavin Newsom, who is running for governor in 2018, Proposition 63 would ban possession of high-capacity ammunition magazines, require background checks for ammo purchasers, provide a process for taking guns from felons and make possession of an illegal gun a felony.
The campaign has received $1.1 million from the California Democratic Party, $727,000 from Newsom's campaign committee for lieutenant governor and $400,000 from former Facebook President Sean Parker, who also is championing a measure to legalize recreational marijuana in California.
Amy Hunter, a spokeswoman for the NRA, denied the group is missing in action in California.
"The NRA continues to fight for the Second Amendment rights of law-abiding gun owners in California and we are committed to educating voters about the duplicative and draconian gun-control initiatives on the November ballot," she said in a statement.
She added that by giving to the Coalition for Civil Liberties and other pro-Second Amendment groups, the NRA is seeking to "maximize grassroots and paid media efforts to defeat these misguided laws that will not make anyone safer."
Hunter also told The Times recently it is "just one member of the broad spectrum of member groups" and referred a request to have an NRA spokesperson appear at a debate to the Coalition for Civil Liberties.
There is no question the gun lobby has other priorities. The only broadcast television ads the NRA has paid for in California attack Hillary Clinton, accusing her of undermining gun rights and urging voters to support Donald Trump.
Perhaps the NRA has not jumped into the Proposition 63 fight in a bigger way because of polls showing its support, including a recent USC Dornsife/Los Angeles Times poll that found the initiative favored by 64% of registered voters.
In addition, California has a large majority of Democratic voters who might not be open to the NRA's message, said Adam Winkler, a UCLA law professor who has written about the history of gun control in California.
Another possibility: The NRA is battling the group Everytown for Gun Safety, mostly funded by former New York Mayor Michael Bloomberg, which has put $3.7 million into the Nevada effort and also is spending nothing in California.
Winkler said the biggest factor in the NRA's token involvement in California may be the fact that key provisions of the initiative that are objectionable to gun owners already were put into law this summer.
Senate President Pro Tem Kevin de León (D-Los Angeles), who has been feuding with Newsom over who is the true leader on gun control, convinced lawmakers to approve bills requiring background checks for ammunition purchasers and outlaw magazines that hold more than 10 bullets.
"I think the issues in Newsom's initiative would have been big issues to the NRA had they not already been enacted," Winkler said.
From the moment he announced the initiative, Newsom has sought to portray the battle as one of his standing up against the NRA, an effort that could help him with voters two years from now.
The Proposition 63 website features the headline "Stop the NRA," and Newsom urged voters in a recent speech to "send a message to the National Rifle Assn. We've had enough and we're not waiting around for Congress to solve this."
Even if the NRA does not significantly boost its role in the campaign, Winkler said Newsom still will be able to campaign saying he beat the gun lobby if Proposition 63 passes.
"When he runs for governor, he will be able to demonize the NRA," Winkler said. "California voters know who the NRA is, and they know what the NRA stands for."
ALSO:
A fight over gun control at the very top as Democrats feud over something they agree on
Lt. Gov. Newsom's gun control initiative qualifies for November California ballot
Police chiefs group decides to oppose California's gun control ballot proposition
Brown signs gun control proposal
---
For reporting and exclusive analysis from bureau chief John Myers, get our California Politics newsletter.
You may occasionally receive promotional content from the Los Angeles Times.