The Russia investigation thrust Devin Nunes into the spotlight. Now that he's the one under scrutiny, what has he been up to?
Washington —
When the House Select Intelligence Committee opened its most recent hearing on Russian interference in the 2016 election, committee Chairman Devin Nunes was notably absent from the dais.
The week before, when the Justice Department named a special prosecutor to take over the existing FBI probe, lawmakers on the House and Senate intelligence committees were appearing on cable television at a rapid clip.
Nunes instead sent out a brief statement. It was his first statement mentioning the Russia investigation in nearly two months.
Thanks to a series of missteps — and an ethics query — the Tulare Republican went from being among the most prominent Republicans in the Russia investigation to watching from the sidelines as the issue grips the nation and consumes attention on Capitol Hill.
Not so long ago Nunes was tailed by packs of information-hungry reporters, but since he was forced to hand over the investigation, the Washington political world has moved on. The bigger question is what will happen with the probe into whether he leaked classified information to defend President Trump.
The impression that Nunes, who worked on Trump's transition team, was trying to provide cover for a tweeted claim that the Obama administration had wiretapped his campaign, and Nunes' subsequent announcement that he'd stop leading the investigation, caught many flat-footed.
It all began with a dramatic March 22 press conference in which Nunes said he had evidence that the transition team had been under inadvertent surveillance, and that he was going straight to the White House to tell the president about it.
The news was a surprise to the highest-ranking Democrat on the committee, fellow California Rep. Adam Schiff, who promptly criticized Nunes for failing to first share what he'd learned with his own committee.
Drip by drip the full story came out, and it turned out two White House officials Nunes had worked with before had helped the chairman gain access to the reports.
When Nunes announced April 6he would step aside from the investigation, he blamed allegations from two ethics watchdog groups that he had revealed classified information in conversations with the media. The House Ethics Committee said in a statement 23 minutes later that it would look into whether Nunes broke House rules governing dissemination of classified information.
The ethics probe
The House Ethics Committee has no deadline to finish its work, and such investigations can take months, or years. Rob Walker, former chief counsel and staff director of the Senate and House ethics committees, said the investigation is probably still in the information-gathering stage, and staff members will have to get security clearance to even get access to some of the intelligence information in question.
"More than most ethics matters, this one is highly charged and it must be done by the book, absolutely," said Walker, now counsel with Wiley Rein LLP in Washington.
Plus, witnesses may drag their feet or documents could be difficult to access because the FBI and two congressional committees are investigating the same underlying intelligence information, Walker said.
The committee has oversight over questions of how classified information is handled. It started the investigation into Nunes' conduct on its own, rather than following normal procedure of having the nonpartisan Office of Congressional Ethics take a precursory look.
"It doesn't arise all that often. It is a very special and serious obligation," Walker said. "The committee has to be seen to be handling, and has to be [seen to be] acting promptly on, any such accusation."
Even though the Ethics Committee probe is in its infancy, it's already having political repercussions. Fresno County Deputy Dist. Atty. Andrew Janz has already tried to use the inquiry against Nunes as he plans a 2018 challenge, and the Democratic Congressional Campaign Committee announced this week that it would specifically target Nunes' Central Valley district. Flipping the seat, which stretches across large sections of Fresno and Tulare counties, would be a big lift — Nunes was reelected in 2016 with 68.2% of the vote.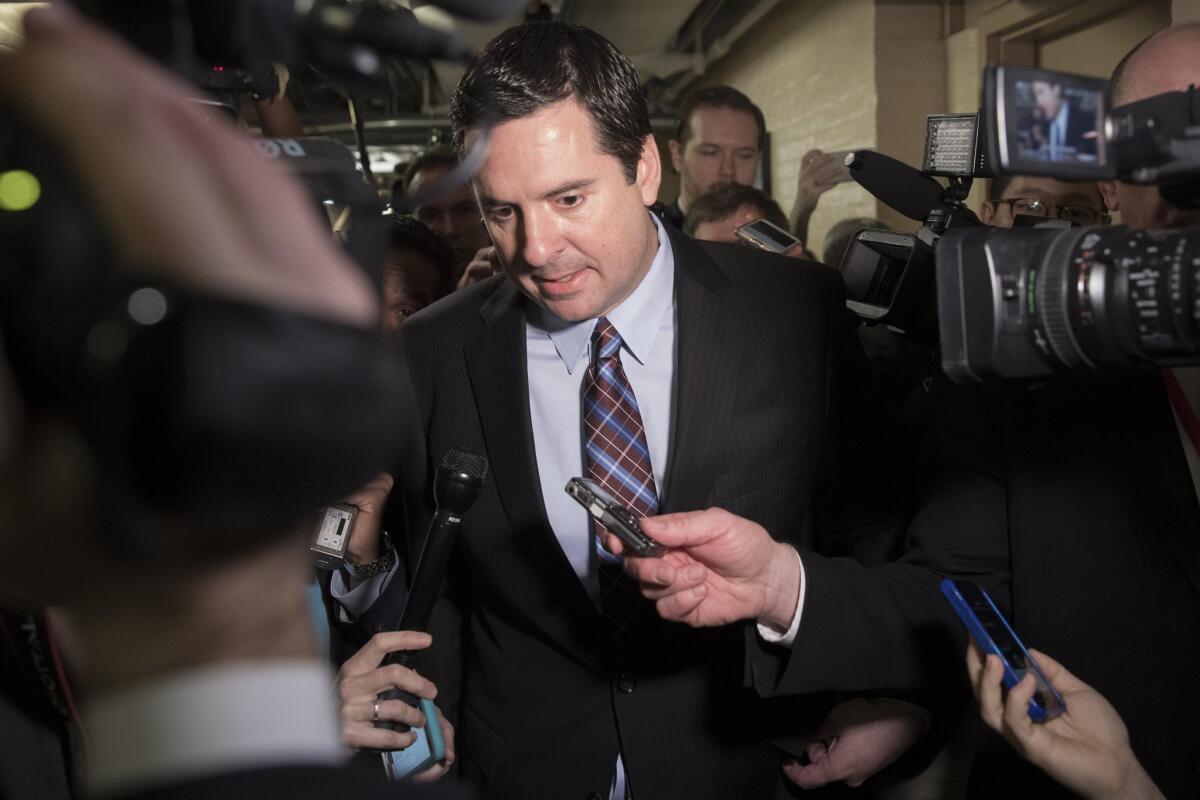 Any member of Congress would be expected to hire an attorney during such a query. Nunes' office did not respond to questions about whether he had done so. Asked directly whether he had obtained legal counsel, Nunes flashed a reporter a thumbs-up and said, "Have fun with your story."
The most recent campaign finance reports only cover through March 30, so any payments to an attorney will not be made public until the next reports are due this summer.
Business as usual
Rep. Jim Himes (D-Conn.) said the Intelligence Committee is not "dwelling" on Nunes' ethics allegations.
"We have a certain amount of sympathy for it, but it's really not coming up in the day-to-day business of the committee," he said.
Rep. Mike Conaway (R-Texas), the soft-spoken chairman of the House Agriculture Committee who has taken over the Russia probe, presided over his first public hearing on the topic Tuesday. Republicans largely deferred to Rep. Trey Gowdy (R-S.C.) to ask the questions, and the tone of the hearing remained civil. Nunes never made an appearance.
"Mike is going out of his way to be nonpartisan, to be helpful, to be fair about this. Those of us involved in the investigation are very pleased about how things have settled down," Himes said.
Some Democrats on the committee say Nunes is still doing too much. Rep. Jackie Speier (D-Hillsborough) pointed to a recent CNN report that Nunes is still reviewing intelligence documents dealing with the investigation and said he is trying to delegitimize the Russia investigation by calling it a task force. Her understanding was that he would no longer be involved at all, she said.
"That's what recusal means to most people, and now some weeks have passed and he's starting to reassert himself," Speier said.
Nunes declined interview requests made through his office. His staff said in a statement that he is working on Republican efforts to overhaul the tax code and healthcare, as well as local water issues for the Central Valley.
As he continues with the normal responsibilities that come with being chairman of the Intelligence Committee, Nunes spent the last month shepherding a bill that authorizes funding for the intelligence community and is working on the next version of the bill.
Friends and colleagues say they see no difference in his behavior. Nunes still chats with other Republican members on the House floor and shows up for votes and weekly GOP meetings.
"He's not showing any anger, any remorse. He's as hardworking as before," said Rep. Peter King (R-N.Y.). "In fact, if you didn't know from reading the papers, you wouldn't know anything was going on at all."
Follow @sarahdwire on Twitter
Read more about the 55 members of California's delegation at latimes.com/politics
ALSO:
Rep. Adam Schiff, Trump's public prosecutor, says he must be a 'guardian against the worst abuses'
National Democrats name California GOP Reps. Devin Nunes and Duncan Hunter targets in 2018 election
Get our Essential Politics newsletter
The latest news, analysis and insights from our politics team.
You may occasionally receive promotional content from the Los Angeles Times.