Obama coming to Southern California to campaign for Democrats in key House races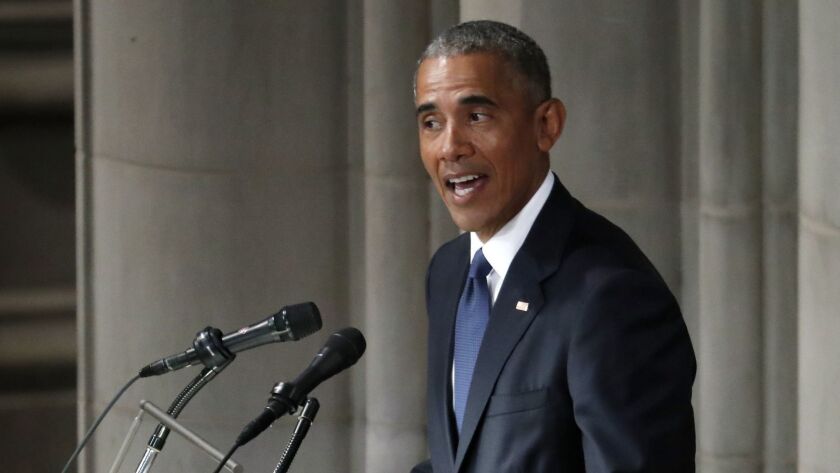 In his first major foray on the campaign trail ahead of November's midterm election, former President Obama will drop into Southern California on Saturday, holding a rally to boost seven Democratic candidates running in competitive House districts across the state.
His appearance, one of just a few overtly political events he's held since leaving the White House, is a sign of the high stakes in this year's election as Democrats try to wrest back control of the House.
It's also an indication of California's considerable role in Democrats' hoped-for path to victory, with all seven Democrats competing in Republican-held districts that supported Hillary Clinton in 2016. Democrats need to capture 23 seats to take back the House. Details of the time and location of the rally have not yet been released.
Obama had already thrown his weight behind most of the candidates in August, when he released an early wave of endorsements.
Since leaving office, Obama has attended about half a dozen high-dollar fundraisers for groups such as the Democratic National Committee and the Democratic Congressional Campaign Committee. He has also hit the campaign trail to help Democrats win governor's seats in Virginia and New Jersey last year and recorded a robocall to help underdog Democrat Doug Jones capture a U.S. Senate seat in an Alabama special election.
But this weekend's rally will mark his first stump speech this election season. A spokeswoman for Obama said Saturday's event was just the beginning of a "focused, strategic" lineup of fall campaign appearances.
Aside from battleground House districts, spokeswoman Katie Hill said, Obama will also campaign in down-ballot races and contests crucial to the next round of redrawing political districts.
Potential stops include Ohio and his home state of Illinois, both holding competitive gubernatorial campaigns, and Pennsylvania, where newly drawn congressional districts have opened up a slew of opportunities for Democrats this fall.
Obama's plans are notable in part because of criticism he did too little as president to bolster the Democratic Party and its candidates. During his two terms, Democrats lost control of both the House and Senate and more than 1,000 legislative seats nationwide, leaving the party at its lowest standing in statehouses since 1920.
Obama plans to appear in Orange County on Saturday alongside Democrats Josh Harder, who is running against Rep. Jeff Denham of Turlock; T.J. Cox, who's challenging Rep. David Valadao of Hanford; and Katie Hill, who is opposing Rep. Steve Knight of Palmdale. Hill is no relation to Obama's spokeswoman.
Also planning to attend are Democrats Gil Cisneros, who's looking to replace retiring Rep. Ed Royce of Fullerton; Katie Porter, who's challenging Rep. Mimi Walters of Laguna Beach; Harley Rouda, who's opposing Rep. Dana Rohrabacher of Costa Mesa; and Mike Levin, who's hoping to replace retiring Rep. Darrell Issa of Vista.
Like most past presidents, Obama has largely stayed above the political fray, though his pointed remarks last weekend eulogizing the late Republican Sen. John McCain of Arizona seemed obviously aimed at President Trump.
"So much of our politics, our public life, our public discourse can seem small and mean and petty, trafficking in bombast and insult and phony controversies and manufactured outrage," Obama said. "It's a politics that pretends to be brave and tough, but in fact is born of fear."
Also like many presidents, he has enjoyed a post-presidency bump in popularity, something that could help fellow Democrats this fall.
Times staff writer Mark Z. Barabak contributed to this report.
Coverage of California politics »
For more on California politics, follow @cmaiduc.
---
Life is stressful. Our weekly mental wellness newsletter can help.
You may occasionally receive promotional content from the Los Angeles Times.