William Alfred Newsom III, retired judge and father of Gov.-elect Gavin Newsom, dies at 84
Reporting from Sacramento —
William Newsom, a retired state appellate court justice and father of Gov.-elect Gavin Newsom, died Wednesday morning at his home in San Francisco. He was 84.
Gov. Jerry Brown appointed the elder Newsom to the Superior Court bench in Placer County in 1975 and he was later appointed to California's Court of Appeal, where he served until retiring in 1995. He was a lifelong resident of San Francisco and well connected in San Francisco's political and social circles.
Newsom had grown increasingly ill in recent months, although the nature of his illness was not released by his family. This week the governor-elect canceled events to spend time with his father.
"The Newsom family is deeply saddened to announce that the governor-elect's father — avid environmentalist and retired Justice William Alfred Newsom III — passed away peacefully this morning at 9:59 a.m. at his home in San Francisco," said the incoming governor's spokesman, Nathan Click, in a statement released Wednesday afternoon. "Justice Newsom was a proud, lifelong Californian, a public servant of profound accomplishment and a powerful voice for individual rights and environmental protection."
Gov. Jerry Brown on Wednesday released a statement offering condolences.
"Bill was a longtime friend, a champion of the environment and someone whom I was proud to appoint to the Superior Court and Court of Appeal," Brown said.
William Newsom, known as "Bill" among friends and family, was born in San Francisco in 1934. His father was in the construction industry and his mother sold stock for PG&E. Newsom married his wife, Tessa, in 1966 and the couple had their son Gavin a year later and a daughter, Hilary — now Hilary Newsom Callan — in 1968. The couple divorced when Gavin was still a boy. Tessa Newsom died at 55 in 2002 after a long fight with breast cancer.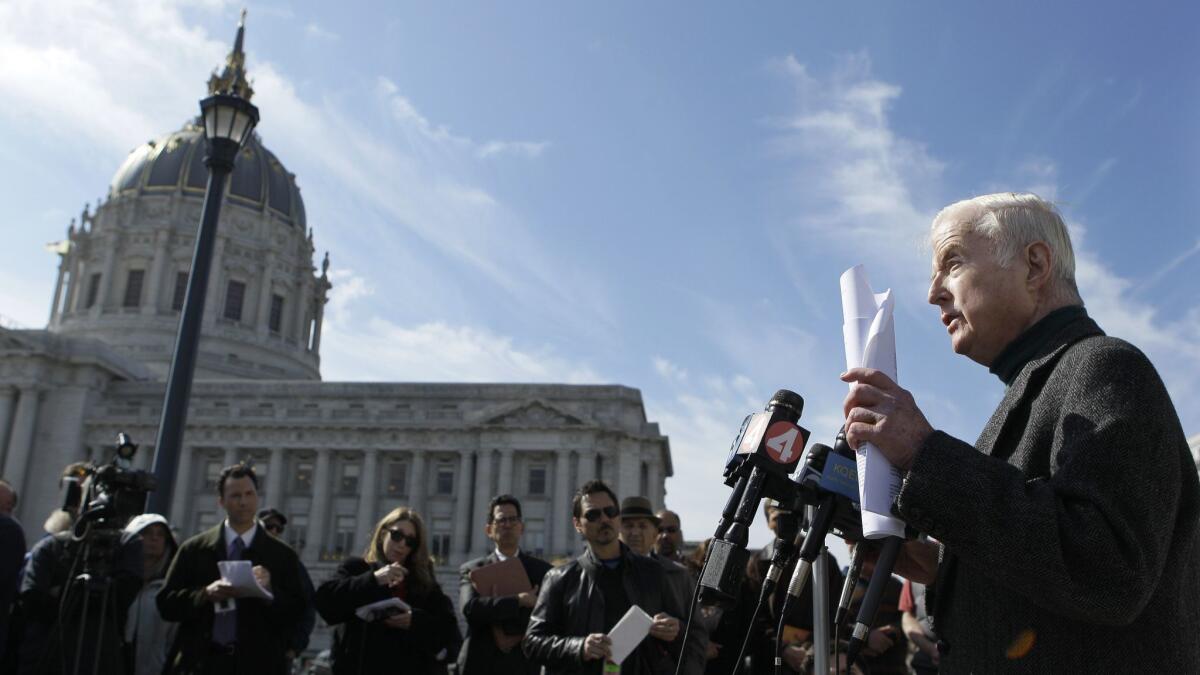 Newsom was a longtime friend and former high school classmate of Gordon Getty, son of oil magnate J. Paul Getty, and managed the Getty family trust. He was such a close confidant to the Gettys that he helped deliver nearly $3 million in ransom after the 1973 kidnapping of J. Paul Getty's grandson, John Paul Getty III.
"I do see the family as almost an extension of my own," Newsom said of the Gettys in an interview a decade ago for a UC Berkeley oral history project on his life. "It's difficult to talk on the subject without dipping into the realm of cliche. It's true that great wealth, by itself, never made anybody happy. The only people I've ever seen who are satisfied with life are people who achieve something beyond mere wealth."
As a judge, Newsom was a steadfast believer in rehabilitation for felons in the criminal justice system. In 1980, he sat on a panel of judges that overturned sentences of life without the possibility of parole for defendants in the Chowchilla bus kidnapping case, paving the way for the eventual release of two of them.
The 1976 crime involved three men from wealthy families who kidnapped more than two dozen schoolchildren and their bus driver, burying them alive in a Livermore, Calif., quarry and demanding a $5-million ransom from the state. All 27 victims escaped by digging their way out of the buried moving van.
Newsom supported parole for the kidnappers, saying it was a "mad-hatter stunt" with no "vicious aspect to it."
After two decades on the bench, William Newsom retired in 1995.
House Minority Leader Nancy Pelosi of San Francisco praised Newsom for his generosity and years of public service, calling his death a major loss to the city and state he loved.
"Bill was a proud third-generation San Franciscan, who devoted his full public and private life to our city," Pelosi said in statement. " As a state court judge and then an appellate judge, Bill worked relentlessly to uphold liberty and justice for all Californians. He took great pride in being raised Irish American, Catholic and Democratic, and commitment to public service ran through his entire life."
In an interview last year, Gavin Newsom fondly recalled spending summers as a boy with his father in the mountainous town of Dutch Flat in Placer County, where his father also had a home. Newsom said he father was more comfortable in the rugged former mining town than in the big city of San Francisco. His rustic home had an impressive collection of books, which the elder Newsom enjoyed reading in the bathtub, his son said.
"The thing I value most of my father is he is the exact same person to the stranger at the bar playing Liar's Dice as he is to King Juan Carlos in Spain," Newsom said in the interview last year. "It's really an extraordinary life that he's lived, amazing adventures and relationships, and he was one of the great old Irish storytellers. You could spend 10 hours listening to him. But there's an empathy and a connection that's universal to everybody, and a sense of service."
It was in Dutch Flat that his father impressed upon his son a reverence for the environment and the rural expanses of California.
"There's this sort of duality I've always had, these two mind-sets," Gavin Newsom said of what he gained spending time with his father. "This deep urban mind-set, but also a real respect and admiration for the rural parts of the state."
William Newsom helped found the Mountain Lion Preservation Foundation and fought for a ballot measure that protected the animal. In retirement, he became more active in environmental causes, giving his time to organizations including the Sierra Foundation, Earth Justice and the Environmental Defense Fund.
"It's freed me up to speak out more vocally and loudly on the subject and I have no restraints any longer, and if anything, in the intervening 15 years I've grown to appreciate more than ever the importance of the environment and the importance to my children, to my children's children to experience the beauty of creation," Newsom said of retirement in the UC Berkeley interview.
Longtime San Francisco political veteran John Burton, former chair of the state Democratic Party and a close friend of the Newsoms, described the retired judge as "highly committed" environmentalist. Burton recalled meeting Newsom when they were both teenagers along the Russian River, a popular summer hangout for Bay Area locals.
"He was a special guy. He had a sense of humor, he had a warmth. We used to do our share of drinking when we were 18 or 19," Burton said. "I'll miss him so much that I can't really describe it."
Newsom is survived by his son Gavin Newsom, daughter Hilary Newsom Callan and six grandchildren.
Times staff writers Melanie Mason and Seema Mehta contributed to this report.
Coverage of California politics »
Twitter: @philwillon
Get our Essential Politics newsletter
The latest news, analysis and insights from our politics team.
You may occasionally receive promotional content from the Los Angeles Times.