'Dark money' funds flood of political canvassers in heated Los Angeles County congressional race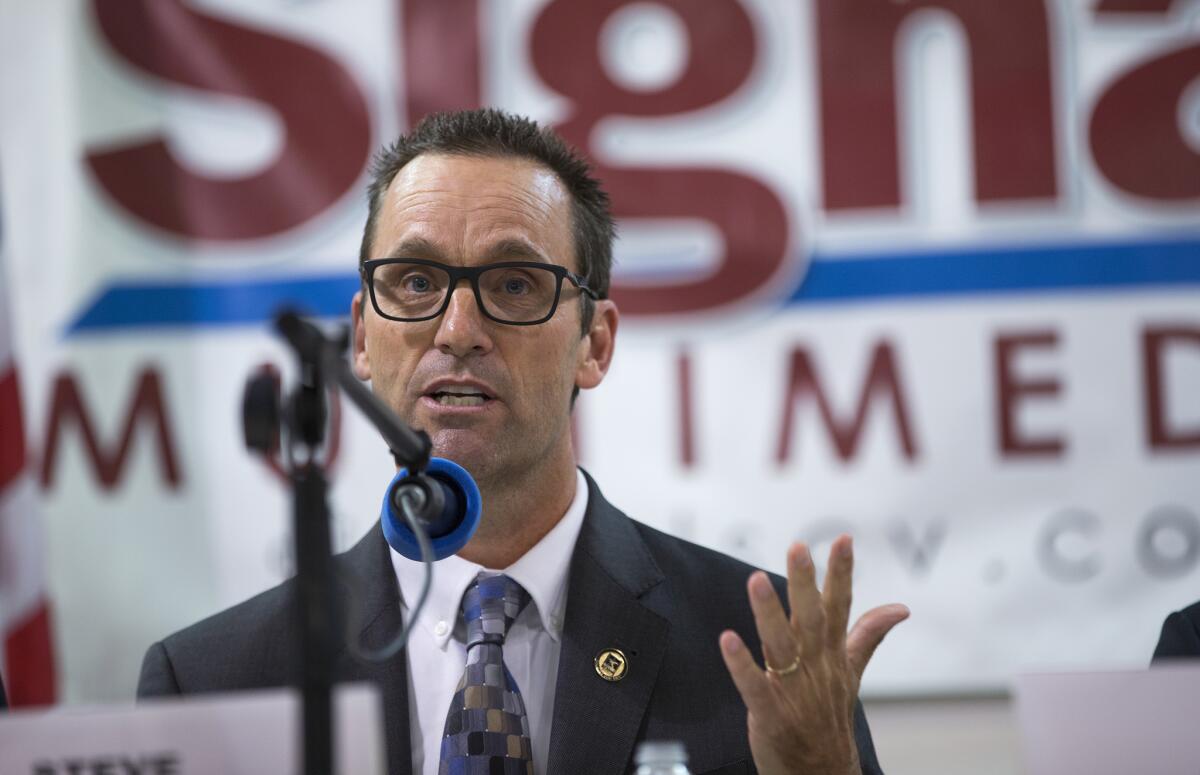 Voters in Santa Clarita and Palmdale will soon be greeted at their doors by an army of political canvassers funded by a six-figure check from a so-called dark-money group tied to the Republican party.
The expenditure marks a new phase in what is proving to be one of California's most contested congressional fights, pitting GOP Congressman Steve Knight against Democratic lawyer Bryan Caforio.
The American Action Network, a nonprofit group that does not disclose its donors, made a $326,250 independent expenditure to a Wyoming corporation to pay for canvassers opposing Caforio, who national Democrats hope can help them win a majority in the House in November. The only other outside spending in the race has been a relatively meager $89,000 by Democratic groups in support of Caforio.
Knight came in first place during the June primary with 48.5% of the vote while Caforio took 29% of the vote and Democrat Lou Vince was eliminated with a third-place showing of 15.4%.
Political handicappers and Democratic party strategists believe the once solidly Republican district that covers Antelope Valley, Santa Clarita and Simi Valley — home to the Ronald Reagan Presidential Library — is within striking distance now that the two parties are virtually tied among the number of registered voters in the district.
About a fifth of voters in the district have no party preference, according to the California secretary of state. Noting the shift and the potential damage that Donald Trump's candidacy could have on down-ballot Republicans, the nonpartisan Cook Political Report called Knight "the most vulnerable incumbent in California."
The outside money is a sign the Republican party is putting a serious effort into keeping the seat in party hands. The American Action Network calls itself a "sister" organization to the Congressional Leadership Fund, a super PAC with a self-described mission of "strengthening the Republican Majority" in Congress.
Former U.S. Sen. Norm Coleman of Minnesota, once floated as a potential head of the Republican National Committee, is the chairman of both groups, which are making good on a promise in August to spend $10 million in House races to protect endangered Republicans and try to win seats.
"Our historically strong fundraising has put us in a position to not only protect Republicans in tough races, but also to take the fight to Democrats on their turf," said Mike Shields, who serves as the president of both groups.
The nonprofit also spent $326,250 on canvassing against Democratic Rep. Ami Bera, who represents the Sacramento suburb of Elk Grove and is locked in a contentious election battle with Sacramento County Sheriff Scott Jones.
So far not much is known about when or where the canvassers will appear or what they will be doing.
Matt Rexroad, Knight's political consultant, said the campaign, which by law cannot coordinate with outside groups, has not gotten reports from its volunteers about any canvassers hitting the streets.
"We have seen nothing tangible yet," he said Wednesday.
Records indicate the nonprofit is calling upon a group with experience helping protect Republicans in House, Senate and presidential races.
The expenditures in the Los Angeles and Sacramento-area races both went toward hiring the September Group, a firm with a mailing address in Cheyenne, Wyo., to run the canvassing programs.
The group most recently received $225,000 from a super PAC backing then-Republican Presidential candidate Ted Cruz to pay for telephone and door-to-door efforts in Utah, Arizona and New York during their primaries, according to records with the Federal Election Commission.
Republican operative Neal Blair, whose name is on the company's annual report filed with the Wyoming secretary of state, is also listed as an executive of a firm called September Inc. that public records show was paid by former Republican Sen. Robert F. Bennett of Utah when he lost a 2010 primary battle to a tea party-backed challenger.
The group also ran a robocall campaign for Utah Congresswoman Mia Love's 2014 campaign when she flipped a blue seat red, according to federal records.
An ad placed on Craigslist this month asking for political canvassers to work on behalf of Republican congressional candidates in the "Santa Clarita and Palmdale areas" promises $16 per hour for up to 40 hours per week. Once a worker hits 40 hours each week, the ad promises, there is a $1 bonus for each hour worked and "all hours over 40 hours per week are paid at a rate of $18 per hour," according to the post.
"We also reimburse $30 per month for data usage on your phone," the ad reads.
Alex Nickle, who is listed as operations director on the September Group's website, said he could not comment on the current campaign. Knight's campaign said it did not post the ad.
In a comedic twist, the ad uses a photo of Rachel Eve Stein, a supporter of Vermont Sen. Bernie Sanders from Brooklyn who wrote a blog post titled: "Walk the Vote: 7 Reasons You Should Try Canvassing if You Like Politics, Fitness or Cool First Dates."
Updates on California politics »
Caforio campaign manager Orrin Evans criticized the outside spending.
"We are seeing the unfortunate consequences of a rigged system in Washington which allows unlimited corporate spending to corrupt our democracy," he said in a statement. "While Bryan Caforio advocates for greater financial disclosure and limits to campaign spending, Steve Knight is dependent on unregulated special interests to try and save his floundering campaign."
Outside Democratic groups are also getting involved in the race, but on a much smaller scale — so far.
The Democratic Congressional Campaign Committee and the House Majority PAC, a Democratic Super PAC that counts liberal mega-donors and unions as primary funders, has spent just $18,569 on mailers to support Caforio and $70,945 on mail opposing Knight.
Caforio has spent much of the campaign on the offensive. He has focused much of his campaign on painting Knight as too extreme for the district, attempting to tie the congressman to Trump and criticizing him for his slow response to the Aliso Canyon gas leak last winter that affected a small corner of the sprawling district.
One of Caforio's television ads attacks Knight for his staunch opposition to abortion. The campaign has also kept comments Knight made in a May debate calling Social Security "a bad idea" in circulation via mailers.
It is unclear if that will be enough for Caforio to win the seat. The attorney has been criticized for moving into the district just shortly before announcing his candidacy last December.
On Thursday, Vince, the Democrat Caforio defeated in the primary, said he was voting for Knight in part because Caforio "isn't a member of this community and certainly doesn't reflect the values of our district."
Times researcher Scott Wilson and staff writer Ben Welsh contributed to this report.
Twitter: jpanzar
ALSO:
This Democrat's legal past both helps and haunts him in California's most competitive congressional race
How a congressional race in Santa Barbara became one of the most expensive in the country
Santa Barbara TV station threatens legal action after GOP congressional candidate uses news clip in attack ad
Updates on California politics
Get our Essential Politics newsletter
The latest news, analysis and insights from our politics team.
You may occasionally receive promotional content from the Los Angeles Times.