California joins opioid fight, sues Purdue Pharma over marketing of OxyContin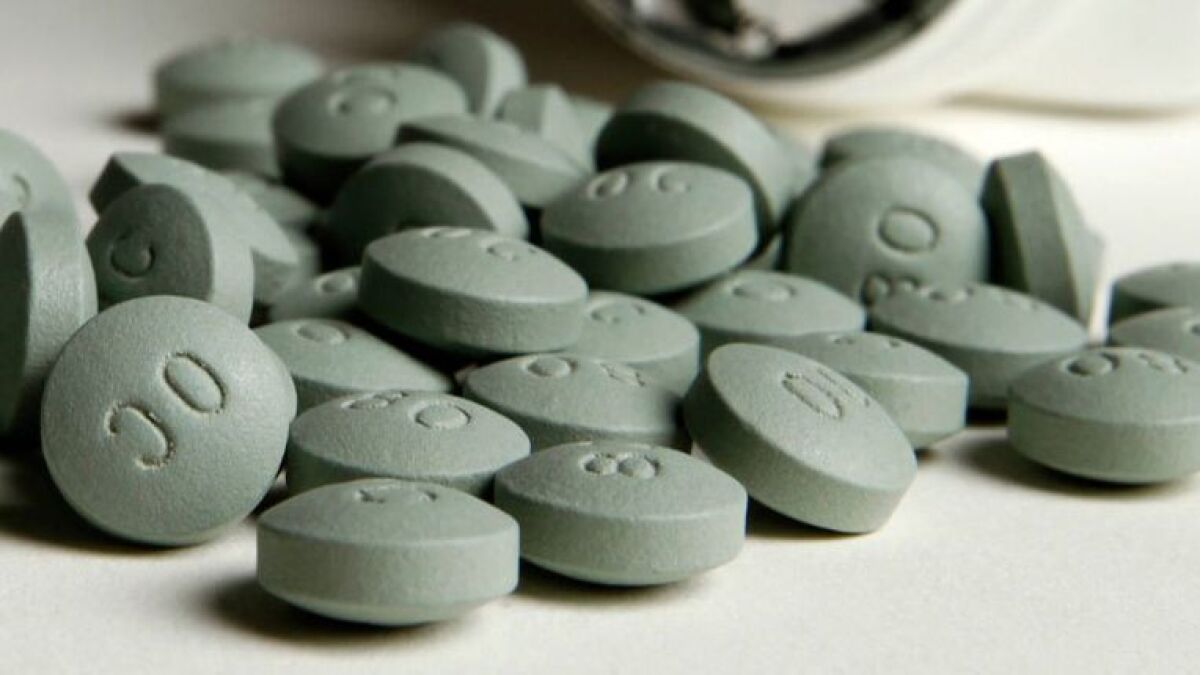 Reporting from Sacramento —
California on Monday sued Purdue Pharma over its marketing and sale of the drug OxyContin, alleging it is contributing to the nationwide opioid crisis that has caused thousands of overdose deaths in the state.
California's lawsuit comes after legal challenges by dozens of cities, counties and states, including New York, Massachusetts and Oklahoma. Earlier this year, Oklahoma settled its lawsuit with Purdue Pharma for $270 million.
The latest lawsuit, which also names former Purdue President Richard S. Sackler, alleges that the firm falsely marketed OxyContin as a safe and effective treatment for chronic, non-cancer pain despite evidence that it was one of the most abused opioids in the country.
"The opioid crisis is devastating our communities and killing our loved ones," California Atty. Gen. Xavier Becerra said in a statement. "Purdue Pharma and Dr. Sackler started the fire and then poured gasoline on the opioid crisis with practices that were irresponsible, unconscionable and unlawful."
The lawsuit alleges the company's actions violated California consumer protection and public nuisance laws.
A 2016 investigation by the Los Angeles Times detailed the deadly toll of OxyContin and reported that as sales of the painkiller began to fall in the U.S., the owners of Purdue Pharma turned to untapped markets overseas.
The report also found that the bestselling painkiller wears off early in many patients, exposing them to increased risk of addiction.
In the decade between 2008 and 2017, more than 14,500 Californians died because of prescription opioid drug overdoses, according to the lawsuit filed by Becerra on Monday in Los Angeles County Superior Court.
The lawsuit seeks civil damages and an injunction against the drugmaker "to abate the public nuisance that exists within the state of California."
Becerra cites documents obtained in other states' litigation on marketing strategies in alleging "deceptive marketing" of prescription opioid drugs, and violations of unfair competition law.
"Purdue pushed healthcare providers to prescribe higher and higher dosages over time, affirming and reaffirming that there is no limit to the amount of OxyContin a physician could prescribe," the lawsuit says.
The company disputed allegations of misconduct in a statement.
"Purdue Pharma vigorously denies the allegations contained in litigation against the company and will continue to defend itself against these misleading attacks," the statement said, adding the lawsuits "are unable to connect the conduct alleged to the harm described. Instead, they have invented stunningly overbroad legal theories, which if adopted by courts, will undermine the bedrock legal principle of causation."
The firm noted that one lawsuit by the state of North Dakota was recently dismissed.
The California lawsuit alleges that as early as February 1997, Purdue and Sackler — a billionaire who hails from one of the nation's philanthropic dynasties — knew that people were abusing oxycodone-containing drugs. But between 1996 and 2002, Purdue more than doubled its sales force and sales rose from approximately $48 million to nearly $2 billion in 2002.
"Purdue's deliberate and deceptive marketing and sale of these drugs sacrificed the well being of Californians for billions of dollars in profits and fueled an unprecedented national public health crisis," Becerra said. "We will continue to hold accountable those who put profits over people."
Becerra was joined at a Capitol news conference by Jordan Basileu, who said he became addicted to opioids after a doctor prescribed pain pills for a bulged disc he suffered in a car accident. He said he ended up seeking stronger doses on the streets and overdosed four times before going through rehabilitation that has allowed him to live opioid-free for three years.
"Saying that opioids are not addictive is a joke and a very deadly one," Basileu said.
Becerra said the District of Columbia, Hawaii and Maine each filed individual suits against Purdue on Monday.
Sign up for our Essential Politics newsletter »
Twitter: @mcgreevy99
Get our Essential Politics newsletter
The latest news, analysis and insights from our politics team.
You may occasionally receive promotional content from the Los Angeles Times.