Candidates are gone but not forgotten on California's presidential primary ballot
Reporting from Sacramento —
When California Republicans cast their votes in the June 7 primary, an election that could decide the GOP's presidential nominee, they'll probably be confronted by the ghosts of candidates past.
That means Republicans could still cast a vote for former Florida Gov. Jeb Bush, retired neurosurgeon Ben Carson, New Jersey Gov. Chris Christie, former Hewlett-Packard chief executive Carly Fiorina, former Virginia Gov. Jim Gilmore or Florida Sen. Marco Rubio, even though they all have ended their campaigns.
They're all on the state's presidential ballot alongside the Republicans still in the race: New York billionaire Donald Trump, Texas Sen. Ted Cruz and Ohio Gov. John Kasich.
Under California law, candidates who have dropped out can be removed from the ballot only if they file an affidavit with the secretary of state's office before April 1.
"The secretary of state's office has not received an affidavit from any presidential candidate asking to be removed from the ballot," said agency spokesman Sam Mahood. "The secretary of state's office sends a letter, outlining the process to be removed from the California ballot, to presidential candidates who announce an end to their campaign."
It's possible, albeit a long shot, that Bush, Rubio or another of the other candidates who dropped out could win some delegates in California. The vast majority of delegates are awarded, three at a time, to the winner of each of the state's 53 congressional districts.
Sacramento political consultant Rob Stutzman, who volunteered for the Bush campaign, said it's highly doubtful any of the candidates who withdrew from the race will pick up more than a few percentage points. Most presidential primary voters are well informed about the candidates still in the running, he said.
"If someone is going to go the trouble of voting, I would think they would want their vote to count for somebody who can be nominee," Stutzman said.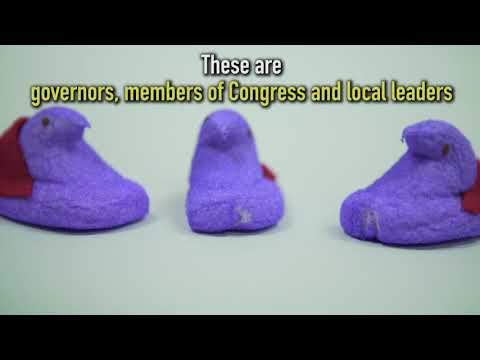 How does the delegate process work, and why do we hear so much about them during the election? We broke down the process for you using Peeps.  Track the delegate race and see also: The Iowa caucus explained using gummy bears For more, go to latimes.
Stutzman suspects Trump would be the main beneficiary if any of the bygone candidates happen to win delegates, since Cruz and Kasich are the ones who desperately need to make up ground.
In Florida's March 15 presidential primary, Bush's name was still on his home state's ballot. He finished in fourth place with 1.8% -- or 43,503 votes. Trump won the state by nabbing 45.7% of the ballots cast, or more than 1 million votes. In North Carolina, Carson won 10,918 votes, nearly 1% of those cast. The others had a few thousand votes between them.
But consider that in California's June 2014 primary election, more than 300,000 ballots were cast for former state Sen. Leland Yee (D-San Francisco) for secretary of state. That was good enough for third place, even though Yee had dropped out of the race after being accused three months earlier of conspiracy to run guns and political corruption. (A federal judge recently sentenced Yee to five years in prison.)
The California presidential ballots were set back in February under the state's rules for determining which candidates make the cut.
On the Democratic presidential primary ballot, former Secretary of State Hillary Clinton and Vermont Sen. Bernie Sanders also will have company. Martin O'Malley, who ended his campaign after a poor showing in Iowa, was not on the initial list of candidates cleared for the ballot and his name will not appear in June. But Clinton and Sanders will be joined on the ballot by Roque "Rocky" De La Fuente of San Diego, Henry Hewes of New York, Keith Judd of Texas, Michael Steinberg of Tampa and Willie Wilson of Chicago.
Follow @philwillon on Twitter for the latest news on California politics
ALSO:
California's June primary just became crucial in the race for the White House
Endorsement tracker: California Republicans mostly staying out of the presidential race
Get our Essential Politics newsletter
The latest news, analysis and insights from our politics team.
You may occasionally receive promotional content from the Los Angeles Times.