6 crazy things that could happen in California's primary
There are a lot of factors that make California's Tuesday primary a potential font of surprises, not least the state's unique primary system, in which the top two vote-getters advance to the November runoff regardless of party.
Here are some of the crazy possibilities.
Rohrabacher doesn't get through the primary
While it's more likely that Rep. Dana Rohrabacher (R-Costa Mesa) and another Republican will make it onto the November ballot, it's possible that the Orange County representative has grown so controversial, he'll lose outright.
Several well-financed Democrats are running against him, the district is trending Democratic and prominent Republican Scott Baugh's entrance means there's a strong opponent from his own party. r.
Rohrabacher, long friendly to Russia, also keeps popping up on the fringes of the ongoing investigations into the country's interference in the 2016 presidential election.
No Republicans get on the November ballot in the 49th District
With eight Republicans and four Democrats on the ballot, the 49th Congressional District is where Republicans have the biggest risk of not making it through to November.
After squeaking out a win in 2016, Rep. Darrell Issa (R-Vista) was quickly named the most vulnerable incumbent and drew a slew of wealthy Democratic opponents.
When he announced in January that he wouldn't seek another term, a bunch of Republicans jumped in, including the prominent chairwoman of the state Board of Equalization, Diane Harkey, and state Assemblyman Rocky Chavez.
Neither party has rallied around a candidate, and registered voters are pretty evenly split among Democrats, Republicans and no-party preference.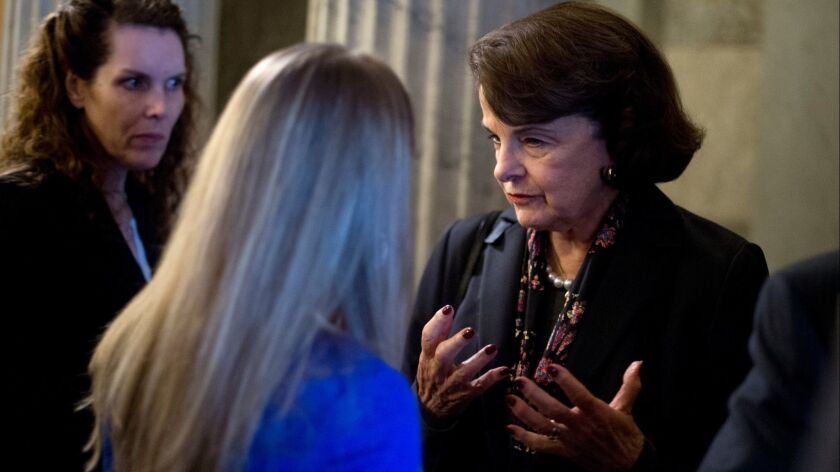 A neo-Nazi makes it into the Senate race
U.S. Sen. Dianne Feinstein is widely expected to face fellow Democratic state Sen. Kevin de León this fall, but there's a tiny chance that anti-Semitic GOP Senate candidate Patrick Little could make it into the top-two runoff.
An April SurveyUSA poll found that 18% of California voters support Little, compared with 8% backing De León. No other poll has found similar results about the obscure candidate, but it spurred news coverage of Little, condemnation from the state Republican Party and prompted a white supremacy group to run robocalls on Little's behalf that attacked Feinstein for being Jewish.
No other Republican candidates have garnered as much free attention, and with 32 names on the ballot, there is a chance some voters will back him because they recognize Little's name.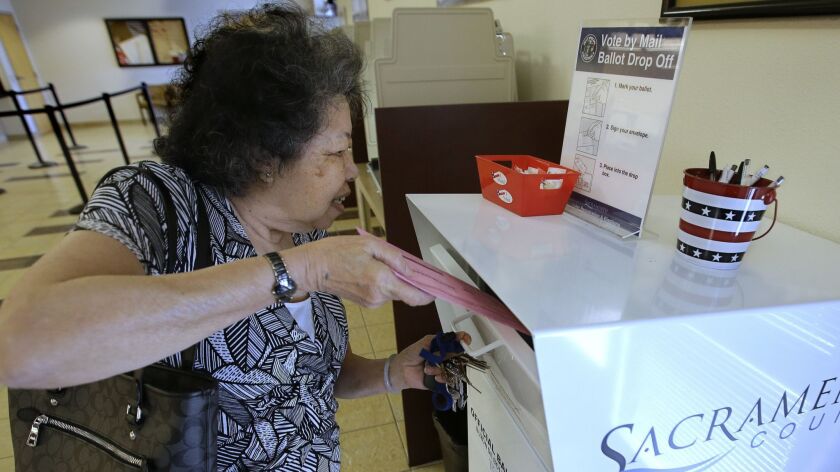 Despite talk of Democratic enthusiasm, few actually vote
Democrats are counting on a wave of enthusiasm as they try to retake control of the House.
But turnout is historically much lower in non-presidential years, and California's large Latino population also has not voted in high numbers.
California has nearly 20 million registered voters, but if historic turnout rates hold, as many as two-thirds of those people will not cast a ballot and those who do are more likely to be Republican.
Nonetheless, there's been a surge of Democratic voters in the 13 states that have held primaries already, and Democrats hope that is a harbinger of what we could see in California on Tuesday.
John Chiang or Travis Allen make it into the top two in the governor's race
Democratic Lt. Gov. Gavin Newsom has been the front-runner in polls and fundraising since he entered the race for governor in 2015, leaving the fight mostly over who else will appear on the November ballot. That's largely expected to be either Democratic former Los Angeles Mayor Antonio Villaraigosa or Republican businessman John Cox.
But there's a chance the two men who frequently land at fourth and fifth in the polls could sneak through.
While President Trump endorsed Cox, Republican Assemblyman Travis Allen has a lot of conservative grass-roots support, and he was able to keep the state Republican Party from endorsing Cox. Allen helped start an effort to repeal the increases in the state's gas tax and vehicle fees approved by the Legislature last year.
State Treasurer John Chiang similarly hasn't gotten much attention in the polls but has a dedicated base. Chiang was previously state controller, when he made headlines for refusing to pay state lawmakers when they failed to pass a balanced budget on time in 2011.
A lawmaker who resigned after being accused of sexual misconduct gets reelected
Former state Sen. Tony Mendoza (D-Artesia) has been campaigning for his old seat, and there's a chance voters will send him back to Sacramento.
Mendoza resigned earlier this year before his colleagues could hold a planned vote to expel him. His resignation followed an independent investigation that found he likely made unwanted advances toward six women during his tenure, including four staffers.
Several of his eight Democratic and two Republican opponents have raised substantially more money than Mendoza.
More stories from Sarah D. Wire »
Follow @sarahdwire on Twitter
---
Get our Essential Politics newsletter
The latest news, analysis and insights from our politics teams from Sacramento to D.C.
You may occasionally receive promotional content from the Los Angeles Times.