Column: There's a California election coming up. But if history is any guide, most voters won't show up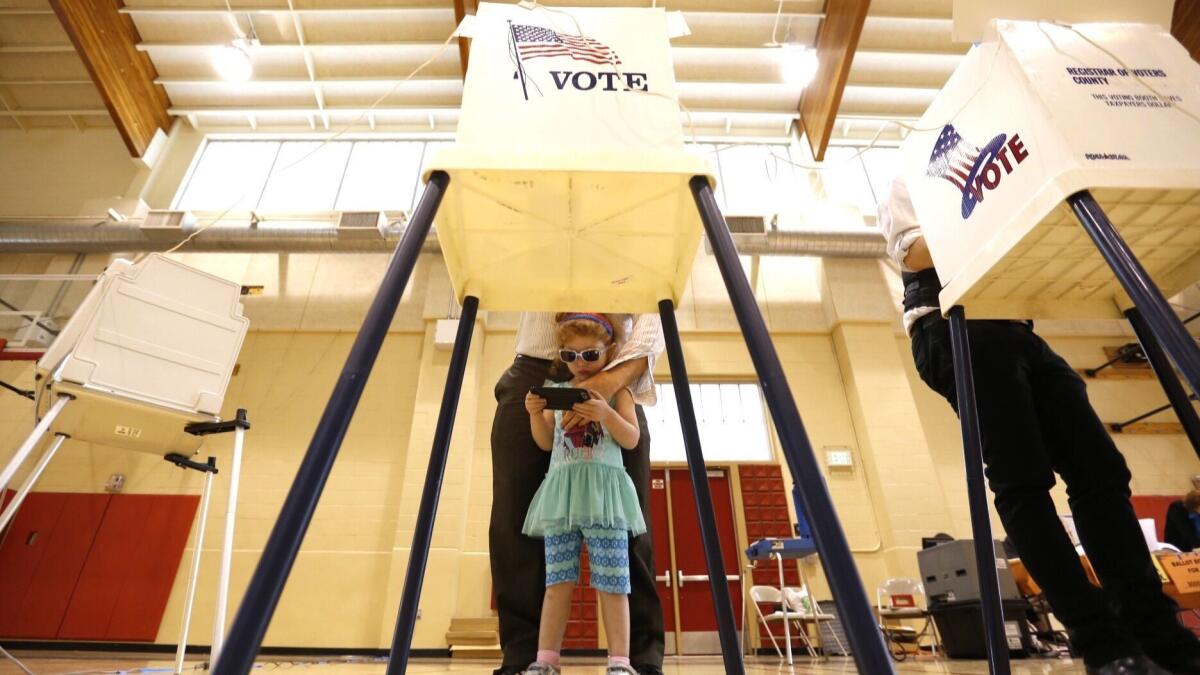 Sacramento Bureau Chief
Reporting from Sacramento —
By the time California's primary election day arrives in June, it's possible the state will be very close to having 20 million registered voters — a historic milestone that state elections officials reported last week is within sight.
Don't applaud just yet. The history of modern California politics suggests as many as two-thirds of those voters won't even cast a ballot next month. That's a civic dilemma, sure enough. But there's also a good chance the no-shows will affect one party's candidates in heated races for Congress differently than all others.
California is overflowing with lieutenant governor hopefuls — so many candidates, so few duties »
It's presidential elections, like the one coming up in 2020, that entice voters to cast ballots. The primary in an off-year election such as 2018, even with a hugely important race for governor, fails to capture the public's attention.
No gubernatorial primary has attracted even 35% of registered voters since 2002. The last time that a majority of California's electorate showed up for a non-presidential primary was 1982. Four years ago, turnout hit an all-time low of 25%.
A safe bet is that only about 6 million votes will be cast in next month's election — the kind of apathy made even more remarkable by the fact that so many ballots are now sent through the mail. Millions of them may just sit on kitchen tables, never to be turned back in.
The problem doesn't strike equally among subgroups of California voters. It turns out that Republicans are usually among the most reliable. Research by Political Data Inc., a for-profit company that partners with candidates and campaigns from both major parties, suggests the statewide advantage for Democrats could drop by as much as 3 percentage points in June.
The analysis shows even greater danger for the state's most powerful party in the battleground congressional districts currently represented by Republicans.
In the Central Valley district of Rep. David Valadao (R-Hanford), Democrats have a 17-point registration advantage. But if the models are right, that could drop to less than 6 points among those who actually cast votes next month.
The shifting fortunes are even more notable in two Southern California districts where the GOP incumbent is retiring. In the race to replace Orange County Rep. Ed Royce, there are six Democrats and seven Republicans appearing on the ballot. In overall registration, there are only about 3,800 more Republican voters than Democrats in the district. But turnout models that use past non-presidential primaries suggest there could be 15,000 more Republican ballots cast in June — a huge leg up, especially in a district where Democrats already fear being shut out of the November election.
As Californians shed their political party labels, independent voters are close to outnumbering Republicans »
A similarly outsize GOP electorate could show up to the south in the race to succeed Vista Rep. Darrell Issa, thwarting Democratic plans.
A large part of the story is the disappearance of unaffiliated "independent" voters in primaries. The research suggests as many as 3.5 million of them might skip the June election. And because most of them lean Democratic (they are not nonpartisan, just loosely partisan), that's another boost for Republicans.
That indifference seems especially ironic when you consider that California's top-two primary — where political parties don't limit participation — was custom-built for independents.
Of course, the past doesn't have to be prologue. Even the best models could be wrong, perhaps failing to measure the political intensity of an era dominated by President Trump. But he's not on the ballot, and elections aren't won by enthusiasm as much as they are with action. It's up to millions of Californians to decide if they want to get involved.
Follow @johnmyers on Twitter, sign up for our daily Essential Politics newsletter and listen to the weekly California Politics Podcast
Get our Essential Politics newsletter
The latest news, analysis and insights from our politics team.
You may occasionally receive promotional content from the Los Angeles Times.