Candidates for California governor squeeze in a final day of campaigning on eve of primary election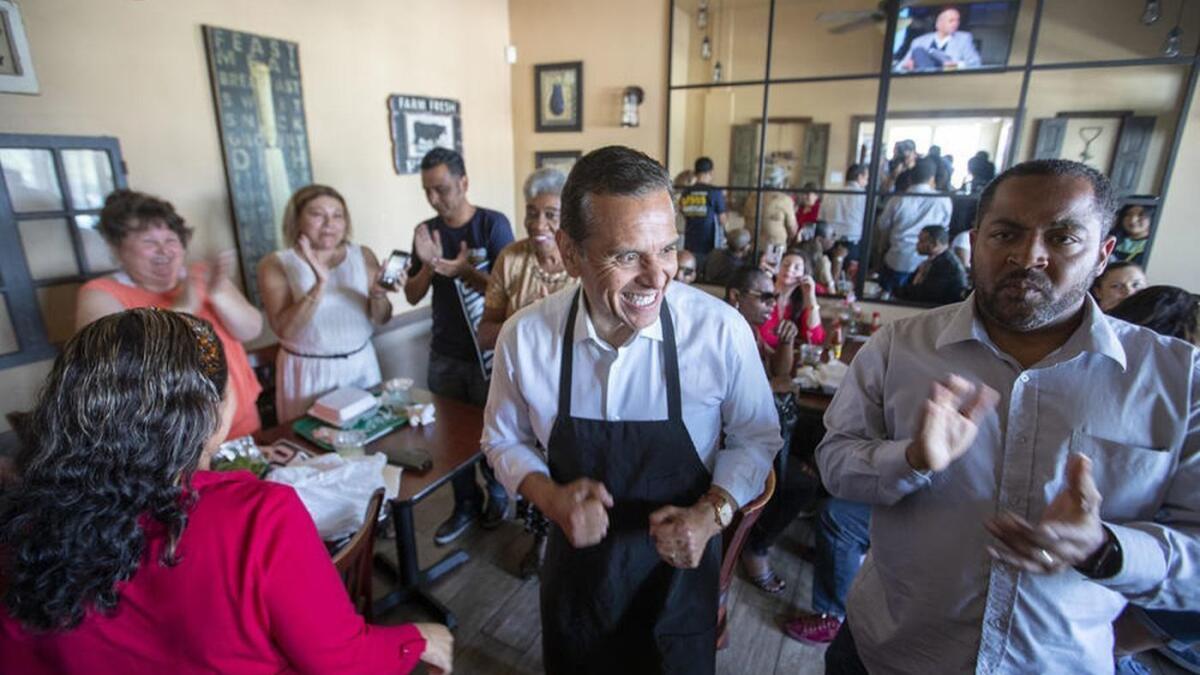 In the waning hours before Tuesday's primary election, the three top-polling candidates for California governor fanned out across the state to eke out face time with voters before they head to the polls.
Democrat Gavin Newsom, the front-runner in the race, said he felt confident about his chances in the primary, but was taking nothing for granted as he greeted voters at a diner in Inglewood on Monday.
"I feel good," the lieutenant governor told reporters at the Serving Spoon. "At this stage, it's just about getting out the vote."
The former San Francisco mayor kicked off the day with a television appearance in Los Angeles before heading to Inglewood with Los Angeles County Supervisor Mark Ridley-Thomas. The region's voters are crucial to the campaign of former Los Angeles Mayor Antonio Villaraigosa, and Newsom has spent considerable time here trying to edge his Democratic rival.
"We're going to win or lose this race through Los Angeles County," Newsom said. "This is determinative. Success or failure will be borne of what happens down here."
Vinnessa Cook, an administrative assistant from Leimert Park, told Newsom she planned to vote for him.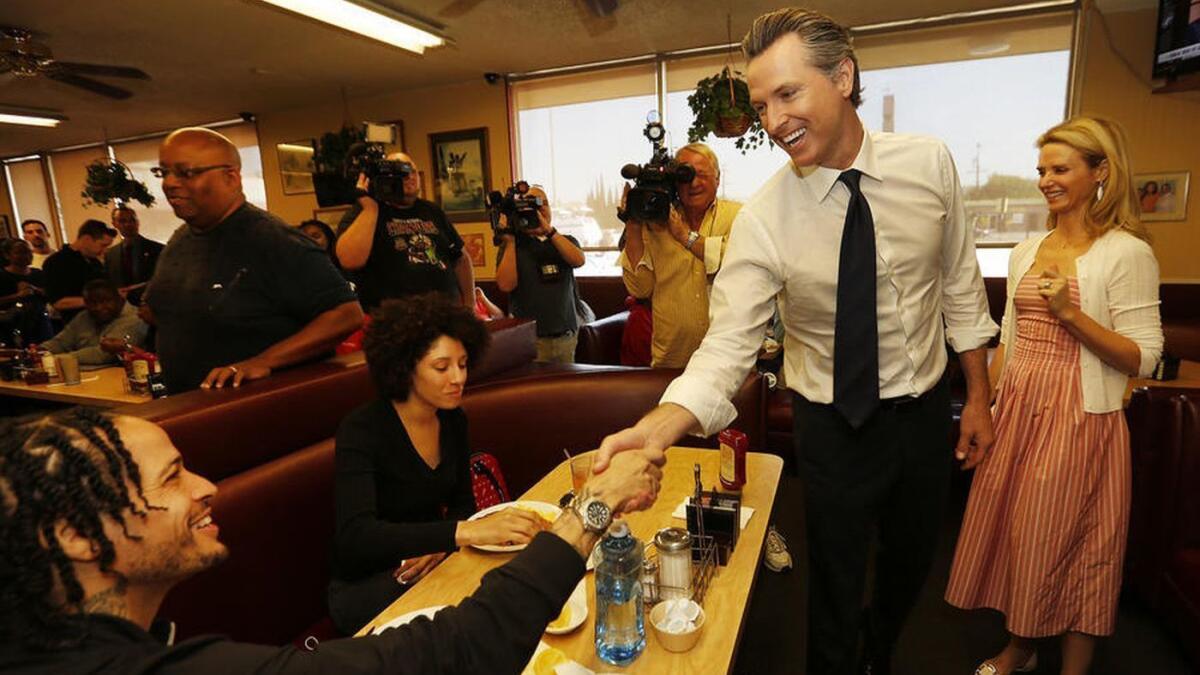 She called Newsom a "good guy" and said she supported him because of his leadership in efforts to place new restrictions on guns as lieutenant governor, and for his decision to issue same-sex marriage licenses as mayor.
Asked about Villaraigosa, the 47-year-old rolled her eyes.
"I feel like the city got in financial trouble because of him," she said.
"And he laid off my neighbor," who was among the employees let go from the Department of Public Social Services during the recession, Cook said.
In San Diego, Republican John Cox expressed confidence that he would place in the top two in Tuesday's primary and face off against Newsom in November.
"I'm energized and if the polls are right, I'm going to get the chance to make my case to the voters that Gavin Newsom is going to raise your taxes," Cox said in an interview after greeting GOP voters at a luncheon.
Cox also voted Monday and visited a phone bank in Corona with Assembly candidate Bill Essayli.
Cox has one main GOP rival in the race, Assemblyman Travis Allen of Huntington Beach. But he started consolidating the GOP vote once he received the endorsement of President Trump.
"Let's face it — I need to get better known," the Rancho Santa Fe businessman said. "And the president's tweets helped get me better known. Obviously he's got the largest bully pulpit in the world in the Twitter following he's got."
No Republican has been elected statewide since 2006, but Cox argued that voters recognize that California is overdue for change.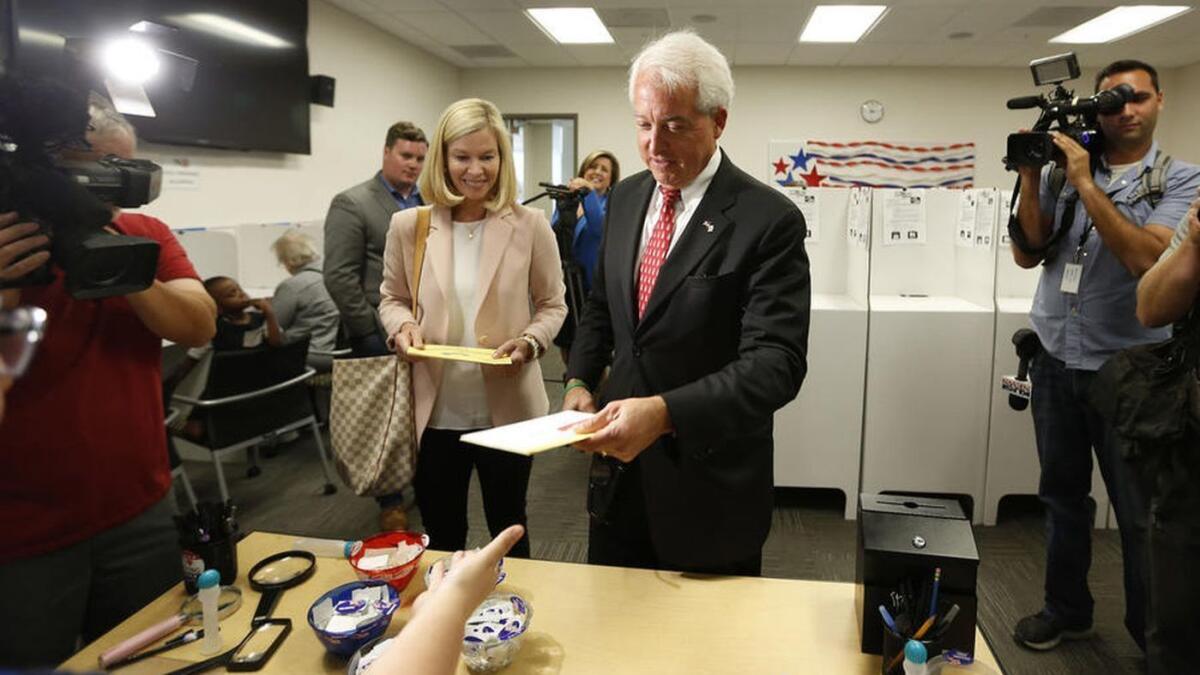 "They've had enough," he said, noting that a Democrat called into a radio program earlier in the day frustrated after paying $4.10 per gallon to fill up his car, a price he blamed on the new gas tax Cox is trying to repeal at the ballot box in November.
Villaraigosa began Monday shaking hands with Bay Area commuters streaming on and off BART trains before flying south and heading to San Pedro.
At the Port of Los Angeles for a tour of the AltaSea marine research center, Villaraigosa's visit also provided the candidate with a picturesque backdrop for a series of local and national television interviews in the final push of his campaign.
Villaraigosa was quick to take a shot at Cox for having the support of Trump, who remains unpopular in California. Recent polls show Cox is in second place behind Newsom, and is the candidate Villaraigosa needs to beat Tuesday to advance to the November election.
The former two-term mayor of Los Angeles also acknowledged that his fate in the election rests on high turnout among his bases of support, including Latinos and Los Angeles voters. Both of those groups tend to vote in low numbers in primary elections, and far below the Bay Area, a major base of support for Newsom, the former mayor of San Francisco.
"Look, I was mayor of L.A. This is where a good portion of my support is," he said. "So, I've got to get L.A. to vote, and I've got to get L.A. to remember this Southern California area is two-thirds of the state and we get outvoted pretty frequently."
Villaraigosa then dashed off to Dulan's Soul Food on Crenshaw in Los Angeles, where he was accompanied by Rep. Karen Bass (D-Los Angeles) and Los Angeles City Council President Herb Wesson.
He went table to table shaking hands and chatting with the lunch crowd before going behind the counter to dish out food to customers.
Ashlee Withers, 25, who just graduated from Cal Poly Pomona, spent a few minutes talking with Villaraigosa. She plans to vote for him, saying she was impressed with the job he did as mayor of Los Angeles during the height of the recession.
"For him to be governor, I think it would be good for all of California," she said.
Withers, who majored in sociology and said she wants to be a policymaker, asked Villaraigosa about getting a job with his administration if he's elected.
"He said he'd give me an interview when he becomes governor," she said.
The rest of the field also kept a busy pace on the last day before the primary.
John Chiang, the Democratic state treasurer, crisscrossed the Bay Area to rally supporters, talking with BART commuters in San Francisco and hosting a get-out-the-vote event with former Democratic Rep. Mike Honda in San Jose.
Democrat Delaine Eastin spent the day campaigning in the Inland Empire.
Allen continued his "Take Back California" tour Monday with a rally in San Diego.
Coverage of California politics »
seema.mehta@latimes.com; phil.willon@latimes.com
Twitter: @LATSeema, @philwillon
Get our Essential Politics newsletter
The latest news, analysis and insights from our politics team.
You may occasionally receive promotional content from the Los Angeles Times.