Construction industry and labor groups are plowing millions into campaign to defeat Proposition 6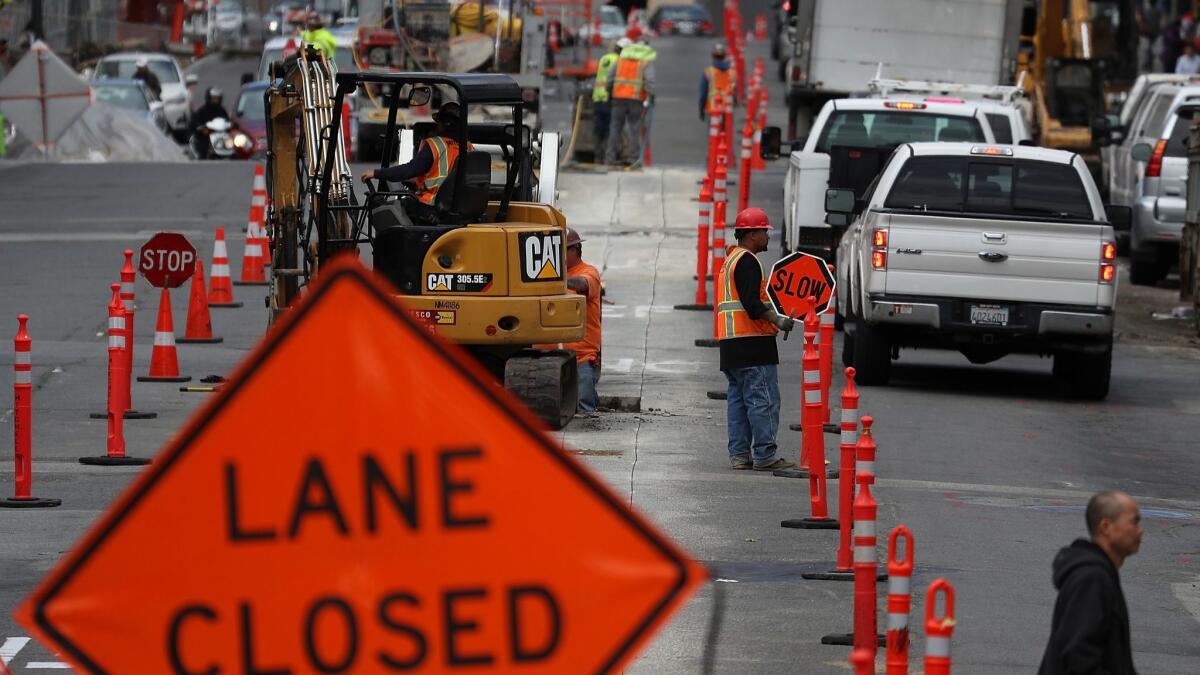 Reporting from Sacramento —
In the pitched battle over Proposition 6, the stakes are high for firms such as Granite Construction Inc., which has contributed $1 million to defeat the initiative that would repeal new fuel taxes and vehicle fees earmarked for road and transit improvements.
The company based in Watsonville, Calif., has received $955 million in contracts from Caltrans for transportation work over the last five years, including road and bridge projects, the agency says.

For the record:
12:00 a.m. Oct. 26, 2018The original version of this story said Granite Construction was started in 1935, which was when new owners took over. The firm's start was in 1922.
Other state contractors have also given big. The 10 construction industry firms that have donated the most to the No on Proposition 6 campaign — putting in a combined $3.6 million — have been paid more than $2.7 billion by the California Department of Transportation in the last five years, records show.
Construction firms and others, including building trade groups, labor, cities and the Democratic Party, have so far helped raise some $43 million for the campaign to defeat Proposition 6.
The taxes and fees threatened by the initiative are expected to generate an additional $52 billion in the next 10 years for road repairs and rail services. James H. Roberts, Granite Construction's president and chief executive, acknowledged that his firm and others in the construction industry stand to benefit from the new revenue, but he said he got involved in the campaign because the ballot measure's passage would significantly set back efforts to deal with decades of neglect of the state's transportation systems.
"We just got tired of watching a lack of infrastructure investment across the country," Roberts said, explaining his company's campaign donations. "The infrastructure was basically falling apart right in front of us."
Roberts said his commute from the Monterey Peninsula to his office used to be a breeze when he started doing it 20 years ago, but these days, rush hour finds him and other motorists stuck in gridlock.
"When you are sitting in traffic, you have quality-of-life issues," he added.
But the money plowed into the campaign against Proposition 6 by those with vested interests has infuriated supporters of the initiative.
"The money is obscene. The conflicts of interest are obscene," said Carl DeMaio, a former San Diego city councilman who is chairman of the Proposition 6 campaign. "A contractor is getting money from the taxpayer and suddenly they are writing a massive check to raise taxes on the taxpayer. There is something profoundly wrong with that."
In comparison, supporters of repeal have raised only $3.4 million in the months since the measure qualified for the Nov. 6 ballot.
DeMaio said the average contribution to his campaign committee for Proposition 6 is $37. However, a separate committee that played the leading role in qualifying the initiative originally raised $1.7 million with the help of several prominent Republicans, including GOP gubernatorial candidate John Cox, who gave $250,000, and House Majority Leader Kevin McCarthy (R-Bakersfield), who provided $300,000.
In a debate on the initiative earlier this month in Sacramento, DeMaio was particularly critical of out-of-state interests that have funded the opposition campaign.
Texas-based cement supplier Lehigh Hanson Inc. and HNTB Corp, headquartered in Kansas City, Mo., gave $500,000 each for the campaign to defeat Proposition 6. Lane Construction Corp. of Connecticut put in $200,000, and Ames Construction Inc., which is headquartered in Minnesota, was one of 15 firms that each provided $100,000 to the campaign.
"Out-of-state interests are trying to raise taxes on Californians," DeMaio said in an interview. "That should raise more than a few eyebrows."
Big checks from out-of-state interests are not unusual in California initiative campaigns. Experts say that is because California is home to such a large market and economy, and because policies approved by voters in the Golden State have a tendency to spread to other states.
In 2016, tobacco giant Philip Morris, which has its corporate headquarters in New York City, spent $44 million to oppose California's Proposition 56, which imposed a $2-per-pack tax on cigarettes. The measure was approved by voters.
That same year, pharmaceutical companies donated $109 million to a campaign that defeated Proposition 61, an initiative on prescription drug costs. Some of the biggest donors included drug makers Merck & Company, which is headquartered in New Jersey, and Pfizer Inc., which is based in New York City.
In the Proposition 6 debate, Ames, Lehigh and HNTB all have regional offices in California. HNTB weighed in because it believes Proposition 6 would be "dangerous," putting motorists at risk with substandard road conditions, according to Art Hadnett, president of HNTB Corp.'s West Division, based in Los Angeles.
"If transportation projects are delayed or canceled, tens of thousands of jobs — in addition to engineers, architects, construction workers and concrete pourers — will be eliminated, impacting working families and taking its toll on our local economy," Hadnett said.
State officials cite a federal report during the Obama administration that every $1 billion invested in transportation infrastructure supports 13,000 jobs.
Those prospects have drawn the involvement of labor groups in the "No on 6" campaign, representing a wide swath of laborers, including engineers, carpenters and ironworkers. All told, those groups have contributed more than $12 million to defeat the initiative.
"We are very deeply concerned about the potential job loss should Prop. 6 succeed at the ballot box," said Jose Mejia, director of the California State Council of Laborers.
Granite Construction, which provides building supplies such as aggregate for ready-mixed concrete and performs construction work on roads and transit projects, saw its business increase with the rising economy even before the new gas taxes kicked in last November.
But the firm, which was formed in 1922 and did some of the original work on the subway lines that make up the Bay Area Rapid Transit system, has landed more jobs as the state has stepped up road maintenance work since the state raised the fuel taxes last year. That work could be in jeopardy if Proposition 6 passes.
"It would stop us from growing that part of the business," Roberts said. "It certainly would be questionable what would happen with the close to 2,000 employees we have in the state. But, it would also be a huge detriment to the traveling public, more so than a company like ourselves."
Coverage of California politics »
Twitter: @mcgreevy99
Get our Essential Politics newsletter
The latest news, analysis and insights from our politics team.
You may occasionally receive promotional content from the Los Angeles Times.