More than $100 million spent on battle over dialysis industry profits in California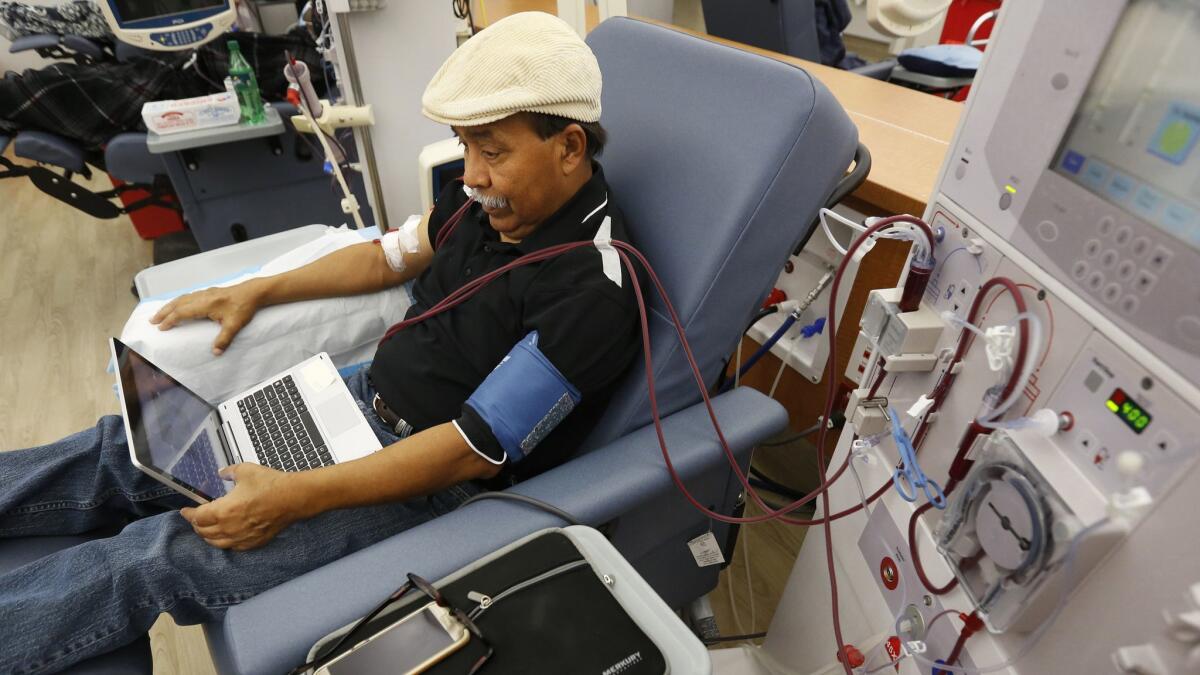 Reporting from Sacramento —
A war between a healthcare union and the dialysis industry it wants to organize has morphed into one of the most expensive ballot measure campaigns in California history.
Proposition 8, sponsored by the Service Employees International Union-United Healthcare Workers, would shrink the profits of hundreds of dialysis clinics across California. If enacted by voters, the measure would require clinics to provide rebates to insurers and pay a penalty to the state on business revenues that exceed 115% of certain costs to deliver care.
A coalition led by DaVita and Fresenius Medical Care, the two companies that control a combined 72% of the dialysis market in California, has given $110 million to a campaign to beat the measure — contributing to the most money raised for such a campaign in state history.
Opponents view Proposition 8 as an existential threat to the dialysis industry and its patients, and say the 95,000-member SEIU-UHW is using the ballot measure to deliver an ultimatum to its foes: Acquiesce to the union's demands or pay for an expensive campaign.
"Proposition 8 puts California patients at risk in an effort to force unionization of employees," DaVita Chief Executive Kent Thiry said in a statement. "There is an established and accepted process for employees to vote a union up or down. Instead of following that process, SEIU-UHW is pursuing a dangerous initiative that puts patients at grave risk."
Thiry's group warns that dialysis clinics may open for fewer hours, or would shutter altogether if the measure becomes law.
Dave Regan, head of SEIU-UHW, says his union wants to rein in a dialysis industry he says is "predatory." The union has raised $18.8 million for the Proposition 8 campaign.
DaVita and Fresenius reported billions in operating income last year and have been accused by critics of various tactics to increase profitability, such as steering patients to private insurance or not giving employees enough time to adequately clean stations.
DaVita has been ordered to pay damages and settled lawsuits for more than $1 billion in the last five years, including $253.5 million in damages awarded in June to the families of two patients who died of cardiac arrest after receiving care at its California clinics. The company has said it would appeal that decision.
"The reason Prop. 8 is on the ballot is because they have a terrible business model and they're gouging patients and insurers," Regan said.
After years of expensive squabbles in the Capitol, Regan traveled to Denver, home to DaVita headquarters, to meet with Thiry for the first time on the eve of the June deadline to withdraw ballot initiatives this year.
Assemblyman Adam Gray (D-Merced), the leader of a moderate bloc of Democrats in the Legislature, acted as intermediary. Gray said he spent weeks trying to bring the two sides together in hopes of breaking a stalemate and finding common ground.
But the eleventh-hour conversation over dinner came too late to negotiate a cease-fire and call off the proposal.
Regan initially described the visit as a "social meeting" he attended at Gray's request. He later said the timing was coincidental and he never intended to strike a deal with Thiry to pull Proposition 8 from the ballot.
"Nothing consequential even came up," Regan said. "Nothing was proposed. There was no kind of an agreement of any sort and it was a social discussion."
Thiry said it "was definitely not a social meeting," but declined to elaborate.
Now voters are left to decide the fate of the 80,000 patients who receive dialysis treatment at nearly 600 licensed clinics each month in California, according to figures from the Legislative Analyst's Office.
SEIU-UHW argues its measure will provide an incentive to dialysis companies so they invest more money into patient care. Under the measure, clinics could keep more of their profits if they increase costs for care.
Kathy Fairbanks, a spokeswoman for the opposition campaign, said the industry believes that voter approval of Proposition 8 would force most clinics in California to operate in the red.
"You can't keep doing that week after week, month after month, year after year," she said. "This is going to devastate the clinics in California and, by extension, all the patients."
An analysis by the Legislative Analyst's Office, the Legislature's nonpartisan fiscal advisor, said reducing revenues would make for-profit clinics "less profitable or could even be unprofitable."
Proposition 8 excludes the salaries of managerial staff and some overhead charges from the cost calculation for patient care, which would further reduce profits.
"This to me is classic labor trying to, not just regulate a business, but affect how they operate," said Rob Stutzman, a Republican political consultant who is not involved in the Proposition 8 campaign.
Scrutiny of dialysis clinics sparked a legislative proposal to establish staff-to-patient ratios in the industry for the first time. The bill, sponsored by SEIU-UHW, stalled in the state Legislature last year.
Gov. Jerry Brown vetoed another bill this year aimed to halt an alleged dialysis industry practice of encouraging patients to sign up for private insurance and funneling money to nonprofits to help patients pay off premiums. Dialysis corporations make most of their profits off group or individual insurance plans, which are billed much more than Medi-Cal or Medicare for the same services.
"Right now they have every financial incentive to keep staffing and other direct patient services at a bare minimum because then they reap every dollar in profit margin," Regan said.
SEIU-UHW has a history of turning to the ballot amid labor disputes.
Regan called off a pair of ballot initiatives in 2012 to limit charges for care at private hospitals and require nonprofits to spend at least 5% of revenues on charity care after the California Hospital Assn. agreed to a partnership that could help the union's organizing efforts.
The partnership soured and the union filed two measures the next year to limit prices for care at private hospitals and executive salaries at nonprofit hospitals.
The union pulled the initiatives back in 2014 as part of a new agreement with the hospitals to campaign together to raise Medi-Cal reimbursement rates in exchange for an easier path to organizing thousands of potential union members, among other provisions.
A Sacramento judge shot down another SEIU-UHW ballot initiative to cap hospital executive pay in 2016. That same year, the union pushed a ballot initiative to increase pay for workers, which helped spark a legislative deal to raise California's minimum wage.
This year alone, the union filed 11 ballot initiatives in California — seven at the local level and four statewide initiatives. Most of the initiatives failed to qualify or the union abandoned its effort.
One of the local measures would have placed revenue caps on the Watsonville Community Hospital. The union withdrew the initiative after it reached a collective bargaining agreement with the hospital, said Duane Dauner, the former chief executive of the California Hospital Assn. and a leader of the campaigns against the local initiatives. The hospital also agreed to form a committee to monitor and control pricing, said Sean Wherley, a spokesman for SEIU-UHW.
SEIU-UHW also sponsored five local initiatives in cities with Stanford Health Care community clinics. Measure F in Palo Alto and Measure U in Livermore, the only two to appear on the Nov. 6 ballot, would limit the amount of money hospitals can charge for patient care. Stanford claims the union pushed the measures to pressure its hospitals to make it easier to unionize.
Wherley said the union is not organizing at Stanford's healthcare facilities.
"He thinks initiatives are the solutions to bypass ordinary labor relations activity and tries to literally force the hospitals, doctors, dentists and others into unionization or he will proceed," Dauner said of Regan.
Gray, the state legislator, pointed to several state policy battles this year, including a ban on soda taxes and a deal on consumer privacy protections, as examples of other special interests using the ballot as leverage.
"I support direct democracy, but I certainly think the initiative process, by everybody, has been used in ways that certainly weren't intended," Gray said.
Regan said SEIU-UHW didn't qualify Proposition 8 to pressure the dialysis industry to strike a deal. He said the union wants to improve healthcare, and ballot initiatives are an effective way to make important policy changes.
He pointed to 17 minimum wage and Medicaid expansion initiatives the union supported in other states since 2016 that he said were not linked to organizing efforts.
"Most of the stuff that we do is in pursuit of the common good, whether it's the minimum wage or Medicaid expansion," Regan said. "The dialysis industry should be required to do more than criticize the union because they don't want to talk about their business models or profits."
Get the latest California politics news »
Follow @tarynluna on Twitter and sign up for our daily Essential Politics newsletter.
Get our Essential Politics newsletter
The latest news, analysis and insights from our politics team.
You may occasionally receive promotional content from the Los Angeles Times.