After ballot failure, there's a new bid to control what California landlords can charge tenants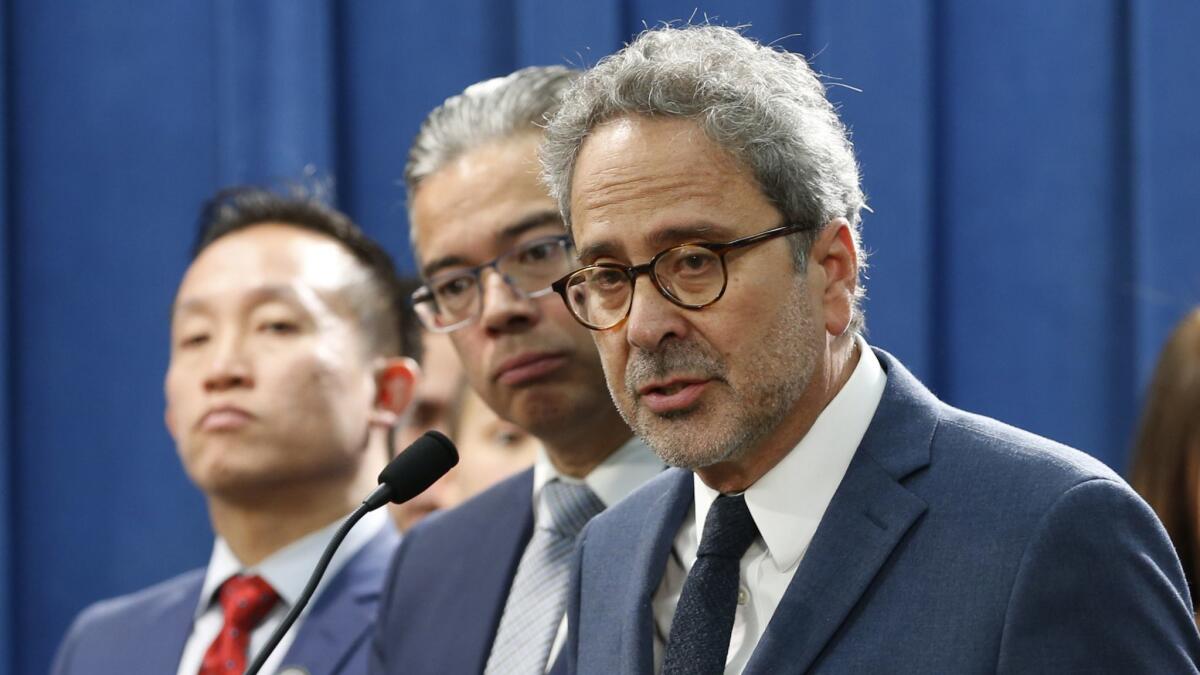 Reporting from Sacramento —
In the wake of a failed ballot measure to expand rent control, California Democratic lawmakers are introducing a host of new measures that aim to increase protections for tenants.
The bills, unveiled Thursday, include efforts to prevent landlords statewide from raising rents above a to-be-determined level, and to let cities and counties restrict rents on more apartments than currently allowed.
"We know that millions of tenants are one rent increase away from not being able to afford food, healthcare or even becoming homeless," said Assemblyman David Chiu of San Francisco.
The measures do not go as far as last year's ballot measure, which would have repealed California's current limitations on rent control.
Nearly 6 in 10 voters rejected that initiative after a $100-million-plus campaign in which landlords dramatically outspent tenant groups.
California's rent control initiative was crushed in the election. Don't expect the issue to go away »
Despite the defeat, Gov. Gavin Newsom and Democratic legislators have continued to voice support for helping tenants who might be vulnerable to eviction. About 9.5 million renters — more than half of California's tenant population — are burdened by high rents, spending at least 30% of their income on housing costs, according to a UC Berkeley study.
"Here is my promise to you: Get me a good package on rent stability this year and I will sign it," Newsom told legislators in his State of the State speech in January.
California's rent-control regime is governed by a state law called the Costa-Hawkins Rental Housing Act. It prevents cities and counties from imposing rent control on single-family homes or apartments built after 1995, the year the law was passed, among other prohibitions. The law also froze rent control rules in cities such as Los Angeles that had policies before Costa-Hawkins was implemented.
Legislation announced Thursday would make changes to Costa-Hawkins, not do away with it. Assembly Bill 36 from Richard Bloom of Santa Monica would allow cities and counties to impose rent control on single-family homes and apartments more than 10 years old — with exemptions for small landlords. Chiu's Assembly Bill 1482 would prevent landlords from increasing annual rents above a certain as-yet-to-be-determined percentage while also allowing for inflation.
Legislators characterized their proposals as an opening bid toward a compromise between landlords and tenant groups whose battles have intensified as the state's housing problems have worsened.
But landlord groups say their position has only been strengthened by the results of the Proposition 10 campaign in November. Debra Carlton, senior vice president at the California Apartment Assn., said that her organization would negotiate but that the election should be a signal to legislators that Californians shared her organization's views.
"The rental housing industry just opposes rent caps," Carlton said. "That's who we are. That's how it is. It's going to be tough [to pass legislation] given what just happened with Prop. 10. But they're not giving up. And we'll certainly engage."
The prospect of a ballot measure may again influence the debate. The AIDS Healthcare Foundation, the Los Angeles nonprofit that raised more than $20 million for the Proposition 10 campaign, is planning to sponsor a second initiative for 2020, said Rand Martin, a lobbyist for the organization. The proposal, Martin said, does not aim to repeal Costa-Hawkins. But — unlike the bills unveiled Thursday — it does include a provision limiting landlords' ability to raise rents to the market price after a rent-controlled tenant moves out. Costa-Hawkins gives landlords the right to charge whatever they want when renting to a new tenant.
The foundation plans to submit its measure to the secretary of state's office in coming weeks to go on the ballot, Martin said, but could withdraw the idea if lawmakers pass alternatives.
"If there is a package that is good for the renters of California, it could have our support," he said.
The Chiu bill is similar to a measure that passed this year in Oregon that aims to prevent rent gouging. The Oregon effort, which blocks landlords from increasing rents more than 7% a year plus inflation in buildings older than 15 years, is the first rent cap to apply statewide in the country.
Last year, landlord groups were friendly to a plan advanced by UC Berkeley's Terner Center for Housing Innovation that would have capped rents at inflation plus 5% and provided tax incentives for landlords. The Terner Center estimated the proposal would expand rent relief efforts to an additional 5 million units in the state. At the time, tenant organizations blasted the proposal as not providing enough help for renters.
The Alliance of Californians for Community Empowerment, a key supporter of Proposition 10, and other low-income-housing advocates have endorsed Chiu's new bill — although it does not yet specify the exact limits to rent increases landlords would face.
Christina Livingston, ACCE's executive director, said that her organization believed the state needed to assist tenants beyond what Chiu's bill offered but that the legislation was necessary as part of the larger effort.
"The reality is, there are lots of cities across the state of California that will not be enacting rent control," Livingston said. "Those folks do need some level of protection."
It's hard to tell how much the provisions in Chiu's bill would affect renters. Josh Clark, an economist at the real estate website HotPads, analyzed how the restrictions in Oregon's law might work in California. He determined that 15% of rent increases in the state last year were more than 7% above inflation, based on the properties that had been on the market in the company's database. That figure likely overstates the effect of such a bill because it involved units that had a change in tenants, which would continue to be free from restrictions.
The law, Clark said, might have the perverse effect of giving landlords an incentive to hike rents in the short term if they'll face restrictions on how much they can increase at one time.
"Landlords are going to be quicker to raise rents," he said.
At the same time, he said, tenants might prefer more gradual increases.
"Maybe it's better for the renter population to say, 'I get rent increases for a couple years,' instead of getting that letter in the mail that says, 'I have to deal with getting a one-time 10% rent hike,' " Clark said.
Democrats announced two other tenant bills Thursday. Assembly Bill 1481, from Rob Bonta of Alameda, would prevent tenants from being evicted without cause, and Assembly Bill 724, from Buffy Wicks of Oakland, would create a state registry of rental units. Lawmakers have until the end of May to pass all four bills in the Assembly before they can be sent to the state Senate.
Get our Essential Politics newsletter
The latest news, analysis and insights from our politics team.
You may occasionally receive promotional content from the Los Angeles Times.