Late entrant to California's gubernatorial race makes her case to young women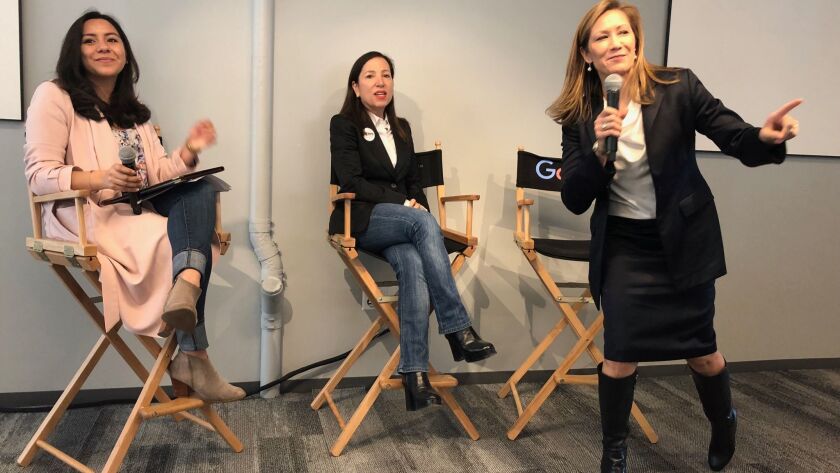 Reporting from San Francisco —
In one of her first public appearances since launching her campaign for California governor, Amanda Renteria encouraged a group of more than 100 young women to engage in politics and spoke about her experience as a Latina with political ambitions.
"I am inspired to run because of all of you," she said at a forum hosted by Ignite, an organization that promotes young women interested in politics. "In most of my life, the things that I wanted to do, people don't look like me, whether it was me being a woman, me being a person of color."
Renteria, 43, surprised political observers last month when she filed paperwork to enter the governor's race. The former aide to Hillary Clinton has significant ground to make up before the June primary, where she'll face fellow Democrats who have been running for more than a year and raised millions for their campaigns.
She stumbled a bit out of the gate and offered little by way of a platform. On Saturday in San Francisco, it was clear Renteria is pitching her candidacy to communities that are underrepresented in politics — and voters she'd like to win over in the June 5 primary.
She spoke about being the child of former farmworkers and growing up in the Central Valley.
After the forum, Renteria said she's planning to release a detailed policy platform this month that will focus on overhauling political culture and improving educational standards. She said she wants computer science and coding to be required in California public schools.
Renteria launches bid for California governor »
She also said she wants to make sure that all parts of California have good standards of living, including places that have been traditionally left out.
More than 100 women, most from colleges in Northern California, attended the event at the Google Community Space in San Francisco. Renteria's message resonated with many of them.
Zahra Abadin, 21, wanted to know more about Renteria's positions on immigration and economic issues before forming an opinion of her candidacy. The UC Berkeley student said she appreciates the conversation about having more underrepresented groups in politics. Abadin, who is Muslim, said she might want to run for office herself one day.
"I empathize with her and appreciated how she talked as a first-generation student, as a low-income [person] who is the first in her family to graduate and go to college," Abadin said. "It seemed like she was someone who knew what she was talking about."
Deyci Carrillo Lopez, a 22-year-old student at UC Santa Cruz, said she identified with Renteria's story because she also is the child of farmworkers. She was brought to the U.S. by her parents at age 3 and is undocumented. She is a recipient of the Deferred Action for Childhood Arrivals program, which gives temporary legal status.
"It's definitely important to be able to see how struggles and your story shaped the kind of policies that you advocate for and the communities that you represent," said Lopez, who someday wants to run for U.S. Senate.
After working as a Democratic staffer in the U.S. Senate, Renteria ran an unsuccessful bid to unseat Rep. David Valadao (R-Hanford) in 2014. She then worked on Clinton's presidential campaign. She left her most recent job as a top staffer in the California Department of Justice to run for governor.
She says she decided to run after she attended a debate hosted by Univision dominated by wealthy male candidates in the race.
Renteria said she didn't think they adequately addressed issues affecting women, particularly the #MeToo movement that has sparked discussion across the country about sexual harassment and discrimination against women in the workplace.
Lt. Gov. Gavin Newsom and former Los Angeles Mayor Antonio Villaraigosa are among the top candidates in a race that already has brought in $40 million, putting Renteria at a big fundraising disadvantage.
California's governor's race is awash with cash »
Renteria acknowledged her path to victory won't be by raising money. Instead, she said she's hoping to build grass-roots support through social media and by meeting with groups of potential voters. There have been no public polls conducted since she announced her candidacy.
She said she's spoken with sexual assault survivors on college campuses to hear their stories. Renteria shared her own "MeToo" moment in a post on the self-publishing platform Medium on Wednesday, describing how a more senior male colleague made inappropriate advances to her when she was 24.
Attendees at the Ignite forum also broke into smaller sessions on topics including political leadership and activism in the era of #MeToo.
Delaine Eastin, the other prominent female candidate in the governor's race, also attended the Ignite event and spoke about the importance of women in politics.
"We need to elect a lot more of you," she told them.
Eastin is polling significantly behind her male rivals in the race, but pointed to her stronger-than-expected showing at the Democratic Convention late last month. Around 20 percent of delegates voted to endorse her. No candidate for governor won enough of the vote to secure the party's official endorsement.
Renteria entered the race too late to speak at the convention or to be on the ballot for the party's endorsement.
In addition to Eastin and Renteria, attendees at the Ignite event heard from other female political candidates, including Eleni Kounalakis, a Democrat running for lieutenant governor, and Stacey Abrams, a Democrat running for governor in Georgia.
California has never elected a female governor or lieutenant governor. In an interview with The Times at the event, Kounalakis stressed the importance of including women and underrepresented groups in the political process.
"It's not just because it's fair," she said. "It's because it builds a better, stronger society and a better, stronger democracy."
Bollag is a special correspondent.
ALSO
Newsom calls suggestion of voter suppression from Villaraigosa camp 'sad' and 'desperate'
Track the California races that will matter most in the midterm elections
---
Get our Essential Politics newsletter
The latest news, analysis and insights from our politics teams from Sacramento to D.C.
You may occasionally receive promotional content from the Los Angeles Times.