California Republicans mostly united behind Trump at state GOP convention
Reporting from Sacramento —
A flurry of smartphone snapshots with a cardboard Donald Trump and blazing red "Make California Great Again" hats signaled that many of the GOP delegates at the California Republican Party convention this weekend have embraced the new president and his aggressive tactics to shift the nation to the right.
But a fair number of Republicans at the event said they still harbored concerns about Trump's divisive rhetoric and abrupt governing style, and doubts about his allegiance to conservative ideals. Those voices were largely drowned out by praise from Trump loyalists and delegates, however, who said they have been impressed by the president's policy agenda and conservative Cabinet appointments.
"I don't know about you, but Donald Trump's just rockin' my socks," state GOP Chairman Jim Brulte told the party leadership on Friday.
Republican delegate Bill Evers of Laguna Niguel dismissed speculation that the Democratic backlash against Trump, including protests of immigration policies and efforts to repeal and replace the Affordable Care Act, may doom Republicans running for office in left-leaning California in 2018.
"I think he's energized the party in a lot of ways," said Evers, a research fellow at Stanford University's Hoover Institution who served as an advisor on education policy for Trump's transition team. "He appeals to the so-called Reagan Democrats who have been in play for a number of elections cycles. They were not comfortable with all the identity politics and political correctness stuff."
Trump's popularity at CPAC gathering, which he shunned a year ago, shows how he's conquered conservatives >>
Former Downey Mayor Mario Guerra, treasurer of the state GOP, expects many Californians will be won over if Trump delivers on his promises to create jobs by reducing the tax burden on businesses and to invest billions of dollars in the military and repairing roadways and other infrastructure.
"We need to stop focusing on the issues that divide us," Guerra said.
Still, Guerra acknowledged that Trump's policies on immigration, including cracking down on those who entered the country illegally and building a wall along the U.S.-Mexico border, may hamper efforts by the California Republican Party to appeal to Latino voters, who largely dismiss the GOP.
Republican delegate Danny Reid Turner, a 29-year-old from Livermore, said he voted for Trump but has "mixed feelings" about the president's performance his first weeks in office.
Turner doesn't like that Trump has used executive orders to push out much of his agenda in the early days of his presidency, something he said former President Obama did with too much frequency.
"In my view, that's not how our government is supposed to work," he said.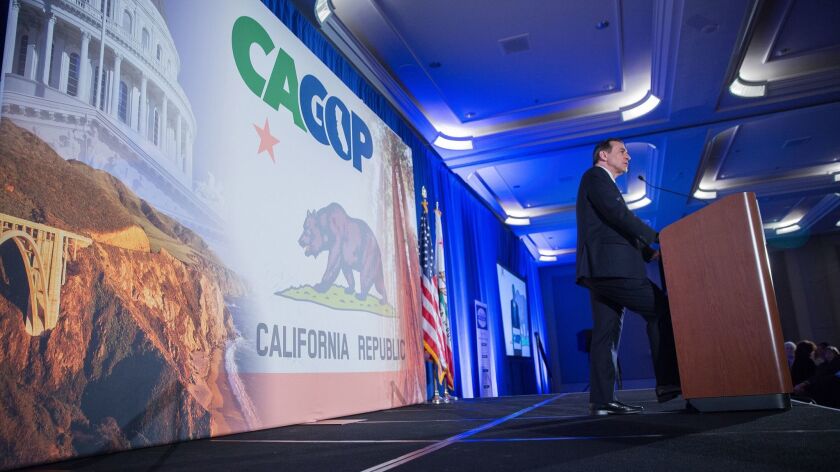 Turner also was conflicted about Trump's executive order banning citizens from seven predominately Muslim countries from entering the U.S. for 90 days, an action later halted by the federal courts. Trump, Turner said, "used a hammer when he should have used a scalpel."
Conservative radio host Hugh Hewitt, who addressed delegates Friday night, praised Trump's success as a businessman and developer, saying he "is not particularly conservative. He's a builder." Hewitt also said Trump would allow most law-abiding immigrants who entered the country illegally to stay, a comment greeted with silence.
Another convention speaker, U.S. Rep. Darrell Issa (R-Vista), who is scheduled to address attendees Saturday afternoon, appeared on HBO's "Real Time with Bill Maher" on Friday night, telling the host that a special prosecutor should be tapped to investigate Russian interference in the 2016 election. Congressional Democrats have called for an independent investigation of any communications between Russian officials and the Trump administration.
"We have to work with [the Russians], we don't have to trust them," Issa said. "We need to investigate their activities, and we need to do it because they are bad people."
State Assemblyman Rocky J. Chavez (R-Oceanside), a former Marine colonel who represents some of the same slices of San Diego County as Issa does, was critical of Trump's rhetoric during the presidential campaign, especially on immigration. But this weekend, Chavez said he was pleased with the job the president has done since taking office, including his Supreme Court and Cabinet nominations.
"I think Trump's appointments, in particular with the Supreme Court, with the department of Defense, with secretary of State, with Homeland Security, have been very good appointments, and if you look at what each of them are doing, they're very measured and reflect, I believe, the right tenor and where we need to go," he said.
Assemblyman Devon J. Mathis (R-Porterville) said California Republicans could learn from Trump's surprise victory in November, including his success at reaching out to Americans who feel disenfranchised by the political establishment. Trump's message resonated with those voters, Mathis said, and state Republicans need to use the same strategies tell California voters what the GOP is all about.
"California Republicans are really looking hard at that and diving deep to really look at what is it we need to do win races statewide," Mathis said. "What is the messaging we can do to really reach people at home so they know we're Republicans and we're here for you.".
Times staff writer Melanie Mason contributed to this report.
Twitter: @philwillon
ALSO
Can the California Republican Party bounce back in 2018? Here's the chairman's game plan
Trump's popularity at CPAC gathering, which he shunned a year ago, shows how he's conquered conservatives
Prominent California Republicans urge party members to keep Jim Brulte on as state GOP chairman
---
Get our Essential Politics newsletter
The latest news, analysis and insights from our politics teams from Sacramento to D.C.
You may occasionally receive promotional content from the Los Angeles Times.