Column: Political Road Map: California campaign spending broke records in 2016 — expect more of the same in 2018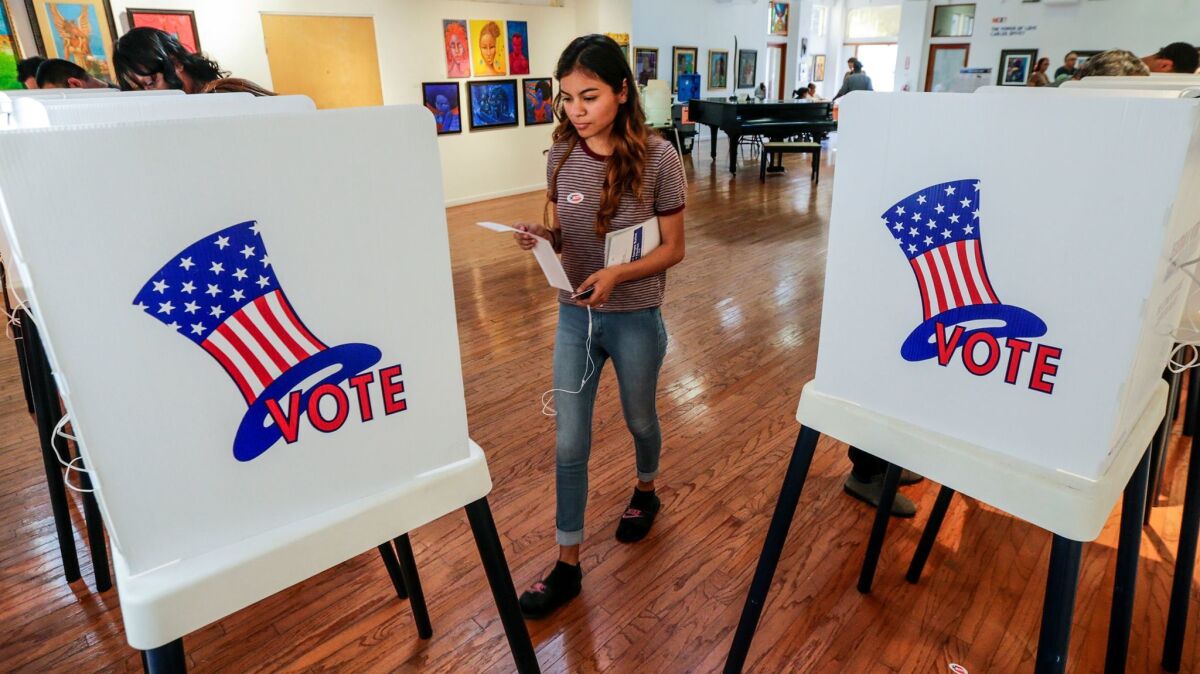 Baseball fans are cheering the arrival of spring training, the first chance to see what's in store for the long season ahead. And there's another big-money enterprise limbering up: California statewide political campaigns.
Candidates and ballot measure supporters alike know that a strong message may not prevail on election day without a lot of money. And that could be particularly daunting in 2018 for interest groups and activists eyeing initiative campaigns after a political season that set a new spending record.
An analysis by The Times finds that more than $488.8 million was spent on California ballot measures in 2016, far surpassing any previous statewide election. That total was driven both by the sheer volume of propositions — the longest ballot in more than 16 years — and a handful of supersized battles.
None was bigger than the fight over prescription drug pricing, Proposition 61. That one measure sparked more than $129 million in campaign spending, more than a quarter of all ballot measure expenditures. The vast majority of the cash came from the pharmaceutical industry, which was successful in killing the initiative.
Many millions were doled out on other efforts, including convincing voters to approve legalized marijuana (Proposition 64), to impose new transparency rules on the Legislature (Proposition 54) and to reject a repeal of the death penalty (Proposition 62).
Political Road Map: Californians love to hate statewide ballot propositions »
The final tallies from 2016, which were predicted months before the big battles, confirm the longstanding maxim that California initiative campaigns are won and lost on advertising.
Nothing makes that more clear than the report filed last month by the campaign opposed to November's tobacco tax increase, Proposition 56. Fueled by donations from the tobacco industry, the campaign spent some 90% of its money — about $63 million — on television and radio commercials, ultimately in a losing effort. That includes close to $5.8 million for commercials in just the final 16 days of the election season.
But now for the splash of reality going forward. Ballot measure backers are likely going to find it even more expensive to run a campaign come 2018.
"It's now a good $5 million, minimum, a week" for a ballot measure campaign, said Gale Kaufman, a veteran Democratic strategist. Kaufman, who worked on the effort to legalize marijuana last year, said that doesn't include online advertising — thought to be a key to connecting with some voter groups.
"You've really got to do a lot if you're trying to reach younger voters, in particular," she said.
For now, television continues to push the spending sky high. There's also good reason to believe that November statewide ballots will continue to be chock-full of initiatives. The law signed by Gov. Jerry Brown in 2012 that moved all initiatives to fall elections is one reason. Another is the low number of voter signatures needed to qualify, thanks to state law that sets the threshold based on turnout in the last gubernatorial election.
And that brings us to the other reason the statewide election that's on the horizon has the potential to be an even bigger blockbuster than 2016. A bevy of candidates could be on the ballot seeking to succeed Brown, who will be termed out. Candidates generally get better TV advertising rates, but Kaufman and her team still think a solid week of statewide candidate commercials in 2018 will cost $3 million or more. The major Democratic candidates have only about $15 million in the bank combined.
In other words, while it's too soon to start making predictions about total spending in statewide elections next year, it's not too soon for those involved to start raising money.
Follow @johnmyers on Twitter, sign up for our daily Essential Politics newsletter and listen to the weekly California Politics Podcast
Times Staff Writer Ben Welsh contributed data analysis to this story.
ALSO:
Lawmakers consider making election day a state holiday in California
Political Road Map: The only thing 'special' about California's special elections is the cost
Life is stressful. Our weekly mental wellness newsletter can help.
You may occasionally receive promotional content from the Los Angeles Times.