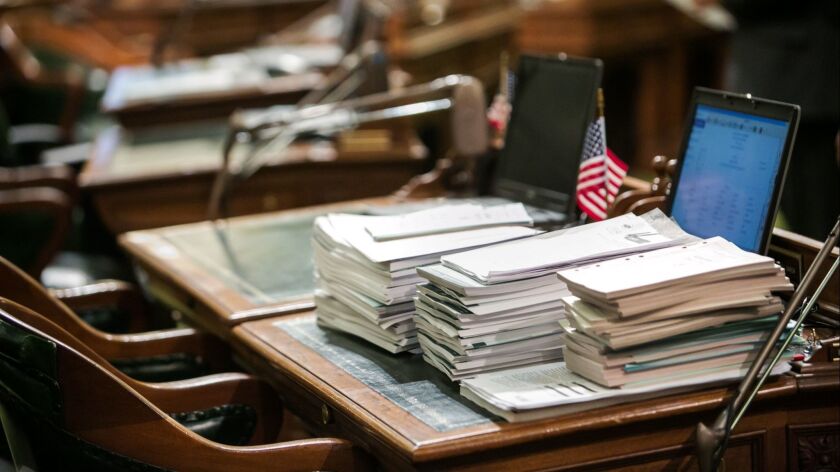 Sacramento Bureau Chief
California lawmakers frequently proclaim that a state budget is an expression of values, a clear sign of what they believe in and why. But that kind of bold assertion is bound to be tested — and sometimes tripped up — by the political realities of Sacramento.
Which brings us to the spending plan approved by both houses of the Legislature on Thursday and the tale of two recent budget requests: one for continuing to fund the collection of data on Parkinson's disease, the other to pay for a Southern California dog park.
Only one of those requests will receive taxpayer money. And there's no real explanation for why.
It's important to keep in mind that members of the Legislature make requests, on behalf of their constituents, for various amounts of state government dollars. This spring, city officials in Rancho Cucamonga asked for $3 million to add a dog park to an existing park. It would be the park's first new feature in a more than a decade, they told Assemblyman James Ramos (D-Highland), who passed along the request.
"I made a commitment to my constituents to fight for the Inland Empire," Ramos said in a statement. "More green space improves quality of life and fosters community engagement."
California lawmakers approve a state budget blueprint, but negotiations continue »
The dog park quickly stood out among a long list of earmarks in the omnibus spending plan that lawmakers approved on a party-line vote Thursday. It's equal to the money allocated for training San Jose firefighters, one-third more spending than an effort to ensure sexual assault forensic evidence is sent to crime labs, twice as much as for studying farmworker health, three times as much money as allotted to bus service for Oakland's schools.
And then there are the worthy causes that were overlooked — including the one on Parkinson's disease. In 2017, lawmakers agreed to spend $3.7 million over three years to create a statewide registry to better track the prevalence of the progressive nervous system disorder. The system has information on some 3,000 individuals but no source of continued funding beyond this month, the end of the state's fiscal year.
Officials at the Michael J. Fox Foundation, named after the actor who was diagnosed with the disease in 1991, wrote lawmakers last month to say additional state funding "could truly transform Parkinson's research and ultimately save California taxpayers billions of dollars" in state medical costs.
Keep in mind the disease work to date has cost a little more than what the new budget allocated to the dog park. But while the Assembly's budget writers included the Parkinson's request — this one for $10 million — the item was scrapped during private negotiations between lawmakers and Gov. Gavin Newsom. Who did it or why remains a mystery.
The budget bill approved Thursday included other earmarks that various legislators requested that might not have seemed as crucial as some projects that were rejected: $9 million for renovations to a San Diego performing arts center; $5 million for a soccer complex in Salinas; $500,000 for a sculpture garden in Newport Beach. Republicans were happy to tee off on the earmark process during floor debate on the budget plan.
"Are those the values that we're setting today, that we want our constituents to know about?" asked Assemblywoman Melissa Melendez (R-Lake Elsinore). "This is shameful."
GOP legislators, of course, made their own requests for local funding. The challenge for the public is that few, if any, of the proposals were ever considered in true open meetings — where the relative pros and cons could be weighed and where the collective values of California taxpayers, who provided the money, could be considered.
Follow @johnmyers on Twitter and sign up for our daily Essential Politics newsletter
---