Column: California lawmakers craft new ways to stash away budget cash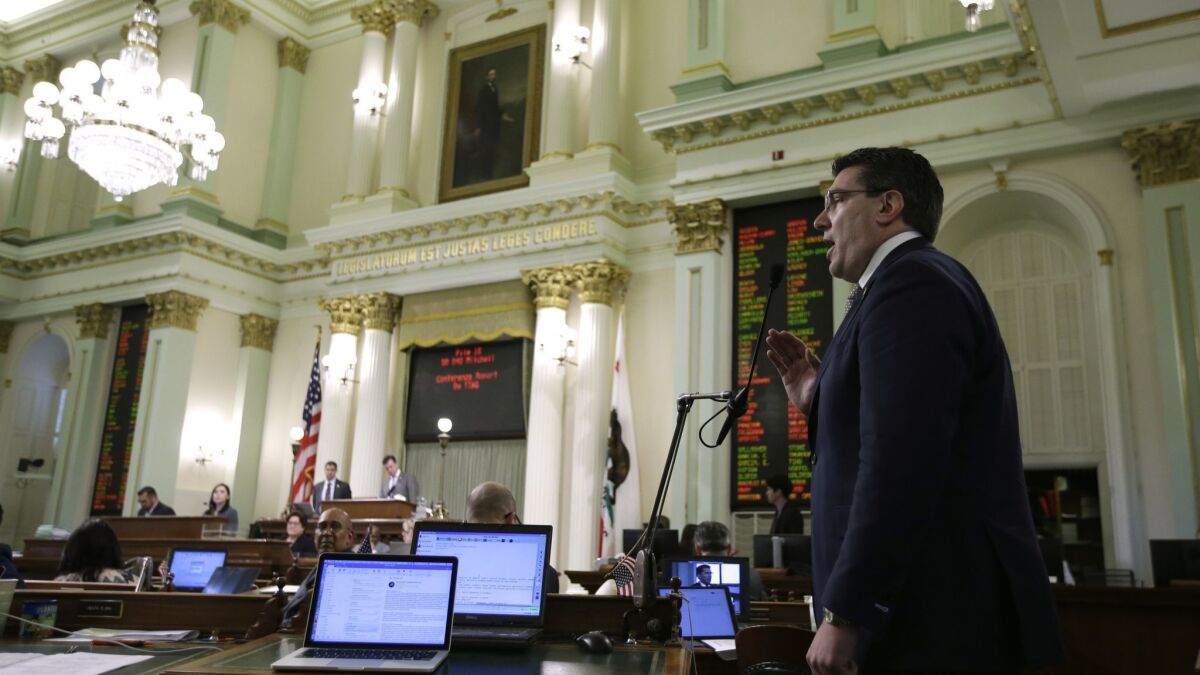 Sacramento Bureau Chief
The state budget that Gov. Jerry Brown will sign by month's end will total close to a record $200 billion, but it's not spending that is shaping much of the perception about the proposal. It's savings or, more precisely, a heightened focus on cash reserves.
California will continue its push toward the largest rainy-day fund in its history. The plan on Brown's desk also creates two new reserve accounts, one of which lawmakers admitted last week is still a work in progress — even though it's slated to receive a $2.6 billion deposit in October.
"I'm a little reserved about creating a whole bunch of new little reserves for whatever purpose," state Sen. Jim Nielsen (R-Gerber) said during a late-night budget conference committee hearing just nine days ago.
Get the latest updates on California politics »
Nielsen's hyperbole aside, the purpose of one of the new accounts is quite clear: providing a lifeline to health and welfare programs in the event of a fiscal crisis. Democratic legislators and Brown agreed to seed the account with an initial $200 million, maybe more if tax revenues remain strong.
Less clear is the path ahead for a second new fund, the "Budget Deficit Savings Account." For starters, lawmakers insist stashing $2.6 billion there is only temporary. They said last week the money will be moved into the more ironclad rainy-day fund, created by Proposition 2, next spring.
It's the rules of that 2014 ballot measure that may explain why this is happening. Proposition 2 will require spending on infrastructure projects once the rainy-day fund reaches its legal capacity — and that happens once the $2.6 billion is deposited. After the independent Legislative Analyst's Office pointed that out a few months ago, lawmakers started to tinker with ways to stash away more cash.
Stashing cash for a rainy day isn't as easy as it sounds for California government »
If this remains focused on prudence, the budget maneuvers may not be much of a worry. But there's a difference between the new "Budget Deficit Savings Account" and the rainy-day fund created by Proposition 2. The voter-approved fund is in the California Constitution, while the new one is a regular state law, which can be easily changed. That means the next governor and legislative leaders could rethink the idea of saving all of that $2.6 billion.
Or consider a different question percolating through Sacramento: Why not just put the money in the state's short-term reserve account, the Special Fund for Economic Uncertainties (SFEU)? Here, too, is a lesson in state budget intricacies.
When the SFEU gets to a certain size, California's sales taxes are automatically reduced. And putting the money, instead, into the new "Budget Deficit Savings Account" keeps that from happening. Republicans argued last week that Democrats are just trying to avoid a tax cut.
That may be true, but it's also more complicated. After all, a short-term state crisis could empty out the SFEU, but the lower sales tax rate would remain and reduce state revenues for much longer. Raising those tax rates back to their prior level would take a supermajority vote in both houses of the Legislature. Such votes are rare.
There are other rules, very specialized ones, for the new deficit savings account. But set aside all the legislative machinations and the real takeaway is that no one seems to have expected the Proposition 2 rainy-day fund would reach its legal capacity just five years after being created. And as lawmakers seek flexibility to sock away even more cash, they must confront the perception that sneaky things happen in Sacramento when politicians are given some wiggle room.
Follow @johnmyers on Twitter, sign up for our daily Essential Politics newsletter and listen to the weekly California Politics Podcast
Get our Essential Politics newsletter
The latest news, analysis and insights from our politics team.
You may occasionally receive promotional content from the Los Angeles Times.