Column: In California, legal gambling's bets don't produce big jackpots for state government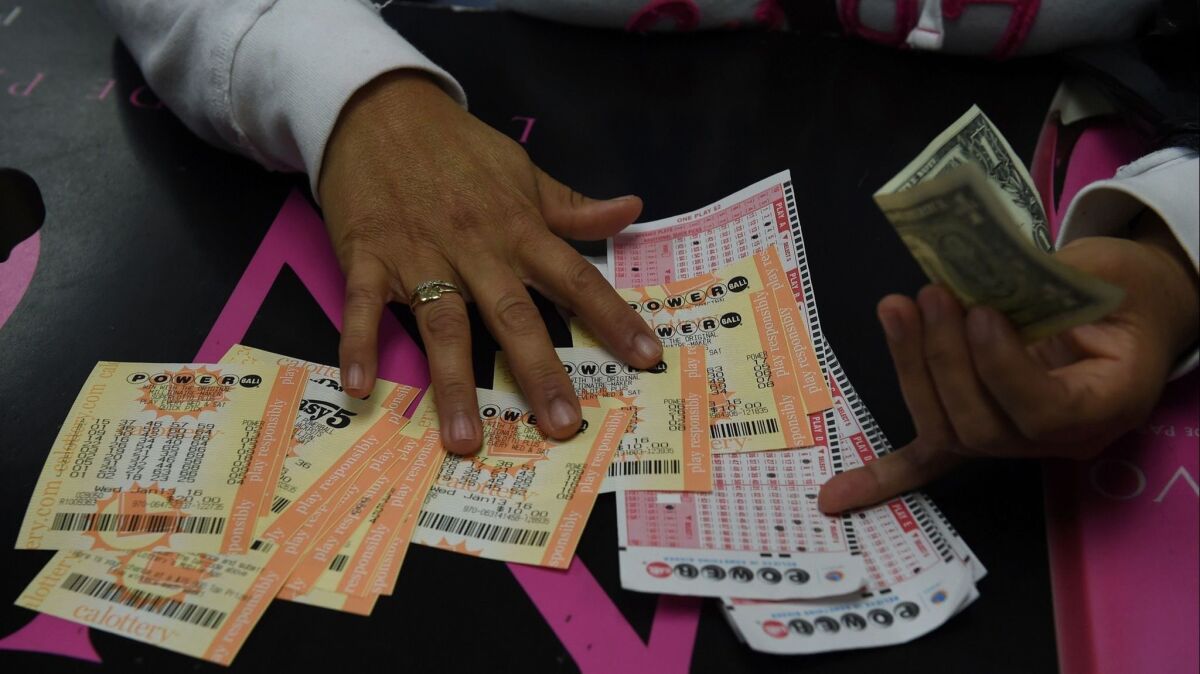 Sacramento Bureau Chief
Few noticed last week when a proposed ballot measure — the kind that used to spark intense debates over legalized gambling — fizzled out, perhaps a sign that powerful interest groups are no longer willing to place big bets on such campaigns in California.
The proposal would have allowed sports betting in gaming establishments large and small, including tribal casinos and local card rooms. That it wasn't written to offer some of the winnings to local or state governments was notable — after decades of debate, it now seems a settled issue that expanding legal gambling won't pay off for public services.
Several times during the depths of California's state budget woes, there were efforts to boost revenues through more gambling. Most sought to expand the kinds of games and operations already in existence — generally allowed through voter-approved amendments to the state Constitution, as far back as the 1933 ballot measure that enshrined legal wagers on horse racing.
Few efforts were as intense as those for and against the creation of tribal casinos, the subject of statewide ballot measures in 1998 and 2000. By 2003, many thought that the Native American tribes should hand over a share of the profits to state government. Former Gov. Arnold Schwarzenegger, who famously demanded a "fair share" of tribal gaming money during the 2003 recall election, insisted on revenue-sharing provisions in the formal agreements he signed with a number of tribes.
But a federal court sided with tribes in 2010, limiting the payments to those earmarked for helping impoverished or non-gaming tribes. A report last week by the nonpartisan Legislative Analyst's Office found what was a $330-million-a-year subsidy to California's general fund as recently as 2016 is now down to only $3.6 million in the current fiscal year. That could fall even further as gaming agreements with 35 tribes across the state expire next year, with new deals to be negotiated by Gov. Gavin Newsom.
Nor is there any serious belief that the California Lottery can do much more to boost the bottom line of public schools. Voters embraced the program in 1984, believing it would provide significant money for education and thus free up funds for other government services. Schwarzenegger suggested a securitization plan in 2008, borrowing money against future lottery revenues — an idea swiftly rejected by lawmakers. Today, even after recent improvements to entice more players, the lottery provides only around a penny of every dollar spent on education.
For voters, that doesn't square with the promise they believed of easy government money from gambling — often made as part of an effort to balance the books with new "sin taxes" on things that include alcohol and tobacco.
"One of the challenges that we have in government sometimes is when programs are oversold, it kind of produces disappointment," state Sen. Ben Allen (D-Santa Monica) said during a legislative hearing last week on legalized gambling in California.
In part, the reason gambling is no longer seen as a budget bonanza is that the state has plenty of money — a record tax windfall, in fact, and a rapidly filling "rainy day" budget reserve.
The sports betting initiative that ran out of time last week to qualify for the 2020 ballot never found the wealthy donors needed to pay for gathering voter signatures. The kinds of powerful interests that historically promoted new gambling ideas in the state — including casino operators in Nevada and New Jersey — have largely cashed out of California politics.
The odds, it seems, are no longer in their favor.
Coverage of California politics »
Follow @johnmyers on Twitter, sign up for our daily Essential Politics newsletter and listen to the weekly California Politics Podcast
Life is stressful. Our weekly mental wellness newsletter can help.
You may occasionally receive promotional content from the Los Angeles Times.