Column: Political Road Map: How California went from worst to first in drawing fair political maps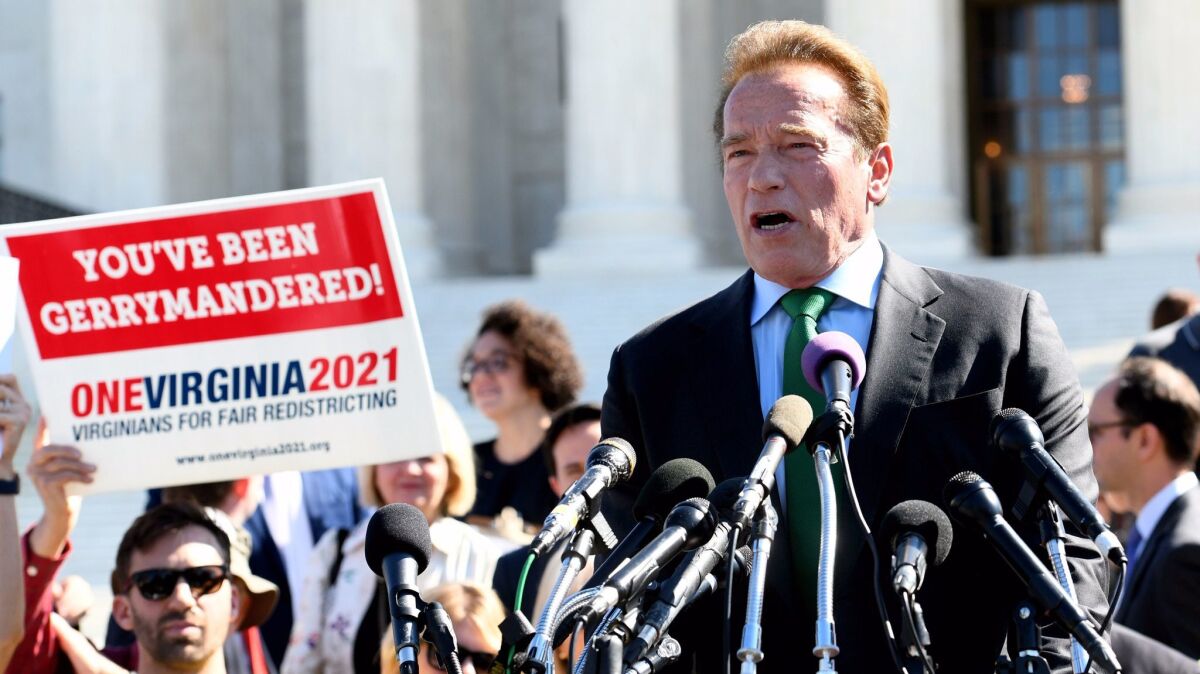 Reporting from Sacramento —
As the U.S. Supreme Court considers its role in forcing states to draw fair political maps, Californians know well how the process can be manipulated. They saw it happen over and over again, for decades.
But an argument can be made that California rocketed from worst to first in making redistricting fairer. Few believe that more strongly than former Gov. Arnold Schwarzenegger.
"I say it is the time to say, 'Hasta la vista' to gerrymandering," he said at an event outside the Supreme Court in Washington last week as the justices considered the battle over the district lines drawn in Wisconsin.
Much of California's modern political history was shaped by battles over political boundaries, fought over a 60-year span that parallels the state's transformation into the country's most populous and diverse. Unprecedented social and cultural change fueled the political gamesmanship, but the real prize was clout in Washington.
"It was all driven by those seats in Congress," said Tony Quinn, a longtime Republican political consultant and redistricting expert.
California's growing population resulted in an astounding 29 new seats in the House of Representatives in just the last half of the 20th century. Quinn cites 1951 as "the first modern gerrymander" in California, as then-dominant Republicans intentionally skewed the once-a-decade reshaping of legislative and congressional boundaries. When the map making was over, they held a majority of the state's congressional districts.
Those maps slowed, but didn't block, the growing clout of Democrats. In 1961's redrawing, newly empowered Democrats exacted revenge and skewed the maps in their favor.
By the time Ronald Reagan was governor and California had 20 million people, each redrawing of maps led to open political warfare. Reagan vetoed redistricting plans sent to his desk in 1971, calling one version "a mockery of good government." The result was a legal stalemate. The task of drawing legislative and congressional boundaries was left to the California Supreme Court. The courts again intervened in 1991, when then-Gov. Pete Wilson rejected maps drawn by Democratic legislators.
Voters were pulled into the 1982 fight when Republicans — accusing Democrats of blatantly attempting to fill the new California congressional seats with liberal lawmakers — tried to overturn maps through a statewide referendum. The only time the two parties worked together, when they jointly signed off on new legislative and congressional seats in 2001, it was to protect incumbents. The message by then was clear: The redistricting process was a mess. Multiple efforts to strip the Legislature of the job failed before voters approved Proposition 11 in 2008. That created the California Citizens Redistricting Commission to draw state legislative districts, and voters in 2010 handed over congressional district map drawing to the panel.
Not that it's been easy ever since. The citizens panel struggled with how to define "communities" that should be kept in single districts. And the Schwarzenegger-led supporters routinely over-promised how many competitive political races would result from reasonably drawn maps. Even so, California's commission-drawn maps won praise for being thoughtful and transparent — a far cry from the state's ugly history of political power brokers divvying up cities, counties and voters behind closed doors.
Follow @johnmyers on Twitter, sign up for our daily Essential Politics newsletter and listen to the weekly California Politics Podcast
ALSO:
Political Road Map: California's redistricting panel avoided political party data when drawing the lines
Political Road Map: There's a simple reason some want a larger California Legislature
---
Life is stressful. Our weekly mental wellness newsletter can help.
You may occasionally receive promotional content from the Los Angeles Times.