Column: Political Road Map: California secession fever is nothing new. There's a rich history of wanting to slice up the state or split it off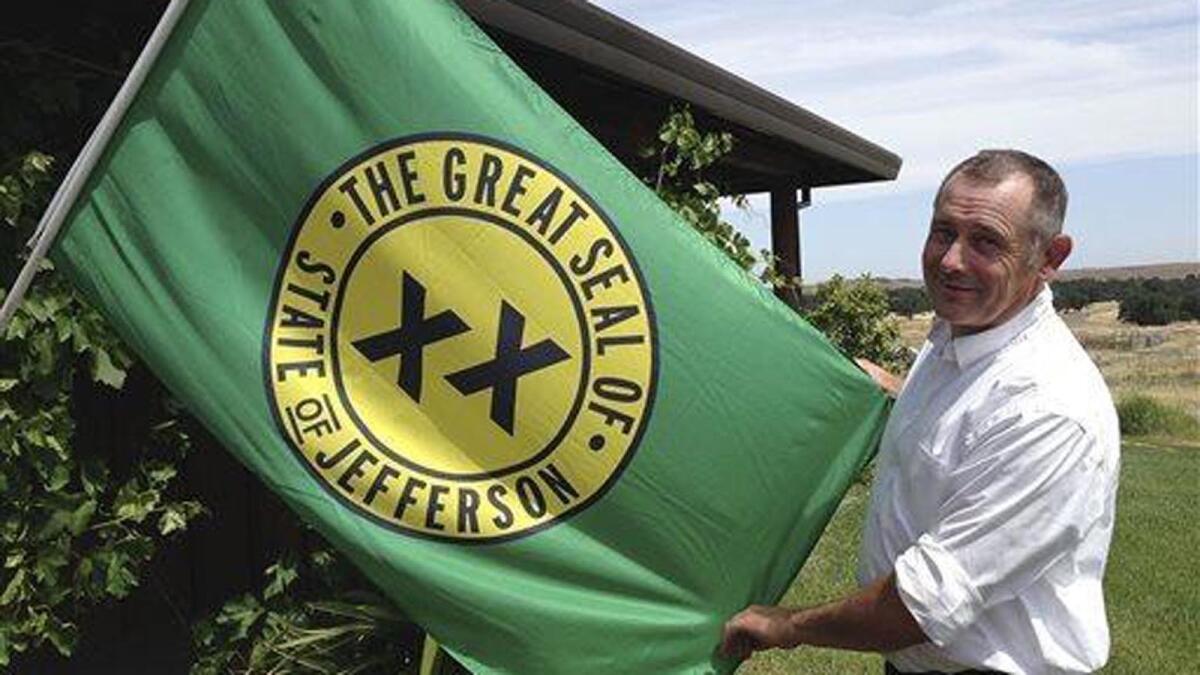 California's famous chronicler Carey McWilliams once wrote that some see "this highly improbable state" as more illusion than reality. Perhaps that explains its residents' perpetual efforts to shake things up and break away — either from the national government or each other.
Since 1849, more than 200 efforts have imagined a political do-over to the idea of California as a single, sprawling American state. Every attempt has failed.
"All major social and political movements in this country take time and inevitably have to overcome failures and setbacks before they are ultimately successful," Louis Marinelli, the latest provocateur with secessionist dreams, told The Times in an email.
Marinelli, 30, is leading a new effort to make California an independent nation, complete with its own catch phase, "Calexit." Last weekend, he went so far as to christen a California "embassy" in Moscow. (Marinelli, from San Diego, said he's temporarily living in Russia while working on his wife's immigration status.)
But even as some California lawmakers openly discuss their post-election funk about the United States, it's the ultimate political Hail Mary. Assuming voters endorsed an independent nation in both 2018 and again in a 2019 special election, there's legal doubt whether any state can exit the union.
Follow the latest happenings in Sacramento and Washington with our Essential Politics news feed »
What may be most striking is that anyone would assume there's a shared state identity, when Californians more often have tried to go their separate ways.
State lawmakers sent their first breakup plan to Congress in 1859, but it was squashed by the onset of the Civil War. The equally unlucky, but colorful, Yreka Rebellion of 1941 saw a handful of Northern California counties join grumpy southern Oregonians to propose a new state called "Jefferson." They threw a big party in Siskiyou County's biggest town, Yreka, on Dec. 4, 1941.
Three days later, after the infamous attack on Pearl Harbor, secession fever subsided.
As the song says, breaking up is hard to do. There was a 1965 failed legislative effort to create the nation's 51st state with a dividing line at the Tehachapi Mountains that span Los Angeles and Kern counties, revisited and dismissed in 1978. And then, the early 1990s plan for an advisory ballot measure to gauge voter interest in splitting California into three states.
"I can't guarantee a perfect world, but I know that divided, more homogeneous Californias will be better than the gridlocks we have now," Stan Statham, then a Republican state assemblyman, said in a 1993 Times story. Alas, his proposal died in the state Senate.
A 2009 plan would've carved California into separate coastal and inland U.S. states, presumably one favored by Democrats and one by Republicans. The idea was recycled in 2011 by state Sen. Jeff Stone (R-Temecula) while he was a Riverside County supervisor.
Few efforts garnered as much attention, or derision, as the 2014 campaign by Silicon Valley entrepreneur Tim Draper to create six states out of California, with names like "Silicon Valley" and "West California."
Draper, even after spending almost $5 million, failed to gather enough signatures to get his proposal on the ballot.
No secession effort has answered the practical questions — how to negotiate water rights, divvy up the existing state's assets, pay for border security, just for starters. Still, it often sparks valuable public policy discussions.
How sustainable is it when the Bay Area's per capita income is more than double that in the Central Valley? Why is poverty pocketed in a handful of regions? Does California, home to much of America's recent job growth, get what it deserves from the federal government?
Those concerns may trigger bouts of secessionist fever, but few would dispute that they're also a good start on a to-do list for California's state and national leaders as 2017 comes into view.
Follow @johnmyers on Twitter, sign up for our daily Essential Politics newsletter and listen to the weekly California Politics Podcast
ALSO:
California secession backers say they've opened an "embassy" in Moscow
Big-city mayors oppose 'Calexit' secession effort
Political Road Map: A long, cold winter awaits for California's pension plans
Get our Essential Politics newsletter
The latest news, analysis and insights from our politics team.
You may occasionally receive promotional content from the Los Angeles Times.