Column: Political Road Map: Trump and gun investments spark debate for California pension funds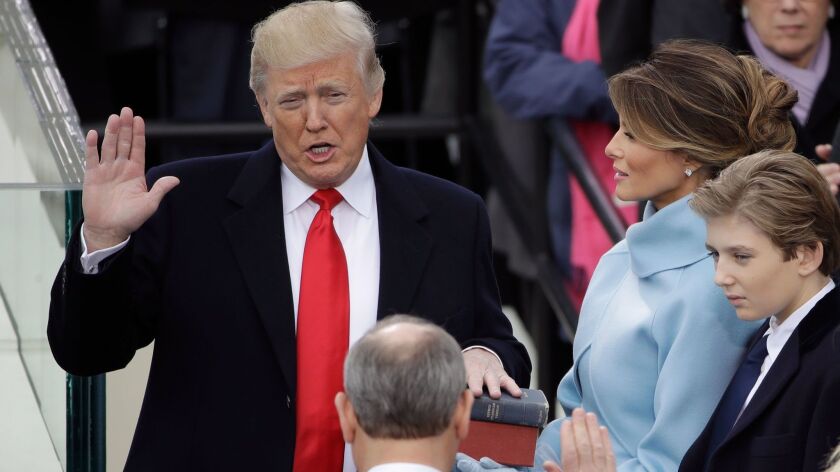 Reporting from Sacramento —
For more than three decades, California's vast pension funds have routinely been urged to make investment decisions by applying a simple four-word mantra: Do the right thing.
When 12 of the state's congressional Democrats recently asked pension officials to take action, they argued that the right thing also is the legal thing to do. They insisted that an investment by the California Public Employees' Retirement System, CalPERS, is helping President Trump break the law.
That investment is "jeopardizing the funds of your members and enabling a culture of corruption that threatens the very core of our democracy," they wrote in an Oct. 30 letter concerning one of the pension fund's real estate investments.
Tough talk aside, the letter strikes a familiar theme in questioning whether CalPERS and CalSTRS, the state's teachers pension fund, should use their financial heft to move the needle on societal issues from human rights to public safety. Also last week, CalSTRS agreed to research a sweeping proposal from state Treasurer John Chiang to divest from retailers that sell guns or ammunition that are illegal under California law.
"It would be recklessly inconsistent for anyone who supports California's assault weapons ban to believe that investing in companies selling these weapons or ancillary devices ensures teachers' retirement security," Chiang told the CalSTRS board. It's a proposal sparked by the Oct. 1 deadly mass shooting in Las Vegas.
The starting point for much of this modern debate over pension fund investments was 1986, when state lawmakers instructed CalPERS to cancel investments in companies doing business in South Africa, a way to leverage billions of dollars of public employee assets to strike a blow against the country's apartheid government. Countries with poor records on human rights were the target of a divestment movement in the last decade, and funds shed investments in gun manufacturers after the 2012 massacre at a Connecticut elementary school.
Political Road Map: Here's how (and why) the state is making a $12-billion pension payment next year »
The tough talk on Trump is one of the more unusual efforts. An April investigation by Reuters found that pension systems in seven states have money in an investment fund that pays one of the president's companies to run a Manhattan hotel — money that could be considered a payment from those individual states. Critics have said Trump's business entanglements at home and abroad violate the ban on emoluments under the United States Constitution.
The Democrats who signed last week's letter wonder why CalPERS isn't taking action. "Adopting a 'wait and see' approach when your legal, fiduciary and ethical obligations require action is not prudent nor acceptable," said the letter from the members of Congress.
Others are pushing to cancel pension investments in the oil and gas industry, following a 2015 divestment of interests in coal companies. These actions may have political support but come at a price for a pension system that's currently projected to come up short on its future retirement obligations.
The divestment decisions already made have shrunk CalPERS' portfolio by about $8 billion, according to an analysis that staffers are scheduled to update next month. The single largest part of that cost was the decision to walk away from investments in tobacco companies. They may disagree on the merits, but supporters and critics of pension divestment efforts both believe that actions have consequences.
Follow @johnmyers on Twitter, sign up for our daily Essential Politics newsletter and listen to the weekly California Politics Podcast
ALSO:
California's pension gap: The costs keep rising
How state and local government budgets will be squeezed by CalPERS' lower investment predictions
---
Get our Essential Politics newsletter
The latest news, analysis and insights from our politics teams from Sacramento to D.C.
You may occasionally receive promotional content from the Los Angeles Times.