Column: One of California's most powerful posts has been empty for almost six months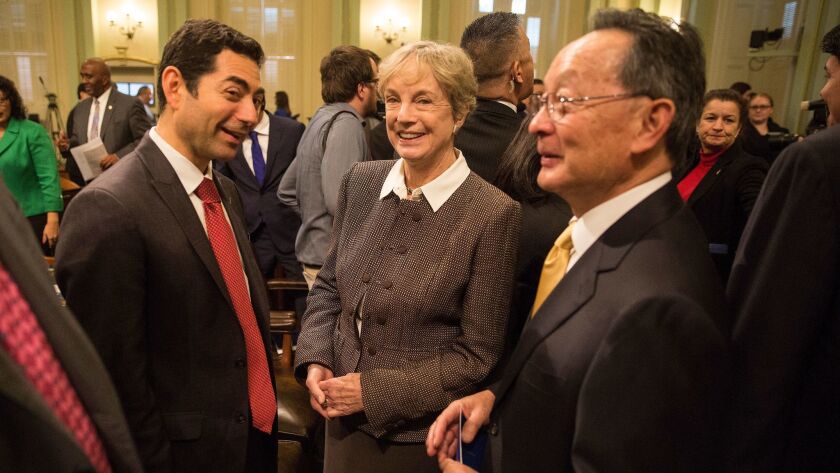 Reporting from Sacramento —
Gov. Jerry Brown's answer to a reporter's question during a January news conference was both evasive and, by the end, unflinchingly honest. The topic was his search for a new California Supreme Court justice.
"It's going very well," Brown said cagily. "I'm searching my mind very carefully."
Moments later came the bottom line: "I've appointed three. The fourth could be very decisive."
It's now been almost six months since former Justice Kathryn Werdegar retired after more than 23 years, one of the longest runs in state history. And it wasn't as though she quit suddenly, having given Brown more than five months' notice. But summer turned to fall and now winter, and the governor has still not appointed someone to take Werdegar's place, leaving the court with six of its seven members. There is no deadline for Brown to make his selection.
This kind of cautious approach — on a decision that will profoundly affect California's highest court — is perhaps one of the most significant changes between Brown 1.0, the man who governed from 1975 to 1983, and Brown 2.0, who's been on the job since 2011.
I've appointed three. The fourth could be very decisive.
— Gov. Jerry Brown, on filling a vacancy on the California Supreme Court
In his first tour of duty, Brown appointed seven justices, one shy of the record held jointly by his father, the late Gov. Edmund "Pat" Brown, and Gov. George Deukmejian. But it was the 1977 selection of a chief justice who had never been a judge, Rose Bird, that left a lingering impression about the man who selected her. Criticized for relying on her personal beliefs as much as the law on topics like the death penalty, Bird was removed by voters in 1986. Two other Brown appointees also were dismissed in that election.
Column: Here's how California's U.S. Senate race could pose a big problem for Republicans »
Brown, who also served as California's attorney general from 2007 to 2010, has appeared more deliberate in his choices this time around: Justices Goodwin Liu, Mariano-Florentino Cuéllar and Leondra Kruger. The governor again has selected men and women who had not previously served as judges. And the three justices he's already chosen have the kind of legal resumes that seem to align with Brown's cerebral approach to the law and governing.
While voters must agree to retain California Supreme Court justices at least every 12 years, each of Brown's current appointees is in their 40s and poised to serve long enough to become one of his greatest legacies.
A number of items on the 2018 docket for the high court pose fascinating questions about life and work in the Golden State. From cases on the rules regarding overtime pay to local taxation to potential liabilities in the world of online advertising, the six justices could no doubt use some help.
And then there are a handful of cases involving public employee pensions, cases that have sparked great interest in California's political world. The justices will be asked to rule on the core premise of the state's long-standing principle that pension promises made on the day a public sector worker is hired can't be taken back, even if that employee won't retire until years later.
In one of the cases, Brown has filed his own brief to defend a 2012 law he signed that eliminated a pension perk boosting retirement benefits. The person he's soon to select could be a key vote on that very case.
Which gets us back to what the governor said about this next state Supreme Court pick being decisive. "I want to understand how that decisiveness should work," Brown told reporters. So, too, do a lot of other Californians. It's anyone's guess when the governor will come to that understanding.
Follow @johnmyers on Twitter, sign up for our daily Essential Politics newsletter and listen to the weekly California Politics Podcast
ALSO:
---
Life is stressful. Our weekly mental wellness newsletter can help.
You may occasionally receive promotional content from the Los Angeles Times.