This assemblyman was put under a restraining order. Now, where is he?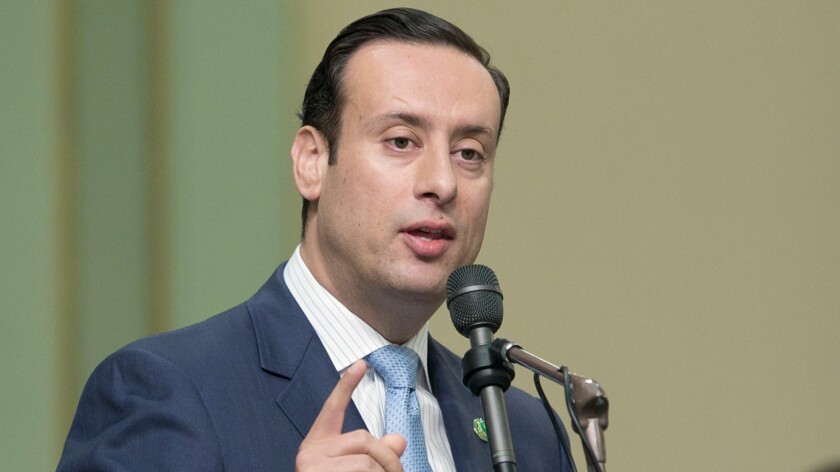 Where is Democratic state Assemblyman Roger Hernández?
With less than 90 days until voters in the San Gabriel Valley go to the polls to decide if he will become a member of Congress, Hernández has been absent from the campaign trail and his work at the statehouse.
Hernández has been out on medical leave for unspecified reasons since the Legislature returned from summer break two weeks ago, and it is unclear if he will return before the legislative session ends Aug. 31. Hernández will leave the Legislature this year because of term limits and is challenging U.S. Rep. Grace F. Napolitano (D-Norwalk) for her 32nd District seat.
The West Covina assemblyman has been out of the public eye since a judge granted his ex-wife's request for a domestic violence restraining order against him on July 1 after she accused him of severely beating her several times before and during their marriage.
Hernández has not answered phone calls from Times reporters seeking comment. A spokeswoman for his office declined to explain the cause of the medical leave and said she did not know when he would return.
His attorney, Donald Schweitzer, said the assemblyman has been experiencing stress since the ruling and is under a doctor's order to rest. He said he did not know what medical issue spurred Hernández's leave, but that his "blood pressure was a little bit up."
Updates on California politics »
"It is legitimate," Schweitzer said of the leave. "He has had a lot of anxiety because of what has gone on in his professional career and with his restraining order."
The political fallout following the issuance of the restraining order was swift.
Hernández was stripped of his committee assignments by Assembly Speaker Anthony Rendon (D-Paramount) — including his chairmanship of the Committee on Labor and Employment — within hours of the ruling. He quickly lost the support of several colleagues who had previously endorsed his campaign.
Earlier, Democratic and Republican women in the statehouse and Congress called for action against Hernández soon after his ex-wife, Baldwin Park City Councilwoman Susan Rubio, came forward with the abuse allegations in April.
Hernández kept his posts long enough to help defeat a bill expanding the state's family leave law that had been a priority of the same leaders of the California Legislative Women's Caucus who had called for him to take a leave of absence.
The bill has come back to life now that Hernández is gone. Meanwhile at least three bills authored by Hernández cleared the Senate Appropriations Committee on Thursday and now move onto a floor vote.
Rendon has also talked to Hernández and encouraged him to resign, The Times reported last week.
And other legislators have openly questioned whether they should invoke Proposition 50, a new law approved by voters this June that allows state lawmakers to suspend a colleague without pay.
Hernández continues to draw his $100,113 annual salary and $176 in per diem payments for travel-related expenses. He was out of the country for a period of time in July following the ruling, his deputy district director, Dayana Partida, said at the time, but Schweitzer said he is now "here in California." Hernández's legislative office has a community health fair scheduled in Azusa on Aug. 27.
Hernández's office said his return "is between him, his doctor and the Assembly Rules Committee." But John Casey, a spokesman for Rendon, said if Hernández is going to be out this week he will need to submit a new doctor's note.
Aside from his work in the Legislature, Hernández still has an uphill battle against fellow Democrat and nine-term incumbent Napolitano to deal with in November.
Hernández was able to eke out a second-place finish after Rubio's allegations were graphically detailed in court documents and testimony in the lead-up to the June primary.
But Hernández's campaign has been all but inactive since then. It has remained quiet on social media, and the assemblyman's official Twitter account is now private. It is unclear if he has a campaign manager as November fast approaches.
Laura Herrera, who managed his campaign during the primary race, said she is not currently running his general election campaign and has not been in contact with Hernández.
His campaign also hasn't shown much activity behind the scenes, according to Federal Election Commission records, reporting a meager fundraising haul of $8,849 between May 19 and June 30 with just $60,668 left in the bank for the general election.
For her part, Napolitano raised just shy of $100,000 in that same time period and had nearly $250,000 left available for November.
Hernández's campaign headquarters on Rowland Street in Covina has been leased to new tenants, according to real estate agent Michael Wong, who represents the property. And his campaign website still boasts the endorsements of five candidates who told The Times last month they had pulled their backing, including Rendon and Compton state Sen. Isadore Hall, who is running for Congress in another district.
Rubio is also listed as having endorsed her former husband though she said Hernández never asked for her endorsement.
"My name is being used without my consent," she said.
Neither Hernández nor Rubio appeared in a downtown Los Angeles courtroom last week for a divorce hearing that was ultimately continued until Oct. 19.
Reached at her mother's home last week, Hernández's sister Veronica shook her head when asked if she knew where the assemblyman could be reached. And long-time supporters of Hernández have not heard from him since the election either.
Bradley McFadden, a former mayor of West Covina where Hernández used to serve on the City Council, supported the assemblyman in the primary. McFadden said he does not yet know if he will continue to support him in the general election.
"He is up against the eight ball," he said.
Twitter: jpanzar
ALSO:
Assemblyman's supporters flee in droves after judge issues domestic violence restraining order
How does a 28-year-old raise more than $1 million for a congressional bid?
Race, oil and the environment all play into this L.A. congressional race
Updates on California politics
Live coverage from the campaign trail
---
UPDATES:
7:45 a.m.: This article was updated with additional details about Hernández's Twitter account.
7 a.m.: This article was updated with additional details about Hernández's term limits.
This article was originally published at 12:05 a.m.
---
For reporting and exclusive analysis from bureau chief John Myers, get our California Politics newsletter.
You may occasionally receive promotional content from the Los Angeles Times.