California's congressional delegation calls for action on gun control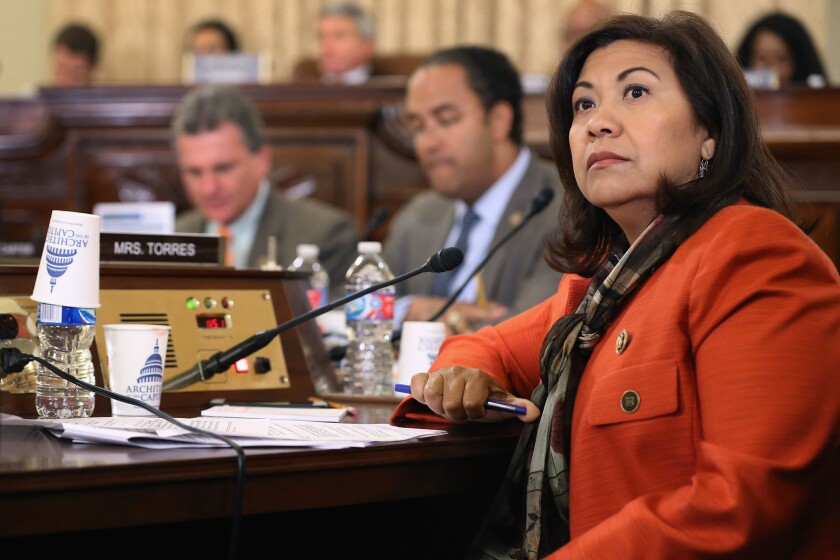 Reporting from Washington —
California Democrats are taking up President Obama's call to action, asking for more law enforcement resources and trying to force a congressional vote on banning suspected terrorists from legally purchasing guns.
Legislative leaders and Gov. Jerry Brown also are tackling the issue as new details emerge on how the San Bernardino attackers obtained — and trained to use — their weapons.
On Capitol Hill, Rep. Mike Thompson (D-St. Helena), chairman of the House Gun Violence Prevention Task Force, worked Monday to force a vote on a measure that would allow the attorney general to prohibit a person from purchasing or being licensed to own a firearm if the person has supported or engaged in terrorism and is expected to use the weapon or explosive in connection with terrorism.
The bill is sponsored by Rep. Peter King (R-N.Y). To get it out of the committee where it is pending and onto the House floor, Thompson is trying to get signatures from a majority of House members on what is known as a discharge petition.
Thompson said that under the proposal, the attorney general would make a determination for who could buy guns based on the FBI's terrorism watch list.
"The FBI has said that these are people we need to be concerned about and then we turn around and let them buy guns," he said. "It's not Sunday school teachers and L.A. Times reporters."
People may be mistakenly on the FBI's terrorism watch list, but there is an appeals process for getting a name removed, Thompson said. The proposed legislation would allow a person to sue to restore his or her right to own the firearm.
"I'd rather you be inconvenienced and forced to get your name taken off that list than just hope you're not really a terrorist," Thompson said. "If the list needs to be scrubbed, we can scrub it, but let's take some action and make sure terrorists don't have easy access to firearms."
Rep. Norma Torres (D-Pomona) is calling for more resources and coordination between federal and local law enforcement agencies, including giving local authorities more access to surplus military equipment and training them on how to use it.
"Our local law enforcement agencies are our first line of defense in the fight against domestic terrorists, both in responding to attacks and in working within our communities to prevent them," she said in a statement over the weekend.
Torres hasn't proposed specific legislation, her staff said Monday. Following criticism of the police response to protests in Ferguson, Mo., in 2014, the Obama administration moved to limit local law enforcement's access to some military surplus, such as grenade launchers and tracked armored vehicles, and to provide training for proper use of other military equipment.
Federal agencies recently began recalling some of the now-prohibited items.
"The program has come under scrutiny recently, but the congresswoman believes that it not only provides needed resources to agencies with limited funding, but as we saw last week, this equipment can be critical to effectively respond to major threats," said Anna González, a spokeswoman for Torres. She added that training on the equipment is necessary.
House Minority Leader Nancy Pelosi urged colleagues to sign Thompson's petition to bring the bill to the House floor.
"Following the horrific attack in San Bernardino and as we mark the solemn anniversary of Sandy Hook, House Democrats will press forcefully for Congress to take up common-sense solutions to address the epidemic of gun violence in our country," the San Francisco Democrat said in a statement.
House Majority Leader Kevin McCarthy's Chairmen's Task Force on Counterterrorism and Homeland Security, created after the Paris attacks, is reviewing several proposals, including looking at the K1 or "fiancée visa" program, he said.
Tashfeen Malik, the 29-year-old female shooter in the deadly San Bernardino rampage, entered the country on a K1 visa.
"We will look at everything, yes. We'll wait until we get all the information," McCarthy said.
He wants all House members to be briefed because "what took place in California was a terrorist act and I think we have to treat it as such," he said.
With an election year approaching, campaign operatives already are working to use the attacks.
On Monday, the National Republican Congressional Committee issued a series of news releases criticizing seven California Democrats, including Rep. Pete Aguilar, who represents San Bernardino, for supporting Obama. The releases are identical except for the lawmaker's name.
"Pete Aguilar's constituents deserve a representative who is willing to put the safety of Americans ahead of playing nice with a President who has not taken the threat of ISIS seriously," NRCC Communications Director Katie Martin said in the release.
But it turns out Aguilar should have been excluded from this particular attack, an NRCC spokesman said.
"We sent multiple releases across the entire state of California and the inclusion of CA-31 was an inadvertent staff mistake," spokesman Zach Hunter said.
The Democratic Congressional Campaign Committee sent news releases targeting Republican candidates as well. In one, the DCCC goes after Republican opponents of Rep. Scott Peters (D-San Diego).
"These men and women want to represent San Diego in Congress, yet have said nothing about what they would do to encourage responsible gun ownership and keep guns out of dangerous hands," spokeswoman Barb Solish said in the news release. "San Diegans can only assume that they too will sit back like their Republican Speaker Paul Ryan and do nothing."
Follow @sarahdwire on Twitter
Read more about the 55 members of California's delegation at latimes.com/politics
MORE:
Couple had been radicalized 'for quite some time' before attack, officials say
San Bernardino shooting vigil: Victim was 'Superman,' friends say
San Bernardino County offices reopen, but health workers get more time to recover
---
Must-read stories from the L.A. Times
Get the day's top news with our Today's Headlines newsletter, sent every weekday morning.
You may occasionally receive promotional content from the Los Angeles Times.