More than half of Californians support 'sanctuary state' legislation, poll finds
Reporting from Sacramento —
More than 50% of Californians favor a new "sanctuary state" law to shield people from deportation, according to a new USC Dornsife/Los Angeles Times poll.
This year, California officials and the Trump administration have squared off over the landmark sanctuary state law, which takes effect in January and greatly limits whom state and local law enforcement agencies can hold, question and transfer at the request of federal immigration authorities.
The law was part of a broader effort by majority Democrats in the California Legislature to shield more than 2.3 million immigrants living illegally in the state from President Trump's expanded immigration enforcement orders. It has drawn sharp rebuke from Trump officials, making it a focus of a national debate over how far states and cities can go to prevent their officers from enforcing federal immigration laws.
But in California, the law appears to have wide approval. The USC Dornsife/L.A. Times poll surveyed 1,504 eligible voters in California from Oct. 27 to Nov. 6, one year before the 2018 election. Of those respondents, 53% favored the legislation, with 31% in strong support. Nearly 29% opposed the law — 18% did so strongly.
There were broader splits among poll participants when they asked to what degree California's leaders — the governor, attorney general and city mayors — should cooperate with Trump administration policies. The majority, about 63%, believed they should mostly not or completely not cooperate with the president's initiatives.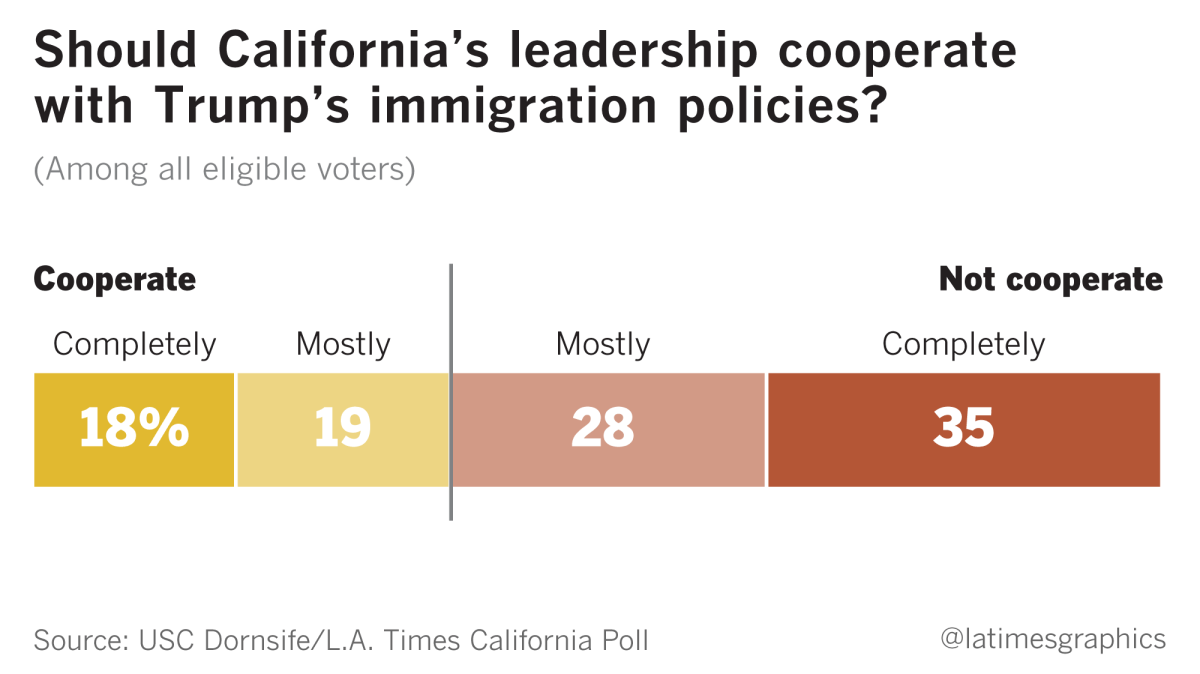 California becomes 'sanctuary state' in rebuke of Trump immigration policy »
Despite the Trump administration's repeated attempts to frame illegal immigration as a threat to public safety, the poll also found an overwhelming majority believe that people without legal residency in the country help revitalize cities as opposed to increasing crime.
The survey results, poll analysts and policy experts said, reflect ongoing trends in California, where through the decades the public has tended to support immigrants in the country illegally, even when federal or state political leaders have stoked anti-immigrant sentiment to rally their bases.
"We have seen this in California forever," said Jill Darling, the survey director for the Center for Economic and Social Research at USC. "People, including Republicans, have been more supportive of immigrants and reform, even to the point of supporting a path to citizenship, more so than Republican leadership."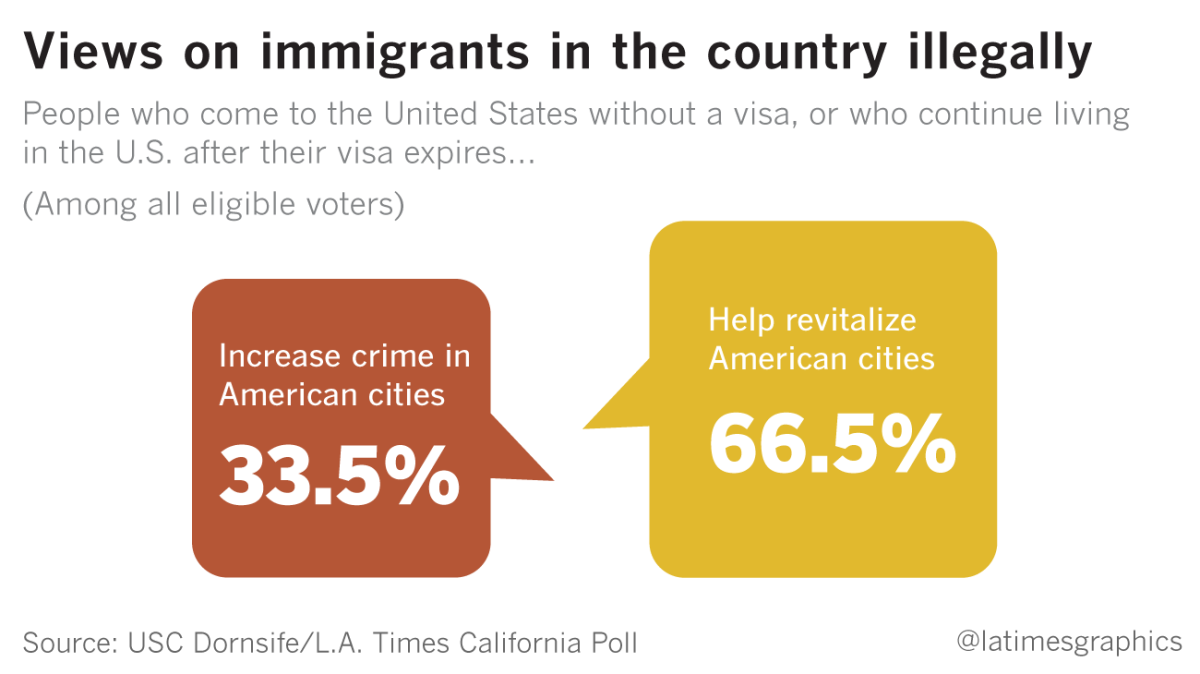 Most poll participants also expressed positive perceptions of people without legal residency in the country.
Nearly 63% of people surveyed said they believed immigrants without legal status strengthened the economy, as opposed to roughly 38% who said they took away jobs. Sixty-six percent said immigrants in the country illegally helped revitalize cities, and about 34% — including more than 72% of Republicans — believed they increased crime.
Policy experts said the poll results reflect the explosive growth of Latinos, Asians and other minority communities that tend to lean Democratic. California's families are so diverse, they said, that nearly everyone knows someone who came to the country as an immigrant — legally or illegally.
It also reflects a shift away from the "us-versus-them" rhetoric that damaged the Republican brand in the 1990s, political consultants and immigration policy experts said. During that time, Gov. Pete Wilson was criticized for using footage of people running across the border to dramatize the problem of illegal immigration, and voters passed propositions to bar immigrants in the country illegally from public benefits, outlaw affirmative action programs and teach only English in schools.
That "no longer reflects our reality," said Mindy Romero, director of the California Civic Engagement Project. "In a state like California, immigrants are us."
Andrew Medina, state policy manager for Asian Americans Advancing Justice, said he wasn't surprised by the results of the poll — or by the approval among California residents for the sanctuary state law. A study released in February by the Public Policy Institute of California found that a solid majority of Californians believe the state and local governments should make their own policies and take action to protect the rights of immigrants who are here illegally.
The final language of the sanctuary state law was the result of months of tough negotiations among Gov. Jerry Brown, Senate leader and bill author Kevin de León (D-Los Angeles), and law enforcement officials. It will largely prohibit state and local law enforcement agencies from holding or sharing information about people with federal immigration agents unless those individuals have been convicted of one or more offenses from a list of 800 crimes outlined in a 2013 state law.
Federal immigration authorities still will be able to work with state corrections officials — a key concession Brown had demanded — and will be able to enter county jails to question immigrants. But the state attorney general's office will be required to publish guidelines and training recommendations to limit immigration agents' access to personal information.
"It is positive that these polls show that there is support for immigrant communities, and it is especially positive in this era," Medina said.
Still, Romero advised caution.
"Discrimination against immigrants is very real and a danger," she said, pointing to anti-immigrant rhetoric at the national level. "I think we can't rest on a changing landscape in California and just assume that things will continue to be more receptive and open."
ALSO:
Full methodology and crosstabs
California becomes 'sanctuary state' in rebuke of Trump immigration policy
California lawmakers approve landmark 'sanctuary state' bill to expand protections for immigrants
How California's Trust Act shaped the debate on the new 'sanctuary state' proposal
Get our Essential Politics newsletter
The latest news, analysis and insights from our politics team.
You may occasionally receive promotional content from the Los Angeles Times.